WooCommerce Wholesale Pro Settings - General
Use the 'General' tab of the WooCommerce Wholesale Pro plugin settings page to configure how you would like your wholesale store to work. You can access this at: WooCommerce → Settings → Products → Wholesale.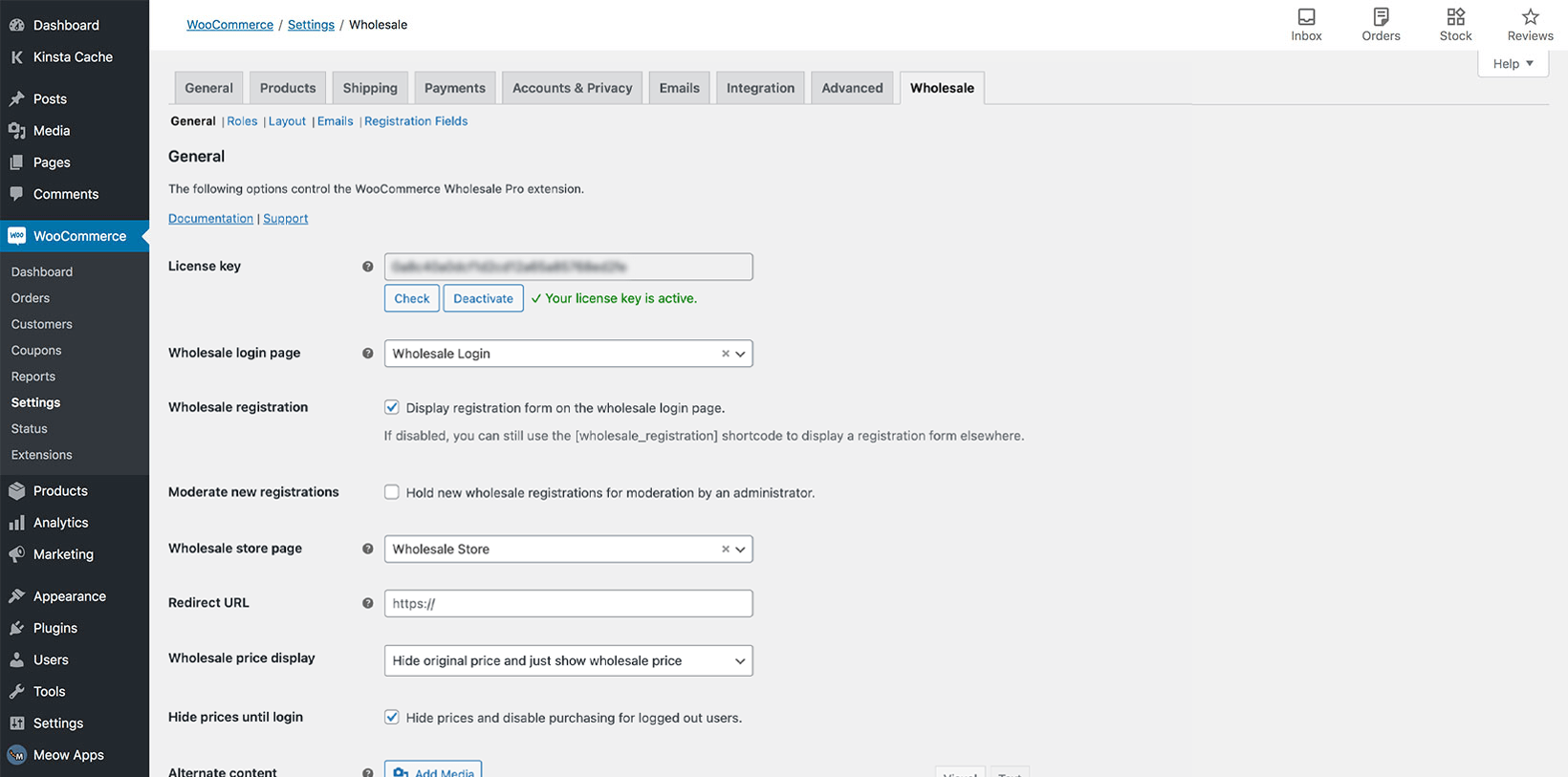 License key
Enter and activate your license key, which is available in your order confirmation email or Account.
Problems? Read our article on license key problems.
Wholesale login page
When you first install the plugin, it will create a page called 'Wholesale login' which is selected here. If you'd rather use a different page, select it from the dropdown.
The shortcode [wholesale_login] will automatically be added to whichever page you select. If you select a page that already has content, then the wholesale login page will appear after the other content.
Tips:
If you want to add a wholesale login form to another location on your website - for example, a widget or to a specific position on another page - then you can also add the [wholesale_login] shortcode to any text area on your site.
If you decide not to use the wholesale login page created by WooCommerce Wholesale Pro, then we recommend deleting it to keep your website tidy behind the scenes.
Wholesale registration
This option controls whether or not a registration form appears alongside the login form on the Wholesale Login page.
If enabled, a wholesale registration form will appear alongside the login form on the the wholesale login page and [wholesale_login] shortcode. It is enabled by default when you first install the plugin.
If disabled, the wholesale login page and [wholesale_login] shortcode will display a login form only, with no registration form.
If you want to create a separate wholesale registration page, then you can disable this and use the [wholesale_registration] shortcode to add a registration form to a different page.
Moderate new registrations
This option is enabled by default and enables you to hold new wholesale registrations for approval by an administrator.
For more information, read our separate article about moderating wholesale registrations.
Wholesale store page
When you install the plugin, it will automatically create a 'Wholesale Store' page which is selected here. This page will list all the wholesale products that the current user has access to.
If you select a different page from the dropdown, the wholesale products will be listed here instead.
Wholesale users will be sent to this page after logging in. If you don't want this, then you can change where they are redirected using the free Peter's Login Redirect plugin.
Related: How to add filter widgets to the Wholesale Store page. 
Redirect URL
By default, wholesale users will be redirected to the Wholesale Store page (selected above) when they log into their account. If you want them to be redirected to a different page instead, then enter the URL here.
Notes:
This option applies to users with any wholesale role. It will not affect non-wholesale customers. If you wish to redirect non-wholesale users after they login then we recommend the free Peter's Login Redirect plugin.
If wholesale users login on the WooCommerce Account page then the Redirect URL will not be used. This is because most people who login on the Account page wish to access their Account, and do not wish to be redirected.
Wholesale price display
Choose how you would like prices to be displayed to wholesale users:
Show wholesale price with original price crossed out (the default).
Hide original price and just show wholesale price.
Hide prices until login
Enable this option if you have a wholesale-only store and want to display your products in catalog mode for public visitors and guests. It works as follows:
Logged out users/guests can view and browser products as usual, but without prices or add to cart options.
Logged in customers with a non-wholesale role will see the standard price for each product.
Logged in wholesale customers will see the correct wholesale price for their role.
Alternate content
This option only appears when 'Hide prices until login' is enabled. You can use it to add a message which appears on the single product page when prices are hidden. For example, you might add a message such as 'This is a wholesale-only store. Please login to view prices and place an order'.
This field supports formatting, shortcodes, images, and other content types. For example, if your theme comes with a button shortcode or information box then you can use these to style the alternate content.
Disable tax
If you have enabled tax globally under WooCommerce → Settings → General, then you can tick this box to disable tax for all your wholesale users. Guests and normal customers will continue to be charged tax.
Alternatively, you can disable tax for individual wholesale roles.
Disable coupons
Tick this box to prevent wholesale users from being able to use coupon codes. This will hide the coupon code field from both the cart and checkout.
Admins see wholesale pricing
Tick this box if you would like logged in administrators to see the pricing for the default wholesale role when they are viewing the front end of the website. This is useful for checking the wholesale pricing.
If this option is disabled then admins will see the standard price for each product.
Next, configure your wholesale roles
Next, you need to set up your wholesale user roles. We've provided a separate article about the Wholesale Roles Page.
If searching the knowledge base hasn't answered your question, please contact support.