WooCommerce Wholesale Pro Settings - Layout
Use the 'Layout' tab of the WooCommerce Wholesale Pro plugin settings page to control how products are displayed to wholesale users. You can access this at: WooCommerce → Settings → Products → Wholesale → Layout.
Layout options
If you are using WooCommerce Wholesale Pro on its own then the layout of your wholesale store will be the same as your public-facing pages, and there are no options to change this.
If you are using WooCommerce Wholesale Pro with our other plugin, WooCommerce Product Table, then you can choose between the default and order form layouts for your wholesale store:
We highly recommend an order form layout for most wholesale stores because it provides a much faster shopping experienced for wholesale users. They already know what they want to buy, so they will benefit from being able to choose quantities and variations without having to visit a separate page for each product.
When both WooCommerce Wholesale Pro and WooCommerce Product Table are installed, you can choose the layout for the following parts of your wholesale store:
Wholesale store page - this is the homepage of the wholesale area, which wholesale users are directed to after logging in. It lists all your wholesale products.
Wholesale product category and tag pages - these are used whenever a logged in wholesale user accesses a product category or tag page.
Note: This will not affect the layouts for your public customers or non-wholesale user roles. If you wish to use the order form layout for all customers, then you can enable this on the WooCommerce Product Table plugin settings page.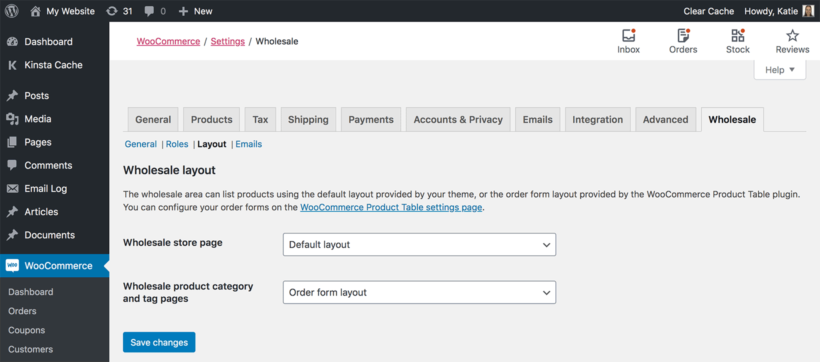 Configure your wholesale emails
Next, you need to configure the emails that will be sent to wholesale users. We've provided a separate article about Wholesale Emails.
If searching the knowledge base hasn't answered your question, please contact support.