3. Managing and editing tables
It's easy to view and manage the tables that you create with Posts Table Pro.
List of tables
To view all the tables that you have already created, go to Post Tables → Tables in the WordPress Dashboard.

The list of tables includes the following information about each one:
Table name - The descriptive label which you added when you created the table.
Content type - The post type being displayed in the table.
Selection - Details of what will be displayed in the table.
Shortcode - The shortcode which you can use to add the table to your site (you'll need this if you are not using the 'Posts Table' Gutenberg block).
Editing tables
To edit an existing table, hover over its name and click the Edit link which appears. This takes you to a page where you can edit all the details of the table.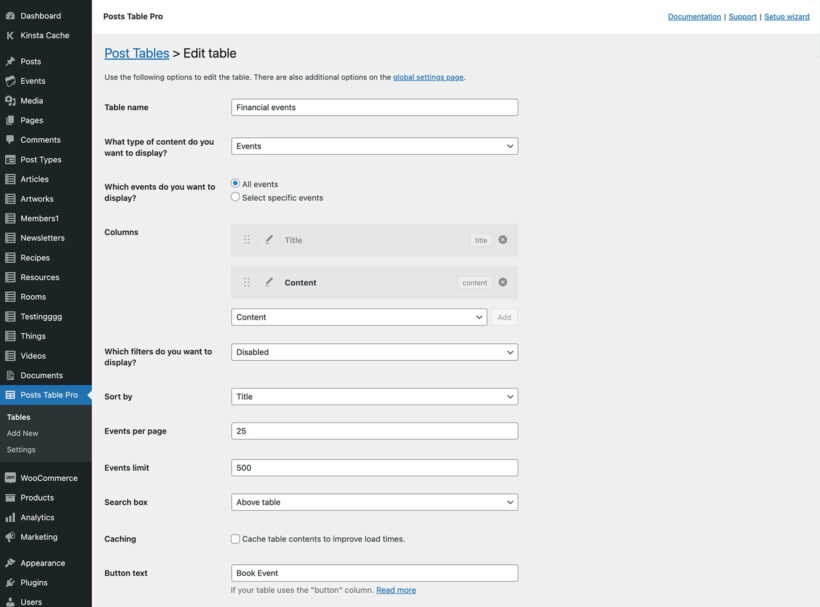 This page includes some more advanced options which are not available in the initial table builder. (Tip: If you need even more options then there are also some even more advanced options which you can edit directly in the shortcode.)
Deleting tables
You can easily delete a table by hovering over its name and clicking the Delete link. This will delete the table, but not the data that was displayed in it (e.g. your posts).
Managing tables created using shortcodes
The instructions above assume that you created your tables using the Posts Table Pro table builder. If you created a table using the [posts_table] shortcode, then the table is generated directly by the shortcode and is not stored centrally.
To edit tables that were created using this method, then you simply need to edit the shortcode. Edit it as needed using the available shortcode options.
If searching the knowledge base hasn't answered your question, please contact support.