How to filter WooCommerce products by brand
The Product Filter Pro plugin makes it easy to filter WooCommerce products by brand. This article explains the different ways that you can add a brand filter to your store.
Related tutorial: How to list WooCommerce brands in a filterable product table
Types of filter by brand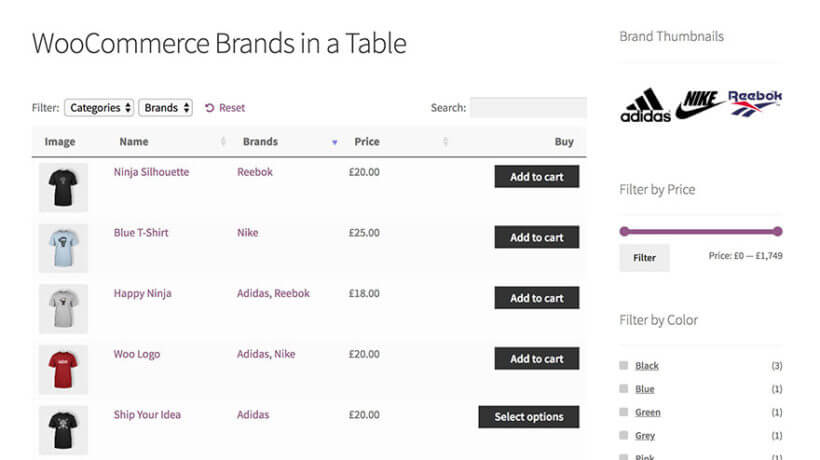 A website using the WooCommerce Product Table plugin to list products, with brand filters from WooCommerce Product Filters
WooCommerce Product Filters comes with several styles of filter which are perfect for filtering by brand. These include:
Brand checkbox filters - customers filter by brand by ticking all the brands they are interested in.
Brand logo filters - customers click on an image or logo of each brand.
Brand filter dropdowns and radio buttons - these are less popular ways to filter WooCommerce products by brand, but you can use them if you like.
All of these filter styles work with both methods for creating a brand filter described below.
How to create a WooCommerce products brand filter
1. Create a brand attribute
To filter by brand, you need to add the brands to your products. We recommend using product attributes for the brand information, as attributes are built into WooCommerce already:
Go to Products → Attributes and create a new filter called 'Brand' or similar.
Click to edit the terms and add all the brands that you will be using. Adding brands is very similar to creating product categories. If you will be using image filters to display the brand logo then you should also upload this as the image for each brand attribute.
2. Select the brand of each product
Next, edit each product, go to Product Data → Attributes and add the brand.
3. Create WooCommerce brand filters
Finally, follow the instructions for creating filters. Create an attribute filter that uses the brand attribute.
If searching the knowledge base hasn't answered your question, please contact support.