How to List a Custom Post Type such as Portfolio, Events or Products in Posts Table Pro
The Posts Table Pro WordPress table plugin can be used to list posts from any custom post type. This includes portfolios, case studies, testimonials, e-commerce plugins, events, and much more.
You can use it to display custom post types you have created yourself, or custom post types added by any third party plugin such as Easy Digital Downloads or The Events Calendar.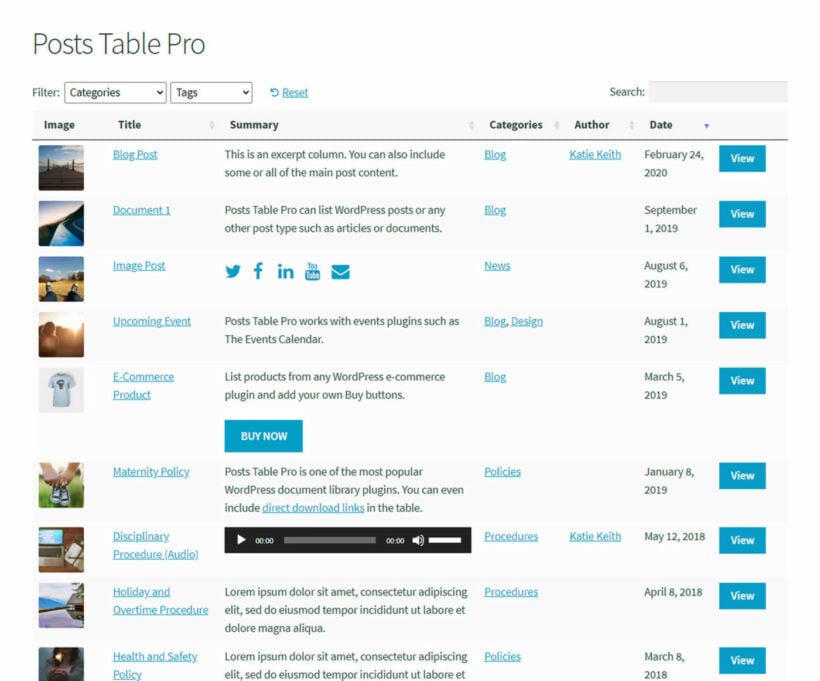 Using the Posts Table Pro plugin to list different WordPress post types
Creating a custom post type
You can create a custom post type with any custom post type plugin. We recommend using Easy Post Types and Fields. It's the easiest way to create custom post types, taxonomies, and fields.
For step-by-step instructions on how to add a custom post type to WordPress, please read our tutorial or watch the video:
Displaying custom posts
Posts Table Pro can show all the standard information about your custom posts, including the featured image and information such as the title and content. It can also display extra data such as custom fields and taxonomies.
Use the Post type option to tell Posts Table Pro which post type to display. This option is available wherever you create or edit a table.
If searching the knowledge base hasn't answered your question, please contact support.