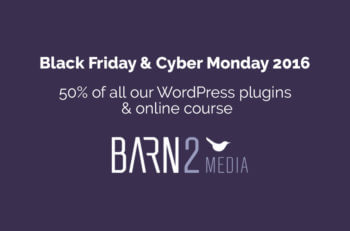 It's that time of year again! People across the globe are queuing up to get the best deals for Black Friday and Cyber Monday 2016.
At Barn2 Media, we're offering a huge 50% discount off all our WordPress plugins and online course - available for the first 100 customers.
What's the deal?
The first 100 people who use our exclusive coupon code can get any of these HALF PRICE:
To get the discount, enter the coupon code BARN2CYBER50 at the checkout. The coupon works for the Barn2 Media plugins which are available on this website, and the online course which is available on Udemy.
When can I use the Barn2 Media coupon code?
It's valid from 8.30am GMT on Friday 25th November (Black Friday). Is runs all through the weekend, until midnight on Monday 28th November (Cyber Monday).
We're offering this great discount to up to 100 customers. Grab yours now and make sure you don't miss out!
Happy shopping!