Can customers pay on collection, or pay the delivery driver for their takeaway order?
WooCommerce Restaurant Ordering works with all the payment options that are available in the free WooCommerce plugin. You can add as many payment options as you like, to give customers a choice.
As well as allowing customers to pay online (e.g. with PayPal or Stripe for credit/debit card payments), you can let customers pay in person when they receive their takeaway food.
How to accept payment on delivery in WooCommerce
Go to WooCommerce → Settings → Payments.
Enable the 'Cash on delivery' option and click 'Set up'.
Add the text that you would like to display on the checkout page. This does not have to include the word 'cash', so don't worry if you want to call it something completely different! The important thing is that when customers select this offline payment option, they can complete their order without having to pay online.
If you like, select which shipping methods this payment option will be available for.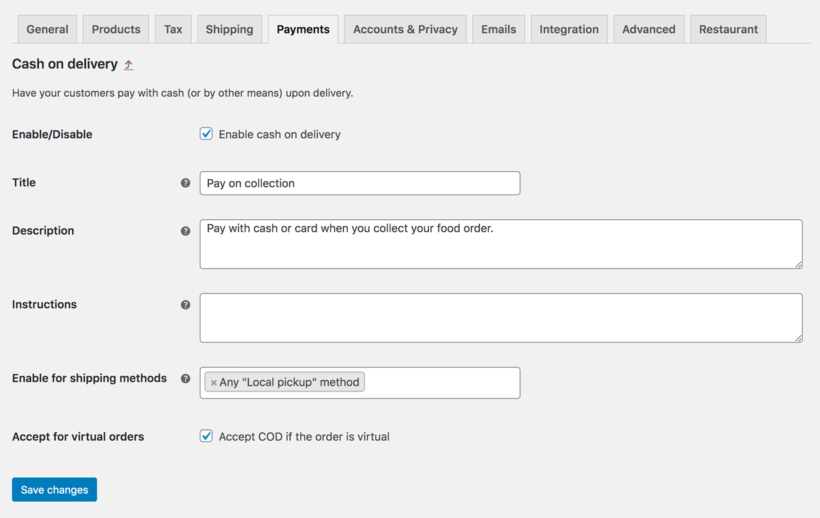 Can I offer different payment options for delivery/collection?
If delivery drivers can't take payment, then you might want to offer online payments only for home delivery orders, with the option to pay in person for orders which the customer will collect.
When you add a payment method in WooCommerce, you can choose which delivery/collection options it is available for. For example, in the above screenshot, we added a 'Pay on collection' payment option which is only available for customers who have selected the 'Local Pickup' shipping option.
You can add more advanced logic with the WooCommerce Conditional Shipping and Payments plugin.
If searching the knowledge base hasn't answered your question, please contact support.