How do the multi-download checkboxes work?
The Document Library Pro plugin lets you display download links as a separate button for each document, and/or as multi-select checkboxes. This article explains how the multi-select checkboxes work and discusses any limitations.
How it works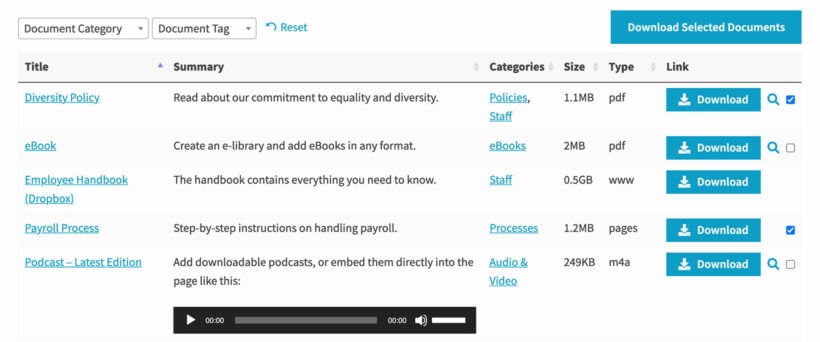 A document library with multi-download checkboxes
The multi-select checkboxes are available for the table layout and not the grid layout.
When you enable the multi-download feature, a checkbox appears next to each eligible document. A document is eligible if it can be downloaded directly to the user's computer. For example, if the document link is a web page/URL then no checkbox will appear because it can't be downloaded.
Users can select all the documents that they wish to download from the current page of the document library. They can then click the 'Download Selected Documents' button above and/or below the table. This will download all the selected documents to their computer as a zip file.
The zip file will be saved in the user's default download location for the user's device, such as their Downloads folder or Desktop.
Options
The multi-download feature comes with the following options:
Display the checkboxes on their own or alongside a separate download button for each document.
Position the 'Download Selected Documents' button above and/or below the list of documents.
Change the wording of the 'Download Selected Documents' button.
You can control all these options on the Document Library Pro settings page (Documents → Settings) or directly in the shortcode for each table.
Limitations
The multi-download feature is tested in all major desktop browsers and can create and download zip archives up to 1GB.
On mobile phone web browsers, zip files will only generate for packages less than 50MB due to memory constraints.
Only files linked to documents via the WordPress Media Library are supported.
If searching the knowledge base hasn't answered your question, please contact support.