How to add and edit wholesale prices in bulk
WooCommerce Wholesale Pro lets you set wholesale prices automatically by applying a percentage discount for each wholesale role; or you can manually set wholesale prices for each product or variation.
If you're setting wholesale prices manually, then you might like an easy way to add and update the prices in bulk. We recommend Setary for this, which works perfectly with WooCommerce Wholesale Pro.
Setary is a bulk product editor, in which you apply changes quickly and easily using a spreadsheet-style interface. Each product and variation appears on its own row in the spreadsheet, so you can quickly make changes without having to visit multiple pages.
This is how to use Setary to bulk edit wholesale prices:
In the WordPress admin for your store, go to WooCommerce → Settings → Wholesale → Roles and make sure product-specific pricing is enabled for your wholesale roles.
Next, log into Setary and use the 'Columns' option to display columns for your wholesale roles. For example, in the screenshot below, you can see that we have enabled columns for the 'Wcwp Trade' and 'Wcwp Wholesale' roles, which were created using WooCommerce Wholesale Pro.
In the spreadsheet editor, use these columns to bulk add and edit the wholesale prices for each product and variation.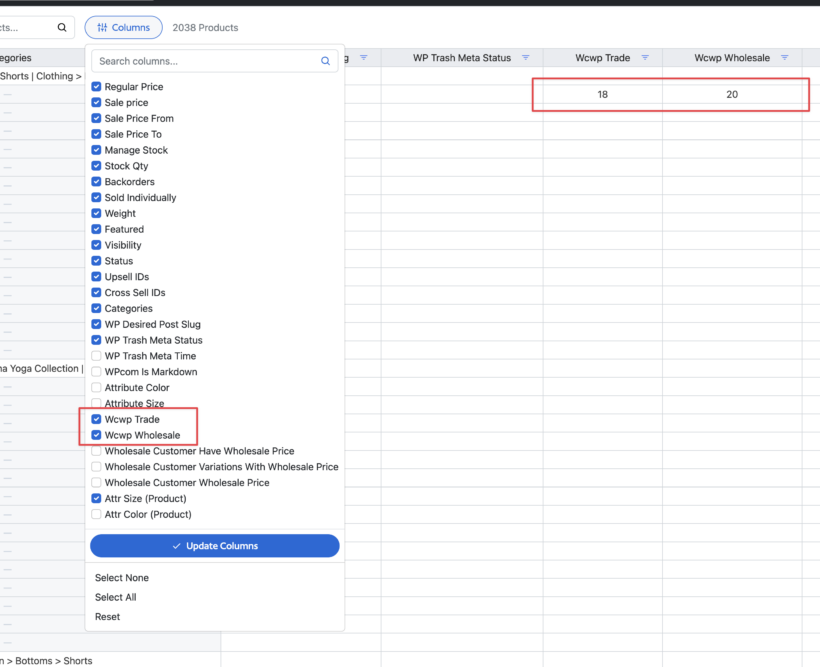 If searching the knowledge base hasn't answered your question, please contact support.