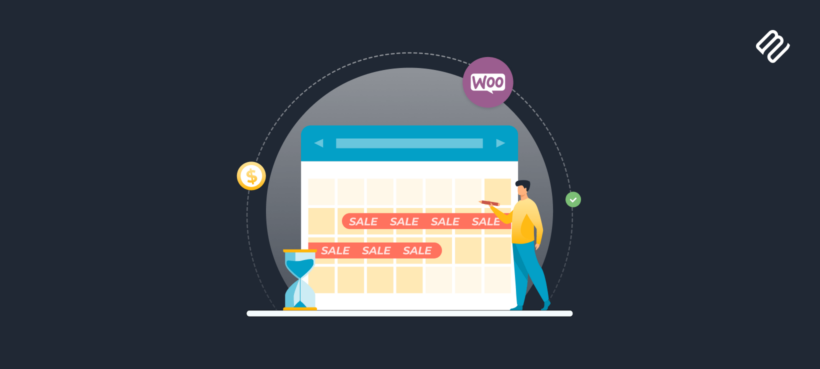 Want to schedule the date and time of your next sale? Discover how to automate your store's discounts with the best WooCommerce sale schedule plugin.
There's always loads to do when you're planning a sale for your online store. The last thing you want is having to remember to manually make the sale live when it's time to start, and then set a reminder to remove the discount on the end date. You can save yourself a lot of stress by automating your WooCommerce sale schedule.
The right plugin for scheduling discounts in WooCommerce will allow you to automate your sales. This frees you up to focus your time on other important tasks like marketing.
Keep reading to learn how to:
Add a wide range of discounts to WooCommerce. This includes percentage discounts off any or all of your products, buy-one-get-one free deals, and more.
Automatically schedule a start time for the sale so that you don't need to do this manually.
Schedule a sale end date, when the discounts will automatically be removed from your WooCommerce store.
We'll do it using the Discount Manager plugin, which gives you everything you need to automate a WooCommerce sale schedule.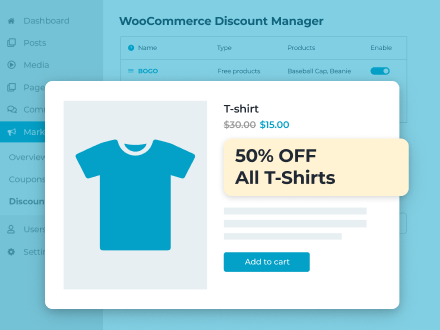 Schedule sales with the best all-in-one discount plugin. Love it or your money back!
An introduction to running sales in WooCommerce
Sales and discounts make a big difference to your store's bottom line 📈
Online store owners face plenty of challenges in finding and retaining customers. These include issues like dealing with cart abandonment, generating traffic, competing with large retailers, pricing strategies, and more.
Whether you love them or hate them, sales and discounts can have a big impact on your store's bottom line. There's lots of evidence to back this up. For example, one survey found that two-thirds of consumers have made an unplanned purchase due to products being discounted. Marissa Tarleton, Chief Marketing Officer at RetailMeNot explained:
Today's consumers want to feel as if they have spent their money in the smartest way possible, and to do so, they leverage deals throughout the shopping journey, including when deciding where to shop and what to buy.
That's right - customers actively look for deals before deciding which online shop page to order from. That's why sales and discounts should be part of your store's marketing strategy.
Whether you run sales during specific holiday periods like Black Friday, or to give your revenue a boost during quiet periods, properly managed sales can make a big difference. But the question is - what is the best way to schedule a sale in WooCommerce?
Related: How to run a successful Black Friday sale in WooCommerce. 
The challenges of running sales in WooCommerce
Unfortunately, WooCommerce doesn't make it easy to run sales. It has several sale-related features built-in, such as:
Setting up sale prices for individual products and variable products.
Coupon management.
Bulk edit product prices.
Ability to apply tax to discounted products.
However, it doesn't have the functionality to create a WooCommerce sale schedule or automate the start and end date of a sale. It's also not possible to add other types of discount rule, such as buy-one-get-one-half-price deals, or make sale prices dependent on factors such as the minimum cart value.
Why you need an efficient WooCommerce sales scheduling tool
Strategic and timely sales are crucial for boosting customer engagement - and ultimately, maximizing revenue for your ecommerce store.
Installing the best WooCommerce sale scheduler plugin brings various benefits for both the store owner and their customers:
Saves you time - You don't have to spend time setting reminders to manually start and end the sale. Instead, set a sale scheduler for WooCommerce and then relax knowing that the sale will start and end with no further input.
Helps to keep sales short and time-limited - In most countries, it's illegal to run perpetual sales because this misleads customers. Scheduling an end date for the sale helps to meet regulations and increases the perceived value of your products.
Engages customers more effectively - They will be more interested in your products when they see they're getting a great deal.
Helps to close the deal - Clearly displaying the sale end date creates a sense of urgency, encouraging customers to buy now instead of later ⏱️.
Allows you to schedule sales in WooCommerce based on demand - Instead of adding and removing discounts when you're at your desk, you can schedule sales based on peak times and seasons. For example, you can end a sale at midnight when you're in bed. This helps to overcome challenges such as cart abandonment and protects perceived value.
Prevents user error - Imagine if you accidentally forgot to put your sale live or take it offline 🙀. Scheduling your WooCommerce sales eliminates this risk.
As we saw earlier, WooCommerce on its own doesn't let you schedule sales.
The solution is to use a discount plugin that has WooCommerce schedule sale features. These should let you automatically set the start and end date for your sale. This will give you the ability to set up various types of sales - including bulk discounts, storewide sales, BOGOF deals, role-based pricing, and more - with clear start and end dates. It might also come with other features like adding sale badges to products.
WooCommerce Discount Manager - the best sale schedule plugin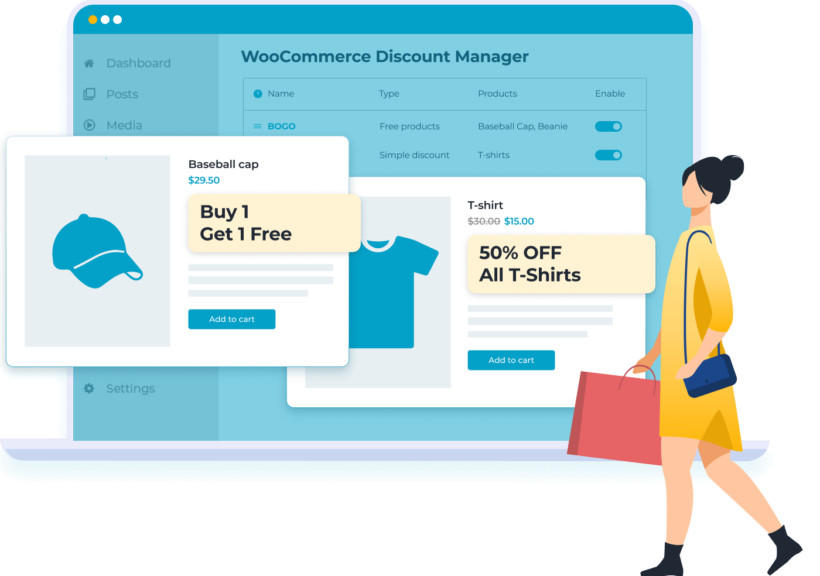 The WooCommerce Discount Manager plugin lets you create a wide range of discounts and schedule sales in WooCommerce. It has everything you need to run a successful sale:
Schedule sales in WooCommerce with dynamic start and end dates.
Dynamic pricing - Create advanced sale prices and discounts based on the exact logic you choose.
Free products

, where customers buy a minimum number of products and get a fixed number of products for free. This is good for BOGO deals, buy-one-get-one-half-price, and so on.

Quantity discount rules - Offer better sale prices when customers buy larger quantities or spend more.
Customer-specific pricing - Offer different sale prices and deals to different customers or user roles.
Full control over which products and product categories the sale prices apply to, with an option to create storewide sales across all products.
Ability to display your discounts on front-end product pages and in the cart.
Works with any theme and other Barn2 plugins like Product Table.
WooCommerce Discount Manager is the perfect solution for store owners wanting advanced control of their sales and discounts, including the ability to schedule sale start and end dates. It can transform the way sales are managed, making processes more efficient. In particular, the sale schedules free up time for business owners to focus on marketing and making the sale a success 🚀.
How to set up a WooCommerce sale schedule with WooCommerce Discount Manager
Now we've learned why Discount Manager is the best WooCommerce schedule sale plugin, I'll tell you how to set it up. Follow this step-by-step tutorial for full instructions. I've assumed that you already have a WordPress WooCommerce site set up.
Install and activate the WooCommerce Discount Manager plugin on your WordPress site.
Activate the license key in the setup wizard.
Go to Marketing → Discounts in the WordPress dashboard and click 'Add New'.
Set up your discount like this:

Enter a name for the discount. This will be used in the WordPress admin only.
Choose a discount type from the modal window. Available options:

Simple discount - Either define a % or fixed $ discount value.
Based on total spend - Spend X amount and get a % or fixed discount off.
Free products - Buy a minimum quantity of products and get a pre-defined number of items free, e.g., BOGOF. Either give away like-for-like products or allow any product in the cart to qualify as free.
Buy X products for a fixed price.
Buy X products for X discount (either % or $). Decide whether to apply the discount to the entire cart or just products over the qualifying amount. You can also control how many products the discount is applied to.
Bulk pricing - % or $ discounts, choose if you want to apply it to the entire cart or to individual products only.

Which products? - Choose whether the sale will apply to every product in your store or just pre-selected categories or products. If you choose "All products", then you can exclude specific products/categories if required.
Underneath, you'll see various extra fields which are specific to the type of discount you selected.
Applies to - If needed, select specific users or roles who the sale will apply to. For example, if it's just for new customers then select 'Guest' users only.
Availability - This is where you set the WooCommerce sale schedule. Enter the start and end date for when the sale will be scheduled to take place.
Content - A sale will only be successful if customers know about it! Use this field to enter a prominent notice which will appear on product pages.
Cart notice - Customers are less likely to abandon their cart when they're sure they're getting a good deal. To remind them that they're taking advantage of the sale, add a text-only notice which will appear appear at the top of the cart. For example, it might say "Congratulations, you have saved 40% in our Black Friday sale!"
Can I schedule different sales and sale prices for different products?
So far, I've shown you how to set up one type of discount, schedule the start and end dates, and choose which products to apply it to. You can equally use the Discount Manager plugin to create as many WooCommerce scheduled sales as you like, each with different deals, products and even different dates. Alternatively, you can schedule multiple deals for the same dates, for example if you offer different discount rates depending on the category.
To do this, simply repeat steps 3 and 4 of the instructions above as many times as you like. Each time, select different products/dates/discount details as required.
Test the WooCommerce sale schedule
Once you've set up a scheduled sale using the Discount Manager plugin, it's important to test it. While it's a robust and reliable WooCommerce plugin, you need to be sure that the sale will start and end on the correct dates. There are a few things that could go wrong, such as:
The wrong date or time zone being set in the general WordPress settings.(You can check this in Settings → General in the WordPress admin.)
Something on your site interfering with the countdown timer schedule such as wp-cron scheduling issue.
How to test your WooCommerce sale schedule:
Create a discount (Marketing → Discounts → Add New) with the following settings:

Discount type - Simple.
Which products? - Leave this set to 'All products'.
Discount amount - Set a percentage discount such as 50%.
Applies to - Select the Administrator role only.
Availability - Set the sale start date to tomorrow, and the end date to the following day.
Content - Add some text that will appear on the product page when the discount is active.

Set a reminder for tomorrow, and one for 2 days after that. When you receive the first reminder, visit the WooCommerce product page for any simple product in your store while logged in as an Administrator. Look for 3 things to confirm that the sale schedule has worked correctly:

The main price at the top of the page should be crossed out, with the correct percentage discount showing alongside.
The content that you added should appear on the product page in addition to all the usual product data.
Add to cart and make sure the discounted price is being charged on the cart and checkout page.

When you receive the second reminder, visit the same product page again. This time, make sure that the sale information disappeared from the page and you're seeing the regular price again. This confirms that the scheduled sale has ended correctly.
Take action: Schedule your WooCommerce sales today
Automatically scheduling sales in WooCommerce helps you to save time, avoid user error, and run a successful sale at any time of year. With the WooCommerce Discount Manager plugin, you no longer need to remember to manually start and end sales in your online store. Instead, the plugin takes care of everything for you.
This fantastic plugin has everything you need to make your time-limited sales a success:
Create absolutely any type of discount or deal, and choose which products it applies to.
Schedule your WooCommerce sale start and end dates.
Create exclusive sales for specific groups of users.
Grab customers' attention by displaying details of the sale in prominent positions on your website.
Comes with expert support from the Barn2 team. Try it risk-free with the 30-day money back guarantee.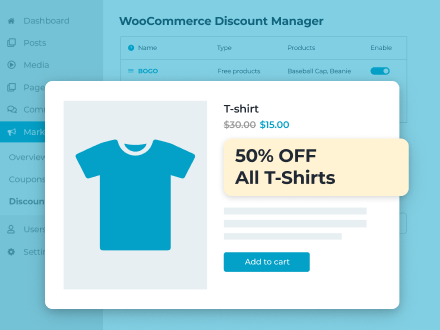 Grow your sales with the best all-in-one discount plugin. Love it or your money back!