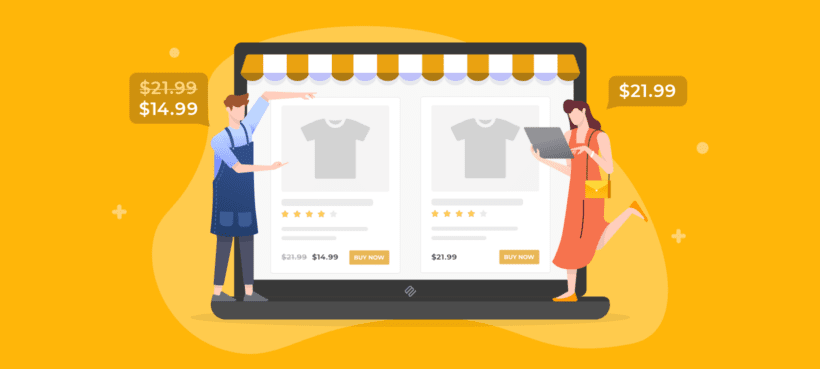 Do you want to automatically offer different prices to different customers in your online store? WooCommerce dynamic pricing plugins offer an ideal opportunity to increase your profit margin and retain old customers. Let me show you the best plugins for implementing this profitable pricing strategy.
WooCommerce has established its place as the go-to eCommerce platform for millions of businesses worldwide. By default, the platform allows you to offer different prices to different customers using discounts or coupons. But in certain cases, you may want to change product prices automatically based on custom pricing rules. This is where WooCommerce dynamic pricing comes in.
This pricing strategy involves changing the price of a product based on multiple factors. These factors could be shopping cart quantity, customer browser or purchase history, and location. With dynamic pricing, your customers no longer have to enter a discount code manually.
If you're looking for the best WooCommerce dynamic pricing plugins in the market, this article is all you need. It'll cover three of the most powerful options out there. I'll also explain, in detail, what dynamic pricing is. Then I'll share some of the key benefits you stand to enjoy using this pricing strategy. Let's get to it!
Introduction to WooCommerce dynamic pricing rules
What are WooCommerce dynamic pricing rules?
WooCommerce dynamic pricing refers to the process of setting product prices in a flexible and personalized way. This can be based on various factors such as customer behavior, purchase history, quantity, and more. This advanced pricing strategy is often very effective in attracting new customers. It also triggers the Fear of Missing Out (FOMO) in your store visitors.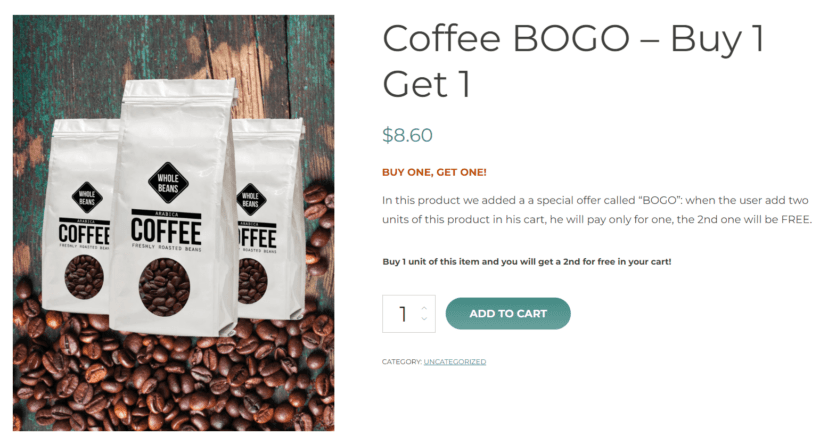 In other words, dynamic pricing can help you increase sales and improve customer loyalty. It's also a good way to optimize revenue by creating a more tailored shopping experience for different customer groups. This is a broad approach to pricing that can cover the following features:
Different types of WooCommerce dynamic pricing
Quantity-based product discounts
With this type of WooCommerce dynamic pricing, you offer customers discounts based on the number of cart items or the cart total. This is a good strategy for wholesale stores with a large inventory. The idea is to encourage shoppers to purchase more in one transaction and boost the average order value.
In most cases, the higher the number of items purchased, the higher the discount percentage. It's a perfect way to move inventory faster. And all you need to apply this type of cart discount is to add a simple formula in the back end.
User role-based discounts
WooCommerce role-based pricing displays specific offers to different customers based on their assigned roles. For example, you may offer a larger discount to wholesale buyers who purchase in bulk and a smaller discount to regular customers. In this case, it makes sense to apply a specific pricing discount to site users assigned the "Wholesaler" role.
Additionally, you can offer special discounts to VIP customers who have a history of high-value purchases. This not only provides a personalized shopping experience for each customer. It also creates a sense of exclusivity and appreciation for their most loyal customers.
Category-based discounts
Here, you offer discounted prices for specific product categories or groups. For example, you may offer a discount on all electronic items or all beauty products to encourage customers to purchase from those categories. This can be useful for clearing inventory and increasing the visibility of the products in this category.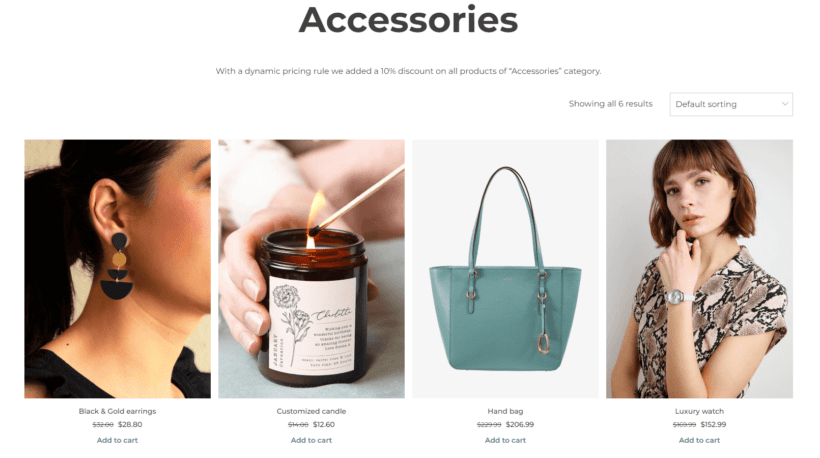 Date-based discounts
Another type of WooCommerce dynamic pricing is to offer reduced prices or special deals that are only valid for a specific period of time. This often applies to holiday seasons, weekend sales, or a limited-time promotion. Date-based discounts create a sense of urgency and exclusivity. This encourages customers to make a purchase and helps businesses reach their sales goals.
Product-based discounts
By creating discounts for specific products, you get to strategically promote those products and increase sales. This helps you tailor your marketing efforts to specific product offerings and individual customer bases.
Volume discounts
This pricing strategy involves offering a discount to customers who purchase a certain amount of products, typically in bulk. You can either apply it to the entire order or to individual products.
Mix-and-match discounts
Another alternative is to offer discounts on specific combinations of products. This way, you incentivize customers to buy additional items and boost sales. This is particularly useful for upselling.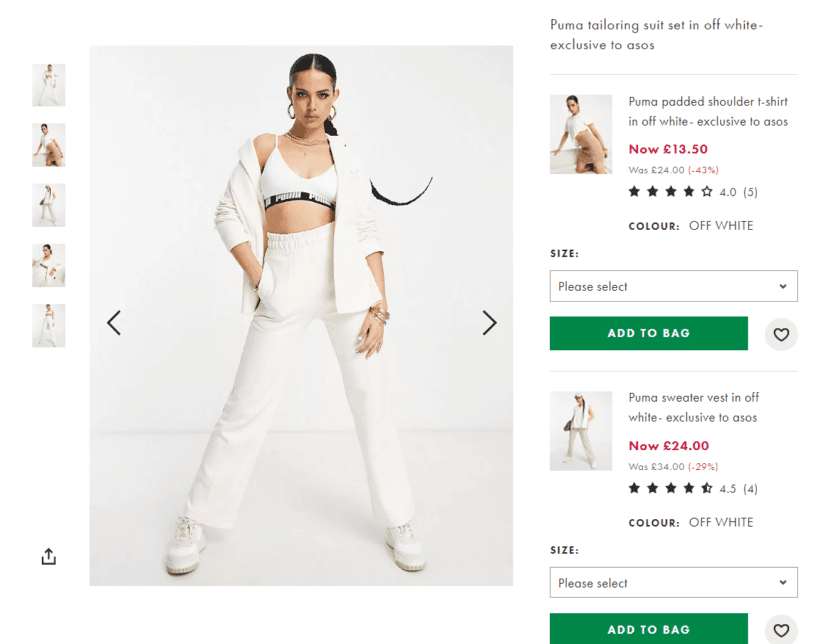 Tiered pricing
Another approach to WooCommerce dynamic pricing is to set different prices for different quantities of a product. In essence, product pricing is based on quantity tiers. This means the more the items purchased, the lower the price per unit.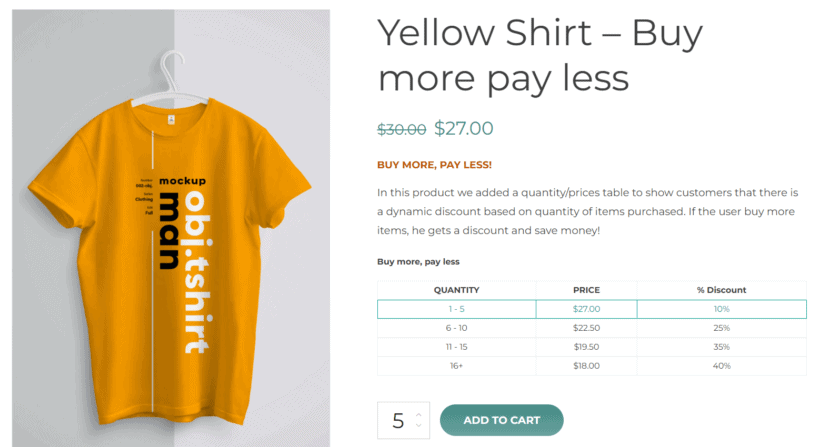 For example, you may have a WooCommerce store that sells ceramic tiles. You can choose to charge a buyer purchasing 1 to 20 units $10 per tile. You can then charge $8.5/tile for 21 to 30 units and $6/tile for more than 31 tiles.
Another good use case is a SaaS product. Here, you can charge less per month when the user buys a long-term (2-year or 3-year) subscription. This flexible pricing strategy can help you to maximize revenue and boost your profit margin.
Coupon codes
Coupon codes remain one of the most popular WooCommerce dynamic pricing options. Adding them to your store can boost sales and incentivize repeat purchases. Customers who enter a coupon code on the checkout page receive a discount or special offer on their purchase. This can be a strong motivation to complete the transaction.
You can send coupon codes to special customer emails based on certain conditions. Alternatively, it may even be better to apply these codes programmatically. Coupon codes also help you to gain valuable insights into customer behavior and reevaluate your pricing model.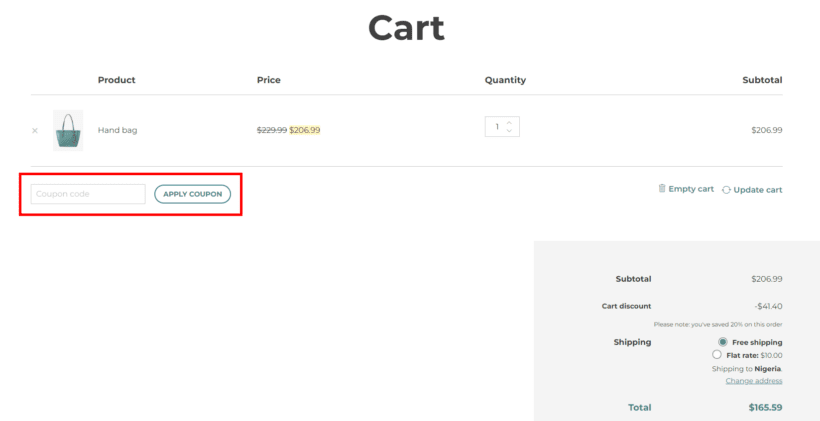 Apart from these options listed above, there are also several ways to customize pricing rules. This is often based on different conditions and use cases. These conditions could include factors such as product type, customer segment, purchase quantity, shipping method, or even time of day.
You can always experiment with different pricing models. Then you can adjust them based on market conditions, demand, and competition.
The good thing is that you can always use WooCommerce dynamic pricing plugins to implement any of these pricing rules. This way, you need lots of WordPress experience or capital to add these rules to your store. With these discount plugins we'll be showing you next, you get:
Multiple dynamic pricing rules.
Tons of front-end display options. They help you showcase discounts and promotions on the product page and during checkout.
Highly intuitive and user-friendly interface. This makes the process of creating and managing custom pricing rules seamless.
Let's look at them!
The best WooCommerce dynamic pricing plugins for WooCommerce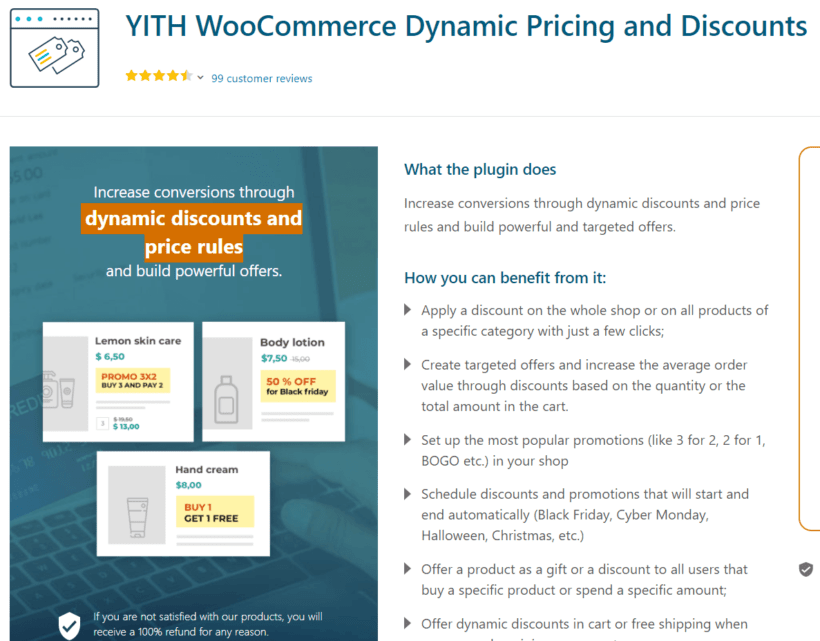 Our #1 plugin pick is YITH Dynamic Pricing and Discounts. It's a powerful plugin for creating advanced pricing rules and discounts. These rules rely on various criteria such as product quantity, user role, product category, and tag.
The tool focuses on creating flexible pricing discounts and powerful and targeted offers. For example, you can easily create buy-one-get-one-free (BOGO) offers. You can also apply these rules to products globally or to specific products, product categories, or product variations/variable products.
Features
Highly customizable pricing rules YITH WooCommerce Dynamic Pricing offers a wide range of pricing rules. Store owners can customize these rules to meet their specific needs. You can create virtually all the discount types we mentioned above. There are also targeting rules that help you to reach unique customer segments. And for better results, you can schedule discounts and promotions with specific start and end dates or times.
Display discounts elegantly on the product page Another standout feature of the plugin is the ability to display discounts on the product page. This highlights the savings they can make if they purchase a certain quantity of the product. It offers a brilliant way to attract customers and encourage them to complete a purchase. You can also customize the discount message to suit their needs and make the deal more appealing.
User role-based and quantity-based discounts There are certain scenarios when it makes sense to set and apply discounts for specific user roles. The tool allows you to create pricing rules targeted at specific customer groups, such as wholesalers or VIP customers. You can also set discounts based on the number of items on the cart page. Quantity-based WooCommerce discounts often boost sales. On the other hand, role-based discounts encourage repeat purchases and customer loyalty.
Easy-to-use interface The plugin's user interface is intuitive and easy to use. Even WordPress newbies can easily find their way around in the back end. This makes it possible to set up pricing rules and discounts without shortcodes or any technical knowledge. The developers also offer robust documentation you can consult in case you need to.
Recommendation
In general, one can hardly go wrong with YITH WooCommerce Dynamic Pricing. The tool packs tons of flexible pricing rules. You also get a lot of display options that make it easy to showcase your best deals and promotions.
Not sure if the plugin is the best fit? You can rely on the 30-day money-back guarantee. You also get 1 year of support and updates. And a good majority of the over 20,000 customers are satisfied.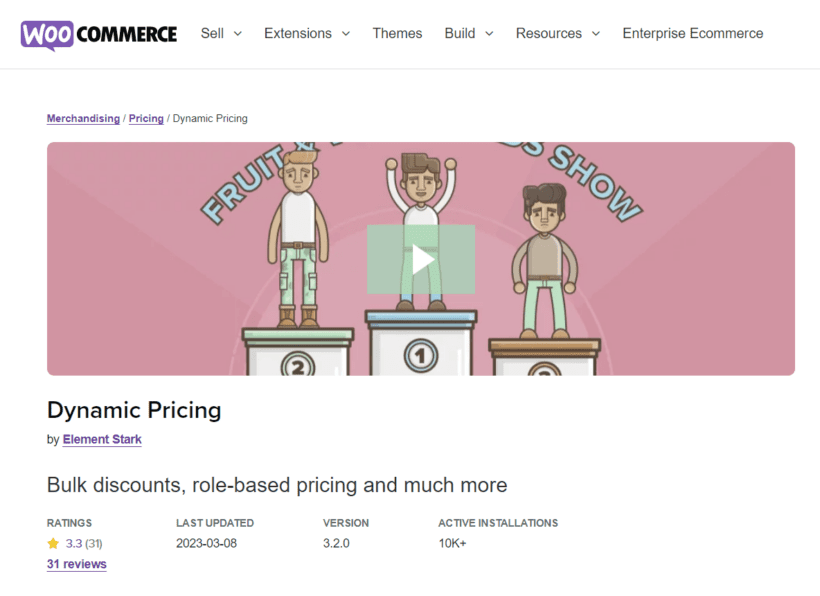 The next plugin on our list is the official dynamic discounts extension from WooCommerce. WooCommerce Dynamic Pricing is also an advanced product pricing tool. This plugin focuses on configuring bulk discounts for your online store's products.
The plugin approaches flexible product pricing in three different ways. You can either configure pricing rules based on products, categories, and user roles. We'll talk more about the features available in each segment. Unlike our #1 pick, you can't display discounts on the product page.
Features
Quantity-based product pricing This plugin allows you to create multiple discounts for individual products in your store. This refers to bulk pricing. You can easily do this by creating a pricing table of quantities along with their discount amounts. The price adjustments can either be fixed price cuts or percentage discounts. This is particularly useful for tiered pricing. These discounts don't work with products alone. You can also apply the same rules to product categories.
Role-based pricing We've already talked about how role-based discounts work. WooCommerce Dynamic Pricing allows you to display promos to logged-on customers. This depends on the user roles you've assigned to them. And you can combine this with the quantity-based pricing rules. For example, you can offer a $20 discount to Gold Members when they purchase between 2-5 units of a product. For the same 2-5 units, you can offer an even higher $30 discount to Platinum Members.
Easy-to-use interface The plugin also has a beginner-friendly interface. Even complete newbies will be able to set up WooCommerce dynamic pricing rules easily.
Recommendation
WooCommerce Dynamic Pricing is a solid pricing strategy plugin to consider. The tool covers virtually all the key discount types most eCommerce stores use. But its major limitation is the restricted customization and front-end display options.
In essence, the plugin doesn't allow you to display discounts on the product page. This may reduce your chances of grabbing the buyer's attention. At a very similar price point, our #1 plugin recommendation remains a more robust solution.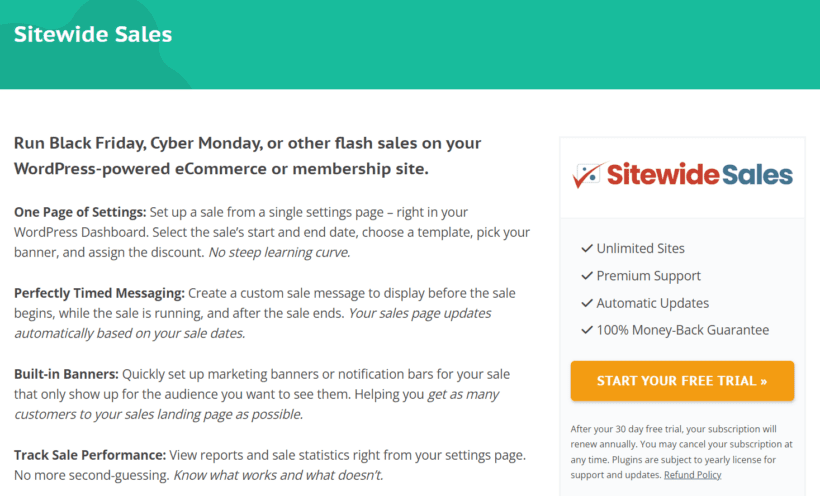 Are you looking for a WooCommerce dynamic pricing plugin that focusses more on marketing? Then this might just be the solution you've been looking for. Sitewide Sales comes with tons of features that allow you to create advanced dynamic pricing rules. But it also packs promotional features like landing pages and header banners that make it stand out.
In general, the tool helps you to create and manage sales campaigns across your entire store. To make these sales events effective, it also applies discount rules to your store's products.
Features
Configure advanced pricing rules Similar to the other two plugins on this list, this option also allows you to create an advanced WooCommerce pricing strategy. You can assign multiple discount types to products, categories, and user roles. You can also set start and end dates for promotions. The good thing is all the settings are on a single page in your WordPress site's back end. So, it's easy to use with almost no learning curve.
Powerful coupon code management Of all the WooCommerce dynamic pricing plugins here, this is the only one that offers extensive coupon management functionality. As a basic, it lets you offer coupons both manually and programmatically. But even more, you also get coupon templates that you can add to a banner or landing page.
Other sales and promotional campaign features Interested in creating Black Friday sales or any other type of flash sales? Here's one unique department where Sitewide Sales excels. The plugin allows you to create and display perfectly-timed custom sales messages. You can either add them to your landing page, sales page, or notification bars. Each of these features works efficiently as in fully functional conversion plugins. It also has analytics features that let you track your sales campaign's performance.
Recommendation
Sitewide Sales is a great pricing plugin all-round. But it particularly excels in managing marketing campaigns on your website. You may probably be asking "What is the best WooCommerce plugin for discounts?" On this, I find myself leaning more toward YITH WooCommerce Dynamic Pricing. In my opinion, it makes sense to combine it with this plugin for the best marketing results.
4. WooCommerce Wholesale Pro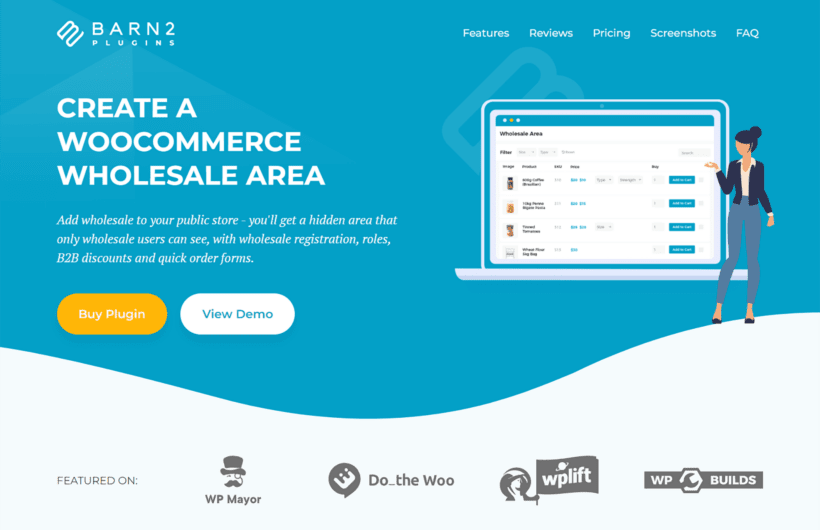 WooCommerce Wholesale Pro is a powerful dynamic pricing plugin for stores wanting to charge different prices to different groups of customers. It especially focusses on selling to two or more customer groups, such as retail and wholesale buyers (which may be sub-divided into multiple pricing tiers).
Features
One of the key features of the plugin is its dynamic pricing capabilities, which allow store owners to set up flexible pricing rules based on user role.
With the dynamic pricing feature of the WooCommerce Wholesale Pro plugin, store owners can create an unlimited number of user roles, and charge each role different prices. You can automatically apply wholesale discounts as a percentage of the main product page, or you can enter an exact price for each wholesale role.
The plugin also allows store owners to set up different pricing tiers for different types of customers, such as regular and VIP wholesalers. This level of personalization ensures that each customer receives pricing that is tailored to their needs, leading to increased customer satisfaction and higher sales.
Recommendation
The dynamic pricing feature of the WooCommerce Wholesale Pro plugin is a powerful tool that enables store owners to offer flexible and personalized pricing to their wholesale customers. This level of personalization helps to build customer loyalty, increase customer satisfaction, and ultimately lead to higher sales and revenue.
I recommend using WooCommerce Wholesale Pro if you need dynamic pricing which charges different rates to regular and B2B buyers.
5. WISDM Customer Specific Pricing for WooCommerce
WISDM's Customer Specific Pricing plugin does one job, and it does it well. It's a powerful tool that allows WooCommerce store owners to offer personalized pricing to individual customers or groups of customers.
With this plugin, store owners can set up special pricing rules based on customer data such as purchase history, location, and other factors. This level of personalization helps to create a more engaging shopping experience and can lead to increased customer loyalty and higher conversion rates.
Features
One of the standout features of the WISDM's Customer Specific Pricing plugin is its flexibility. The plugin allows store owners to create pricing rules based on a wide range of factors, including the customer's purchase history, location, cart contents, and more. This level of customization ensures that customers are receiving pricing that is tailored specifically to their needs, leading to increased engagement and higher sales.
The plugin also allows store owners to set up pricing rules for individual products or groups of products, giving them full control over their pricing strategy.
Recommendation
Use the WISDM Customer Specific Pricing plugin if you just want to charge different prices to individual customers or groups. However, this isn't the plugin for you if you want other types of dynamic pricing, such as quantity-based discounts.
Which is the best WooCommerce dynamic pricing plugin?
I've shown you three powerful plugins above. And you may be having quite a difficult time deciding which option perfectly suits your needs. No doubt, each plugin performs better in different departments. But before making your choice, it's important to consider the following:
The variety of advanced pricing rules and formulas the plugin supports
The front-end design and customization options
How intuitive the user interface is
User reviews and customer support
Compatibility with payment methods or payment gateways and other WooCommerce and WordPress plugins and themes.
When it comes to the availability of complex pricing rules, we highly recommend YITH Dynamic Pricing & Discounts. Do you have a large store with very complex pricing needs? Then this is the ideal plugin offer for you.
But you may be looking for an alternative for smaller stores. Then WooCommerce Dynamic Pricing is a great option to consider. The only caveat here is that you won't be able to display the discounts on product pages.
Finally, for store owners more interested in sales and promotions, Sitewide Sales is for you. You'll be able to display your discounts in various locations on your site.
Improving your store with a WooCommerce dynamic pricing plugin
A solid and unique pricing strategy is an integral part of any successful eCommerce store. Introducing WooCommerce dynamic pricing in your store is a great way to stay competitive and profitable. It helps you to drive sales, acquire new customers, and boost customer loyalty.
In this article, I explained what dynamic pricing is and how you can use it. I then showed you 3 powerful plugins for adding pricing rules to your site:
Are you ready to boost your store's profitability with WooCommerce dynamic pricing? Then get your copy of YITH WooCommerce Dynamic Pricing today.
Kindly let me know if you have any questions. I'll be in the comments section below.