Choose which customer emails to send to the additional recipients
By default, the WooCommerce Multiple Email Recipients plugin will send the additional email recipients to all of the WooCommerce customer emails. These are:
Order on-hold
Processing order
Completed order
Refunded order
Customer note
Reset password
New account
You can also add additional recipients to customer emails created by third party plugins such as WooCommerce Subscriptions, WooCommerce Memberships, WooCommerce Wholesale Pro, etc.
Each email address will appear in the 'To' field of the email. This makes it easy for recipients to see who else received the email. (For example, the person who placed the order can see that it was also sent to their colleague in Finance, so they don't need to notify them separately.)
If you don't want all the order-related emails to be sent to the additional email recipients, then you can disable this in the WooCommerce email settings:
Go to WooCommerce → Settings → Emails.
Click 'Manage' for any of the emails which are labelled 'Customer'.
On the next page, you will see an option labelled 'Enable this email notification for additional emails'. Untick this and save your changes for each email that you do not wish to be sent to the additional email recipients.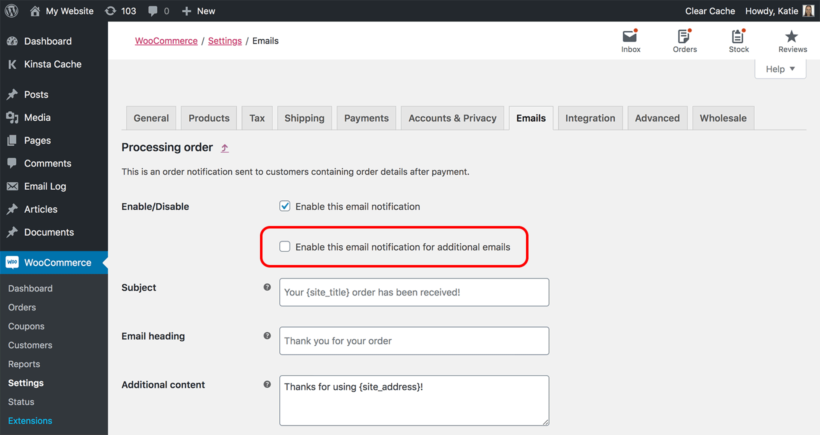 You can also add extra email recipients for the emails that WooCommerce sends to the administrator. Read instructions.
If searching the knowledge base hasn't answered your question, please contact support.