How are attributes ordered in the variations grid?
The WooCommerce Bulk Variations plugin displays product variations in a grid layout, with one attribute listed along the top row of the grid, and a second attribute listed vertically. Each individual variation appears within the cells of the grid. This article explains how the attributes are ordered by default, and how to change the order.
X and Y axis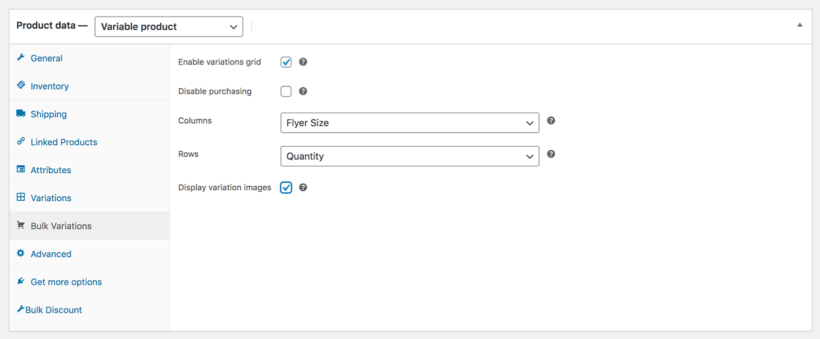 The Bulk Variations tab on the Edit Product screen lets you select which attribute to display for the columns and rows in the variations grid for specific products.
If you don't select specific attributes for each product, then the columns and rows will be selected automatically. They will be displayed in the order that they appear under Edit Product → Product Data → Attributes. The attribute listed first will be used for the X (horizontal) axis.
Ordering the attribute terms in the grid
The attribute terms (e.g. red, green and blue for a 'color' attribute) will be listed in the order that is set under Products → Attributes. If you wish to change the order of the attributes in the grid, then you can do so on this page.
If searching the knowledge base hasn't answered your question, please contact support.