Installing WordPress and WooCommerce
If you already have a WordPress website with WooCommerce installed, then you can skip this page and install the WooCommerce Restaurant Ordering plugin straight away.
If you don't have an e-commerce website yet, then this article will help you to get started. For more detailed instructions, here's an excellent guide to setting up WordPress and WooCommerce.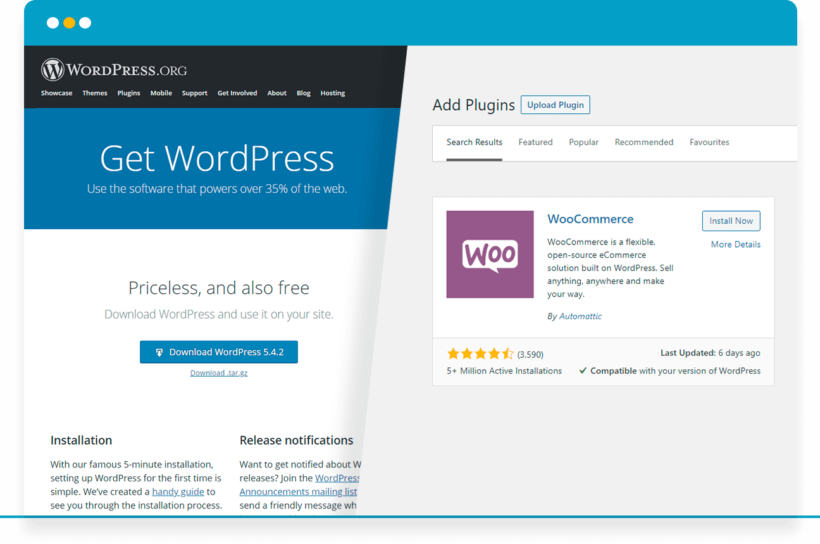 Set up web hosting and install WordPress
You need a good web host to store your website on the internet and keep it online at all times. We recommend Kinsta, but you can use any hosting company.
Once you have set up your hosting account, they will be able to install the WordPress content management system for you. You can then start setting up your basic restaurant website, including adding pages and installing a theme which will control the overall design.
Check out our list of excellent restaurant themes
Install WooCommerce
Next, it's time to install the free WooCommerce plugin. This adds e-commerce functionality to your restaurant website, such as the ability to add products and take payments online.
In the WordPress admin, go to Plugins → Add New and search for WooCommerce.
When you activate WooCommerce, the Setup Wizard will open. This walks you through some important features such as choosing your currency, delivery and collection options, and setting up one or more payment gateways. We particularly recommend PayPal and Stripe (for credit/debit card payments).
Next, go to Products → Categories and add some categories (e.g. 'Starters', 'Pizza', etc.). Your restaurant ordering pages will be structured into categories. As a general rule, you should add the same categories that you use for your printed restaurant menu because these will be familiar to your customers.
Finally, go to Products → Add New and add some of your foods as products to get started. Each item from your printed menu should be added as a separate product. Use product variations or add-ons for foods that have more than one option (for example, size options or extra toppings).
Once you have installed WooCommerce and added some food products, it's time to install the WooCommerce Restaurant Ordering plugin. This is where it gets exciting, as you'll soon see your foods listed on your website for the first time!
If searching the knowledge base hasn't answered your question, please contact support.