WordPress websites are already designed to be search engine friendly, and you can take some simple steps to improve your search engine optimisation (SEO) even further
Why are page titles important in WordPress SEO?
Page titles are seen as one of the single most important factors in a site's SEO. Search engines value them very highly: they're one of the main ways that a search engine can tell what a web page or post is about. Page titles also make a difference to real people who visit your site. They're the first thing people see in the search results for your website and they also appear at the top of the user's web browser. If someone bookmarks your site then by default, the page title will be used as the bookmark name. So it's important to get your page titles right, both for search engines and real people. By 'Page title', I'm actually referring to the meta page title that appears in the <head> section of the HTML for the page or post. This is different from the title that you enter at the top of the 'Add Page/Post' screen - although by default, WordPress will use this as your meta page title. I strongly recommend overriding this function by setting a custom meta title for each page and post on your WordPress site.
Do meta descriptions matter in WordPress SEO?
The meta description also appears in the <head> section of the HTML for the page or post. These days, search engines don't use descriptions in their rankings. However, it's still worth adding a description because they can be shown in search results - especially if they contain the keyword a person has searched for. If you haven't added your own description then the search engine is likely to choose a less relevant snippet of text to display in the search results, so people are less likely to click on your site.
What is an XML sitemap?
An XML sitemap provides search engines with a 'map' to your whole website and makes it more likely that they will index all your pages and posts. WordPress plugins are available to create XML sitemaps in a single click, so it's definitely worth creating one whatever the size of your website. Now I'm going to show you a simple method to create SEO titles, descriptions and XML sitemaps for your WordPress website.
In this WordPress web design tutorial, I will show you how to use the leading WordPress SEO by Yoast plugin to add custom page titles, descriptions and XML sitemaps. This is the leading WordPress SEO plugin and as well as being free to use, it comes highly recommended by WordPress designers worldwide.
Install the plugin
In your website's WordPress admin, go to Plugins > Add New
Search for 'WordPress SEO by Yoast'
Click to install and activate the plugin
Add page titles and descriptions
A section called 'WordPress SEO by Yoast' will now appear on the Add/Edit screen for all your pages and posts.
Scroll down to the relevant section
Enter your desired meta title in the 'Title' field
Top tip: Search engines see the first few words of the meta title as the most important, so I recommend putting your main keyword at the start of the title and your company or brand name at the end. Aim to strike a balance between including as many keywords as possible and making the title useful and eye-catching to real people.
Enter a meta description for the page/post in the 'Description' field
Top tip: Include your main keywords in the description but bear in mind that this is for the benefit of real people rather than search engines, so word it accordingly.

Create your WordPress XML sitemap
Hover over the SEO link in the WordPress item and click XML Sitemaps
Tick the 'Check this box to enable XML sitemap functionality' box
Tick the 'Ping Yahoo!' and 'Ping Ask.com' boxes
Scroll down and click 'Save Settings'
In future, the XML sitemap will automatically be updated and submitted to Yahoo! and Bing whenever you publish a new post or page. This will make it quicker and easier for them to find your new content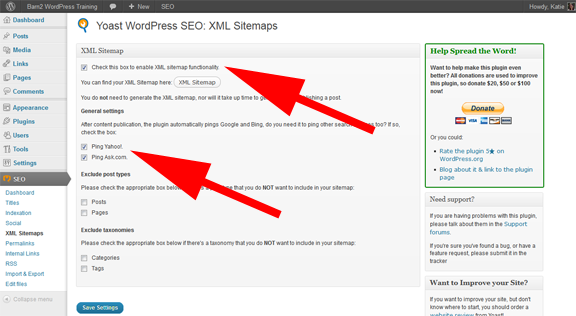 Other SEO settings
Now you've set up what I see as the quickest and most important parts of the WordPress SEO by Yoast plugin. It has much more to offer, so it's worth going through the settings in more detail and taking advantage of its other features too.
SEO services
We offer a range of WordPress-specific SEO packages and one-off SEO optimisation if you're not confident doing your own SEO.