This article has been kindly contributed by James Cummings from Daily Posts. 
Making your first impression count
What is the first impression visitors have about your business when they visit your website? Do you take into consideration the users' experience before building your website? Is your website mobile friendly? What is the traffic situation like on your website? Are you happy with your conversion rate? How well are you doing with search engine rankings?
Wondering why I started off with a barrage of questions?
The answer is obvious really. These questions are critical to the success of your business. How do I know? Put yourself in your visitors' shoes and pretend to be a search engine for once. Would you rank your website at the top if you were a search engine? Did you enjoy the journey through your web pages as a "visitor" on your own website? Keep sentiment aside and be objective about this. Tell the truth – What is your perception of your website now? You can keep the answer to yourself.
Whether your answer is positive or negative, I've got a few tips here that can enhance user experience (UX) on your website and organic search engine ranking as well. Let's start with what visitors dislike most about your website. Huh! OH YES, visitors do have what they absolutely hate about your website. If only this is appropriately addressed, the story will be different. If you want to have a win-win chance to grow your business as it relates to user experience and search engine rankings, then pay attention to these "all what nots" in website designing.
3 things visitors hate most about your website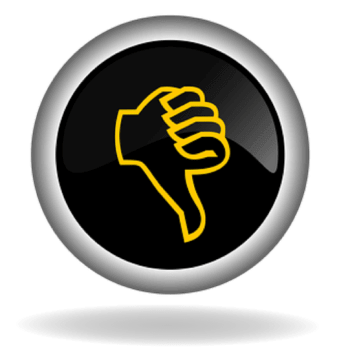 These are the quirky turn-offs that increase the bounce rate on websites:
Intrusive popups
Argh! Nothing could be more annoying than having distracting popups cover almost your entire screen while reading a website. This happens to be my biggest turn-off and what I hate most about most of the websites I have visited. There are many people I know that share my view on this.
This is a very rude intrusion on the reader as it mars user experience. Trust me, it affects conversion rate negatively, as well as your search engine ranking.
I'd advise you to desist from this practice and employ a better means of getting your readers' attention to enhance user experience. Here's a useful resource you can consult to create a smart call to action.
Difficult to access on mobile devices
Research has proven that mobile-based internet usage for the first time in history surpassed desktop usage worldwide towards the end of the year 2016. Does this mean anything to you? Of course, it should so long as you have a website for your business.
60% of website visits have been reported to originate from mobile devices. Websites that are not optimized for mobile usage can be very frustrating to visitors because content is not displayed well, affecting their experience. As a result, "Google announced a major algorithm update in 2015 that penalizes websites that aren't mobile friendly", says Laura Stroup. If you have this challenge, you may need to re-configure or re-build your website with your users in mind, to avoid low search engine rankings and a high bounce rate.
Slow speed
Think critically about this question. How long do you think that your visitors are willing to wait for your website to load?
According to Brendan at www.FreeParking.co.nz, a major player in the New Zealand hosting and domains market, "loading time is a major contributing factor to page abandonment. We ran a survey of the 80,000+ sites we work with directly and indirectly and found a direct correlation between load time and how happy website owners said they were with the financial performance of their website". Mashable says 40% of visitors will leave your website if it takes longer than 3 seconds to load. No one really has that patience or the luxury of time to wait till "forever" to get a website page to load. So you must make sure to up your speed as the need arises.
Do yourself a favour by making the necessary adjustments on your website to guarantee an awesome user experience. This will generate leads, which will in turn bring about huge growth in your conversion rate.
Related posts