1. Installing WooCommerce Lead Time
Our WooCommerce Lead Time plugin lets you set a lead time - either globally for all products or for individual products.
The lead time is displayed on the single product page, immediately under product's stock status (if present). If the stock status is not displayed on the product page, then the lead time will appear above the add to cart button.
Installing the plugin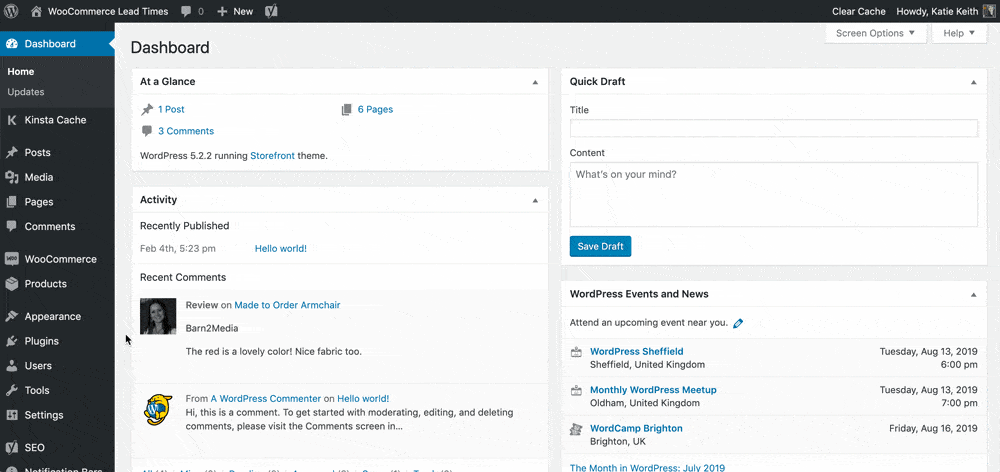 Once you have purchased WooCommerce Lead Time, you can download the plugin files and copy your license key directly from the Order Confirmation page. You should also receive a confirmation email (in addition to your PayPal receipt) which contains your license key and a download link to the plugin. If you don't receive this email, please get in touch with us.
Download the plugin.
Go to your WordPress admin, then go to Plugins → Add New → Upload Plugin.
Click 'Choose File', select the "woocommerce-lead-time.zip" file you just downloaded and click 'Install'.
Once uploaded, click 'Activate'.
Note: WooCommerce Lead Time requires the free WooCommerce plugin to work. If you can't see the plugin settings page, make sure you have WooCommerce installed.
Tip: Once you've installed WooCommerce Lead Time, remember to keep it up to date. You can learn how to do this in our article on plugin updates
Enter your license key
Once you have activated the plugin:
Go to WooCommerce → Settings → Products → Lead time and enter your license key. You can get this from the Order Confirmation page and the email confirmation that was sent to you after purchase.
Click 'Save Changes' to validate and store your license key.

If you get an error saving your license key, please try a second time. If the error persists, please search for your error above or view our article on license key problems.
Choose your settings
Next, you need to choose your lead time settings. We've provided a separate article about the Lead Time Settings Page.
If searching the knowledge base hasn't answered your question, please contact support.