Storing evidence of your customers' location for EU VAT purposes
European VAT law requires you to store two pieces of non-contradictory evidence to prove your customers' location. (Or if you're an EU country selling less than €100,000/year to other EU countries then 1 piece of third party evidence is acceptable.) You must store this evidence for 10 years.
This article will explain what evidence your store collects, and how you can access it using the Easy Digital Downloads EU VAT plugin.
Examples of customer location evidence
The Easy Digital Downloads EU VAT plugin works with Easy Digital Downloads (EDD) to store and display several pieces of customer location data. Straight out of the box, this includes:
Evidence #1 – Customer billing addressEDD stores the customer's billing address, which is entered on the checkout page.
Evidence #2 – Customer IP addressEDD stores the customer's IP address and stores it in the WordPress database. The Easy Digital Downloads EU VAT plugin displays this in a 'VAT Details' section of the EDD Payment screen.
Additional evidenceMost EDD sites store additional evidence of the customer's location. For example, your payment processor (e.g. Stripe or PayPal) might collect information such as IP address, country code, and bank location. Each of these can count as additional pieces of evidence.
The Easy Digital Downloads EU VAT plugin collates this evidence and makes it easier for you to access.
How to access customer location data
There are 2 ways to access your customer location evidence, for example in order to check the data manually or if you are ever audited by the tax authorities:
EDD Payment screen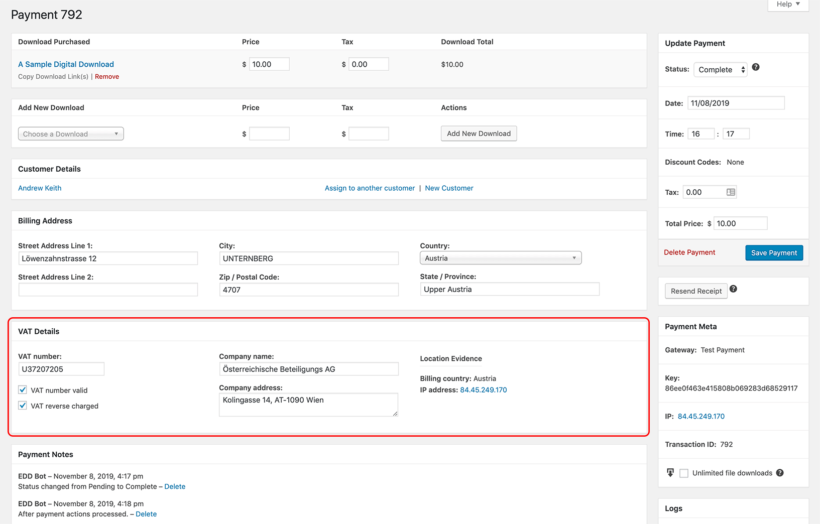 The Easy Digital Downloads EU VAT plugin adds a handy 'VAT Details' section to the EDD payment screen, which you can access by clicking on any payment in Downloads → Payment History. This collates both pieces of customer location evidence, so you can quickly check it at a glance. You can click on the IP address to look up the country it relates to.
This section also includes the customer's VAT number and whether or not it was valid, so you can easily identify business-to-business (B2B) payments where the VAT was reverse charged.
Downloading the data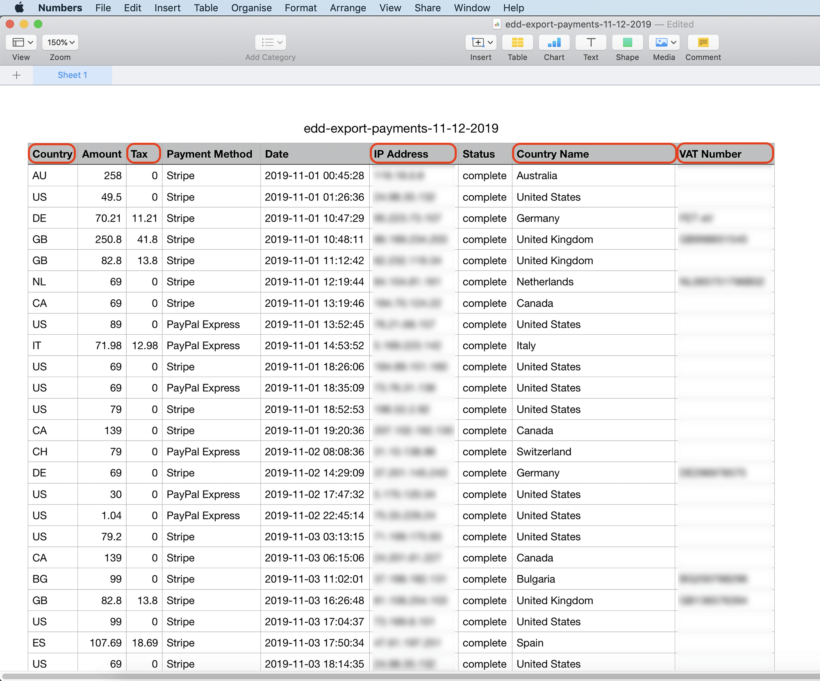 Example of customer location evidence downloaded using the EDD Payments report
If you want to view the customer location data for all payments together, then you can export a report containing this information:
Go to Downloads → Reports → Export → Export Payment History.
Enter the dates for which you want to view the customer location evidence and generate a CSV file. This will be saved to your computer.
Open the CSV file using any spreadsheet software (e.g. Microsoft Excel, Pages or Google Sheets).
Simplify the report by deleting any columns you don't need.
You can find the customer location data in the 'Country', 'Country Name' and 'IP Address' columns.
Additional evidence
If you are relying on evidence stored by your payment provider (e.g. PayPal or Stripe) then you can get this from your PayPal/Stripe account.
Ensuring the location evidence is "non-contradictory"
EU law states that the location data that you hold for each customer must be "non-contradictory". This means that both records of the customer's country should match.
We recommend that you create a process to check the reports periodically. If you ever discover records that don't match, then you should contact the customer. Ask them to resolve the discrepancy between the two pieces of information. (More advice on this here.)
The Easy Digital Downloads EU VAT plugin doesn't check that the records match because IP addresses aren't always reliable. Therefore, in planning your company's VAT compliance, you should look at all the location evidence that is collected from all sources and seek legal advice to ensure that you are collecting sufficient evidence.
If searching the knowledge base hasn't answered your question, please contact support.