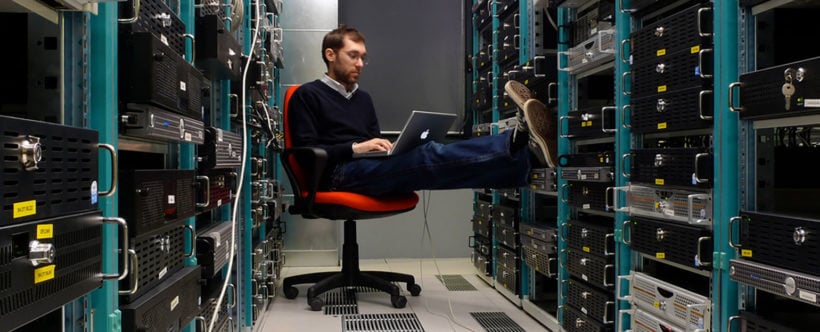 All websites need to be hosted somewhere on the internet. Choosing the right web host is one of the most important decisions you can make for your WordPress site.
Types of WordPress hosting
There are various types of web host for you to choose from:
1. Standard shared hosting
This is the cheapest type of web hosting and involves choosing one of the standard packages available from most hosting companies. Standard-level shared hosting is the cheapest option and there are loads of companies offering it. Popular hosts include SiteGround, 1and1 Internet, GoDaddy, Bluehost, TSO Host, Heart Internet etc.
This type of hosting is fine, but there are downsides.
Problems with shared hosting
Security - While all hosts take security seriously, basic shared hosting means that if another site on the same server is compromised then your site is at risk too. Your site is only as secure as the other sites you're sharing with.
Backups & restores - Some shared hosts have pretty good backup services nowadays. However most of them make it difficult to restore to a previous backup. This means that if anything goes wrong and you want to roll back, you'll need some technical expertise to do so. I would only recommend hosting that allows you to easily do this yourself.
Performance - If you have a very simple WordPress website with a basic theme and no resource-hungry plugins (e.g. membership or e-commerce) then you might get away with shared hosting. Most websites have some level of complexity and if yours does, there's a risk that it will grind to a halt with cheap hosting. You can cover up for inferior hosting by installing performance measures such as caching plugins. However it's much better to choose a host that is built for performance. You don't want to compete for resources with thousands of other sites.
Scalability - If you have a huge spike in traffic or your website is running any particularly resource-intensive processes then there's a risk that it could crash the server, leading to downtime for you and the other sites on your server. The same can happen the other way round - if another site on your server causes problems then it could cause downtime for you. Most shared hosts make promises about guaranteed uptime but the nature of this type of shared hosting means there's a higher risk of downtime.
Support - The support from shared hosts varies, and some is very good. However a lot of cheap hosts outsource their support. It can be hard to get through to an expert when there's a problem with your WordPress website.
If you really want cheap WordPress hosting then I'd recommend SiteGround. We use them for a few non-commercial clients' websites and they're the best standard shared host we have tested. However to be honest, it's not really a cost saving compared to managed WordPress hosting. I explain why later in this article.
2. VPS or dedicated server
If you want full control over your hosting then it might be tempting to get a VPS or dedicated server.
A dedicated server is when you have an entire server just for your website. VPS stands for 'Virtual Private Server' and gives you a dedicated section of a larger server just for you.
With a VPS or dedicated server, you're not competing for resources with other websites. You have full control over your server setup. While dedicated servers are usually very expensive, lower cost VPS' are available.
However I would advise against this setup because there are disadvantages.
Problems with VPS hosting
Technical expertise needed - An unmanaged VPS or server is only suitable if you're VERY technically savvy and want to spend a lot of time managing your server, doing server software updates etc. Even 'managed' VPS' and servers require some level of technical know-how. There are 'managed' servers and VPS' but in my experience, they are rarely fully managed. For example, you might have to tell your hosting company when you want them to install software updates to things like your PHP version. This isn't appropriate unless you're a techie and know about these things.
Scalability - A VPS or dedicated server is more scalable than basic shared hosting because you're not competing with other sites for resources. However there's still a limit on what it can do because you only have access to your dedicated environment. If your site's resource usage or your visitor numbers exceed what your environment can cope with then you can still get server crashes and downtime.
Support - Depending on whether it's managed or unmanaged, there will be less support with VPS or dedicated hosting. If your VPS or server is unmanaged then you will be completely on your own, which is completely inappropriate unless you're a server expert.
When things go wrong - Let's face it, websites are incredibly complex. When something goes wrong, you're largely on your own with this setup. It's nice to have someone you can turn to for help with complex issues with your website.
Time-consuming - A lot of WordPress developers choose to manage their own hosting - however this takes a lot of time which could be spent making money! We used to have a VPS and gave up because it was taking up so much of our technical director's time. We decided that it wasn't profitable for him to spend time on server management (and yes, it was a managed VPS!).
Performance - Lots of people choose a VPS or dedicated hosting as they think their site will be faster. This is possible if you know what you're doing. However managed incorrectly, a dedicated environment can grind to a halt. It certainly can't compete with managed WordPress hosting (see below). Last week we migrated a WordPress multisite from a managed VPS to our hosting. The page load times improved from 2.118 seconds on the VPS to 0.551 seconds on our hosting! All we did was migrate the site to our hosting, and the difference was huge.
3. Managed WordPress hosting
In the last few years, managed WordPress hosting has become very popular. This is hosting designed specifically for running WordPress. I would recommend managed WordPress hosting for any non-techies that want to manage their own website.
By the way, all managed WordPress hosts are different and before signing up, I recommend checking that they provide everything I'm going to discuss in this next section. We use Kinsta who provide all these features, and other managed hosts are probably similar - but do check.
Easy backups and rollbacks
Most managed WordPress hosts have excellent systems for backups and rollbacks. You can log into your hosting account and take an instant snapshot of your website. You can access the backups that they have automatically created for you. There's usually a one-click option to restore your website to any of the backups in the list.
This is an absolute life-saver if anything ever goes wrong - for example, if something breaks after a software update or if your website gets hacked.
Free staging site
Most managed WordPress hosts offer free staging sites. A staging site is a duplicate of your live site where you can make changes without affecting the live site. The best hosts let you instantly create a staging site based on your live site, make changes on the staging site and copy the changes to your live site when you're happy.
This is a fantastic tool that lets you experiment with any changes and test software updates without risking any downtime on your live site.
Lightning fast performance
Managed WordPress hosts are much, much faster than standard shared hosts. They can also be faster than a VPS or dedicated server because it's so much work to fine-tune a dedicated environment - whereas this is all done for you with managed WordPress hosting. Managed hosts are built for performance from the ground up. They've been fully optimised to provide the best possible environment for running a WordPress website.
We regularly migrate our clients' websites to managed WordPress hosting. There are huge performance improvements literally every time. We recently migrated a site and simply switching hosts improved the page load time from 6.54 to 0.82 seconds! Choosing the right host can make a huge difference to the speed of your site.
Value for money
While managed hosting isn't as cheap as basic shared hosting or some VPS', I think the value for money is much better and it can save you money in the long run. You can get managed hosting for $30 or less per month. This really isn't expensive given the advanced functionality you get for this price, performance enhancements, expert support etc.
With a cheap shared host, you might save money on hosting but have to pay a lot if your website get hacked or if you need to roll back to a previous backup. With managed WordPress hosting, you might pay a bit more per month but you're likely to get things like rollbacks and hack fixes for free. Go for a reputable managed WordPress host and you're likely to save money - and a lot of headaches - in the long run.
Get the right hosting for your website
Choosing the best WordPress hosting makes a huge difference to the performance, security and ease of maintenance of your website. If your hosting company offers the right tools and will take care of the server maintenance behind the scenes then you have a much better chance of being able to manage your website without needing any technical expertise. This saves you money in the long run and will make your website much better as a result.
We've been using Kinsta for years and think they're fantastic.