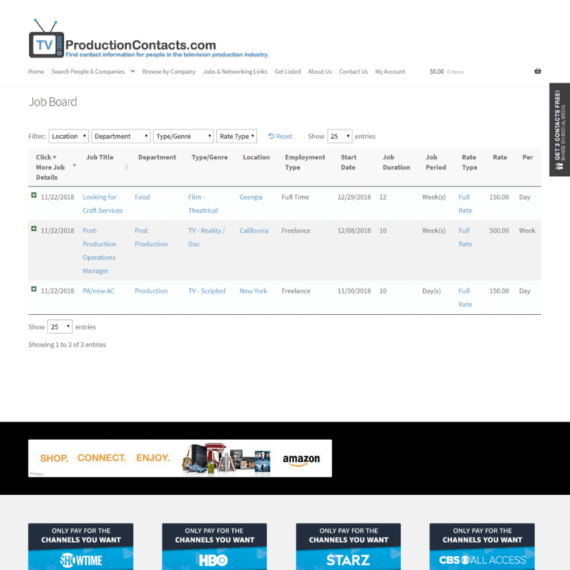 TVProductionContacts.com is the place to go to find contact details of people in the television production industry. It connects people in the same industry and facilitates networking. The site needed several filterable tables, including a sortable job board - and the Posts Table Pro plugin was the solution.
Job seekers can filter the job board by using one of the four dropdowns which include the location and rate. It's easy to scan through the information quickly as the table is arranged in multiple columns. It's also possible to sort by job title or date posted.
When you're ready to find out more details about a job, you just click on the plus sign and the table expands to show everything you need to know.
Elsewhere on the site, hiring managers can post jobs on the board by filling out a simple form. The form is powered by the Gravity Forms plugin and the Gravity Forms + Custom Post Types add-on. All the information is submitted via the form and automatically added to the table once it's been approved.
TVProductionContacts.com's creator is delighted with how Posts Table Pro has helped his site. He said:
I just wanted to say thank you to Katie Keith for all your help and support! I'm not a website developer, but I decided to create a website that needed some tables. I found this plugin and it exceeded my expectations on what it can do! I've had a lot of questions since I'm just a beginner and Katie has helped me get through everything on my wish list. She's extremely knowledgeable and super fast at responding - thank you Katie!
Along with using Posts Table Pro, TV Production Contacts also installed our WooCommerce Product Table plugin to create an online directory to sell contact details.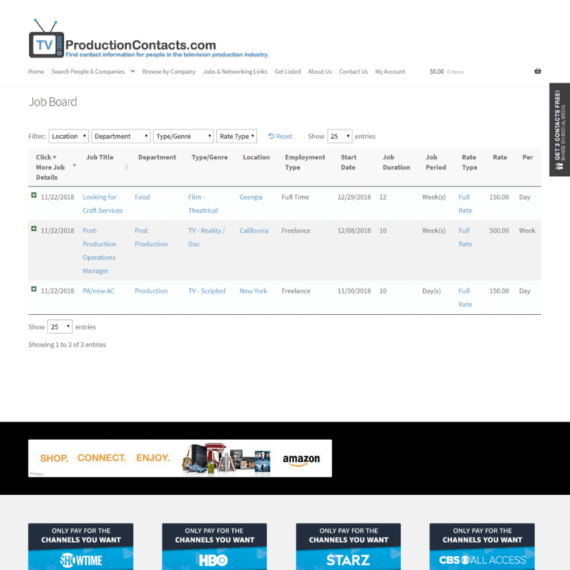 The site creator made full use of our tutorials when installing the Posts Table Pro and Gravity Forms plugins. You too can follow these tutorials here:
Use Posts Table Pro to create your own searchable job board.