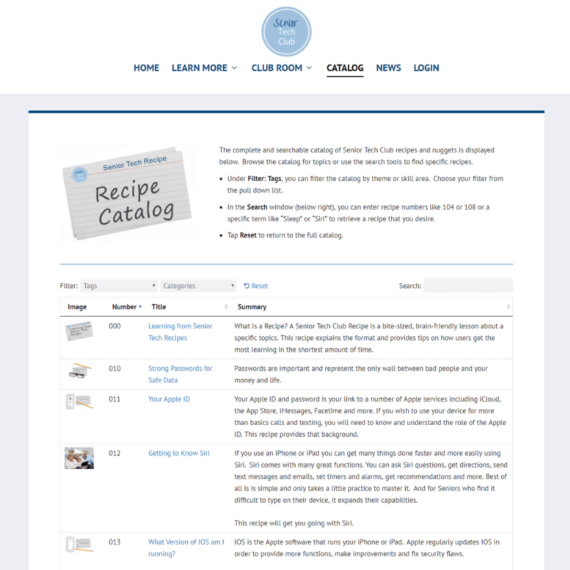 Senior Tech Club is the place to go for all your technology tutorials and queries. It was set up to help seniors stay connected with family and friends, but also keep seniors in touch with the changing world around them. The catalog page displays a table of tutorials for all users to look through.
There's information about strong passwords, making video calls with Facetime and using Siri. And it's all offered in the form of recipe cards. It's a friendly format that keeps the tutorials easy to follow.
As the table of tutorials is long, the page is powered by our Posts Table Pro plugin. It keeps things organized and easy to sort through.
Each post is listed in the table along with an image, the title and a brief summary. The list is simple to search through as users can search by keyword or filter it using the two dropdowns. So if you need a tutorial on how to use Safari, you just need to select "Internet" from the Tags dropdown. Or, if you want to browse all tutorials on iPhone apps, just select "Apps" from the Categories dropdown.
Why don't you have a look at the list of tutorials in action?