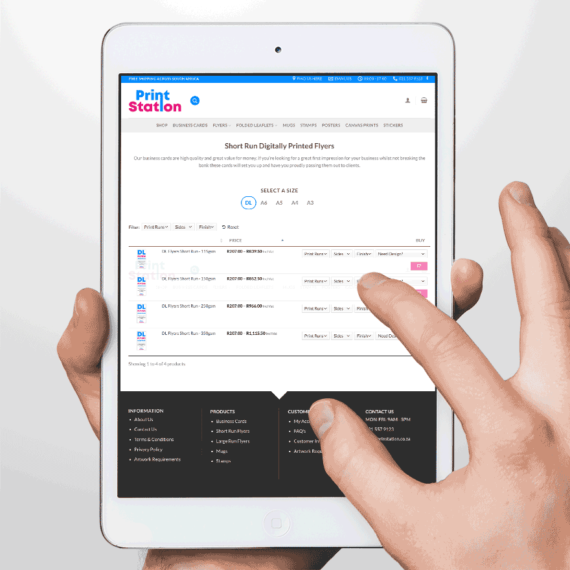 Print Station is a print house based in South Africa. They specialise in short print runs of digitally printed flyers, business cards and mugs.
There are a lot of options for customers to choose from when ordering, including the paper size, quality of the paper and the finish. With so many options, Print Station needed a couple of plugins to make it easy for customers to place an order. That's why they decided to use our WooCommerce Product Table plugin along with the WordPress page builder plugin.
Our WooCommerce Product Table plugin has been used to create a series of product tables. Each product table has multiple variation dropdowns embedded into the product table. Above the table there are three dropdowns for people to quickly filter out what they're looking for. 
Furthermore, thanks to a WordPress page builder plugin, there are multiple tabs at the top of the page so the customer can select the paper size they need. Each tab contains a different product table so customers aren't taken to a new page once they've selected the paper size.
Lastly, Print Station decided to replace the add to cart buttons with icons. For this they used the free WooCommerce Custom Add to Cart Button plugin. Together, the plugins make the whole order process as intuitive as possible.