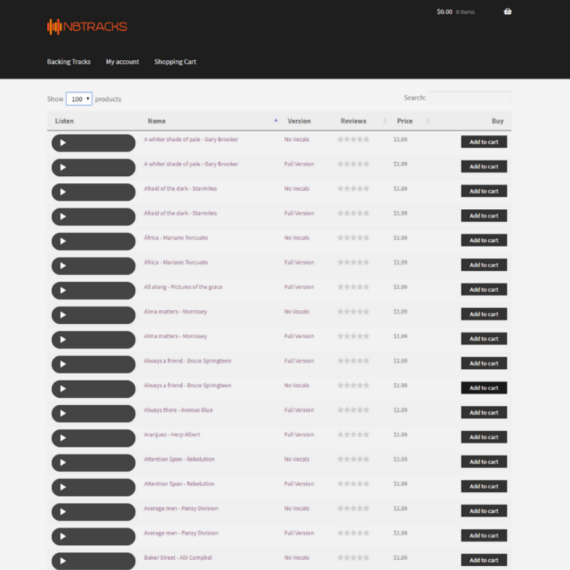 Nico is a composer of background music for producers. He sells his background music tracks through his website - Nico Backing Tracks. Nico chose our WooCommerce Product Table plugin to list his backing tracks in a WooCommerce audio store, and he's so glad he did.
"Amazing plugin!" - Nico
Nico needed audio players embedded into the product list so his customers could listen to snippets of each track. Our WooCommerce Product Table plugin is perfect for this and much more. 
Each backing track is listed in a sortable table with the audio sample in the first column. The list can be sorted by reviews, price and the name of the track. The default setting shows the tracks listed in alphabetical order.
The drop down lets users decide whether they want to see 10, 25, 50 or 100 tracks at a time. And there's also a search function so customers can use keywords to search through the tracks.
Customers simply sort the Woo audio table to find what they're looking for, add the track to their cart and click view cart to make their purchase.
Related tutorial: Create your very own WooCommerce audio store in under an hour!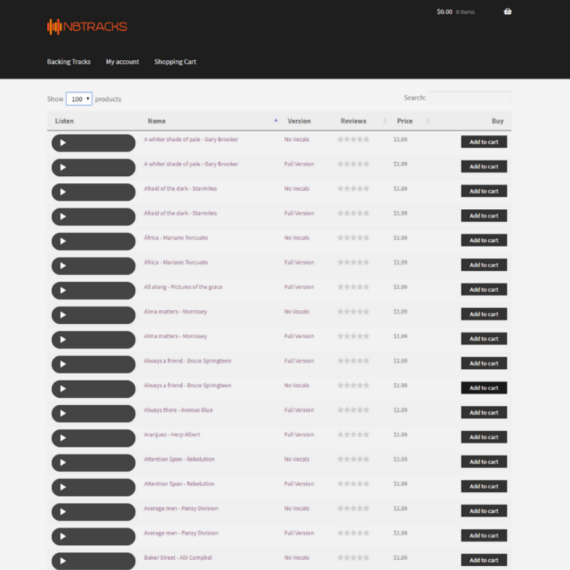 Use WooCommerce Product Table to embed audio players into your product list.