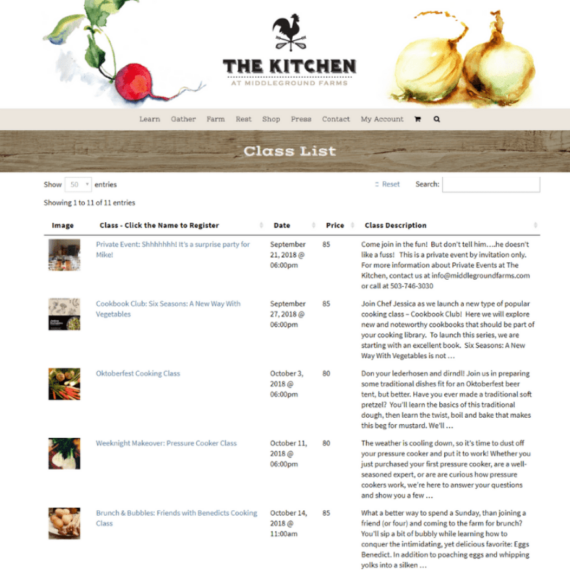 The Kitchen at Middleground Farms is a cooking experience for foodies, set on a working farm in Oregon, USA. The Kitchen offers a range of cooking events from making pasta to using pressure cookers and everything in between. They use our Posts Table Pro plugin with Events Calendar to sell cookery courses in WordPress.
The cookery courses are added to WordPress using the Events Calendar plugin, with tickets on sale using its Event Tickets Plus add-on. They weren't happy with the default layouts that come with the Events Calendar, so they combined these WordPress events plugins with Posts Table Pro. As a result, the events are listed in an interactive table layout that makes it much easier to find and book an event.
The Kitchen's class list displays all the cooking events and courses coming up at the farm. Customers can browse the full list of cookery courses and read a short description of each course. The list can be sorted by the event date, price or course name. To speed things up, a search function lets the customer quickly find a course based on specific keywords.
By clicking on the course name, the customer can find out more about a cookery class. This takes them to a new page (provided by Events Calendar and Event Tickets Plus), where they can book onto the course.
Read our tutorials to learn how to set up the same on your own WordPress events website!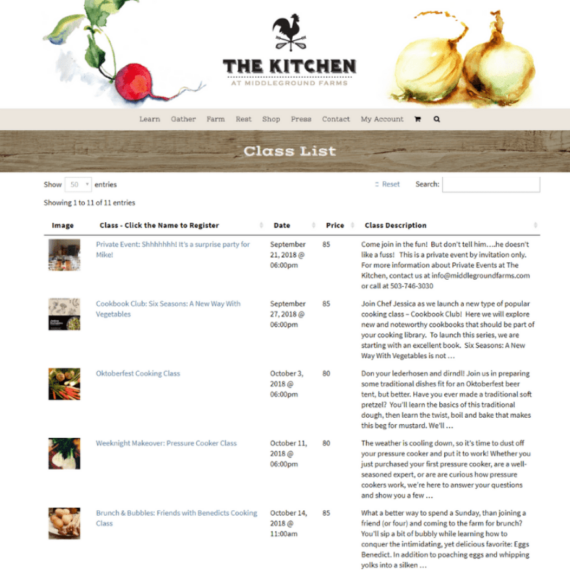 Use Posts Table Pro to create a course or event booking system in WordPress.