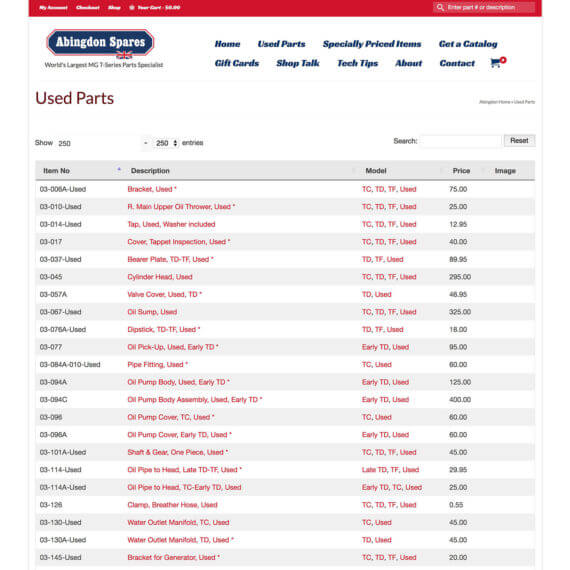 Abingdon Spares uses Posts Table Pro as an e-commerce product table WordPress plugin. It can display products from most WordPress e-commerce plugins in a searchable table view.
The e-commerce product table functions as an interactive database of used car parts. The table has various columns to list information about each product, including custom fields to store specific data.
Visitors can search for a keyword, change the number of e-commerce products shown on click on a column header to sort the table. They can also click on a model to filter for that model. Once they have found the product they want, they can click through to view more details and buy online.
You can use Posts Table Pro to display products from any WordPress e-commerce plugin in a table on your own website. All that matters is that the e-commerce plugin stores products as a custom post type. However if you're using WooCommerce then we recommend that you use our dedicated WooCommerce Product Table plugin instead. This works in a similar way but has more dedicated support for WooCommerce such as attributes, variations and add to cart buttons.
See our full tutorial on how to create a WordPress product table for any e-commerce plugin.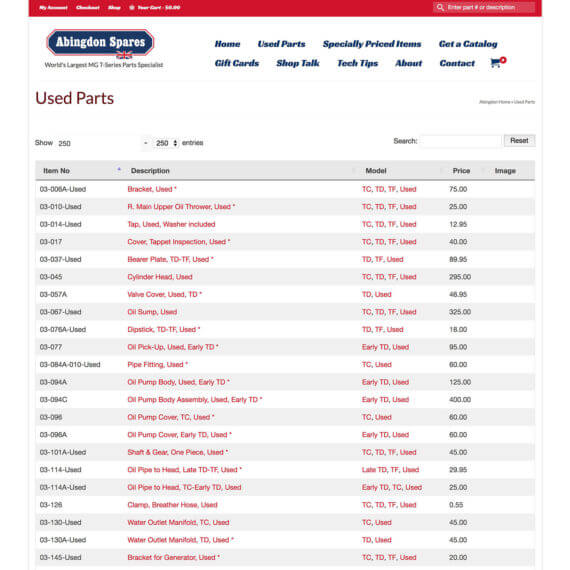 Use Posts Table Pro to list e-commerce products in a searchable table view.