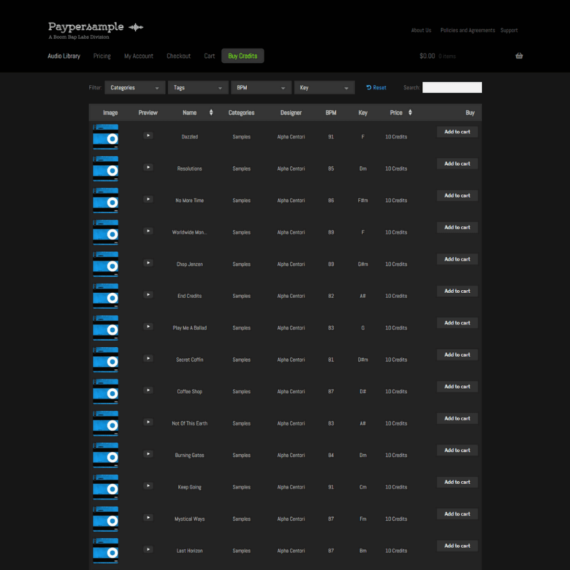 Boom Bap Labs is an audio shop. Their mission is to keep real hip hop alive. They sell complete sound libraries on the Boom Bap Labs website. On their other site, Paypersample, they sell individual sounds with audio previews in an easy to navigate table layout. To do this, they used the WooCommerce Product Table plugin to create a WooCommerce audio shop.
Customers want to be able to hear a sample before buying audio. That's why Boom Bap Labs needed to embed audio samples into the product table. They've done this by using WooCommerce Product Table with the WordPress HTML5 Audio Player plugin.
Along with the audio preview column, there are extra columns to display everything a customer needs to know when choosing the music they want to buy. This includes the name, designer, beats per minute (BPM) and price. There are hundreds of tracks available, so customers can filter the table by category, tag, key, or BPM.
To make the purchase process even simpler, Boom Bap Labs installed the WooCredits plugin. Customers can buy credits on the Paypersample website and spend their prepaid credits quickly and easily, whenever they want.
Boom Bap Labs are really pleased with how WooCommerce Product Table has helped them create a WooCommerce audio shop. They said:
WooCommerce Product Table is very powerful and flexible. It's exactly the tool we were looking for. We sell individual sounds and samples and The Product Table does the perfect job. We highly recommend it. It looks clean, and it's very user friendly. The customer support is top quality and always there to assist. I'm very happy with the plug-in! 5 Stars!!