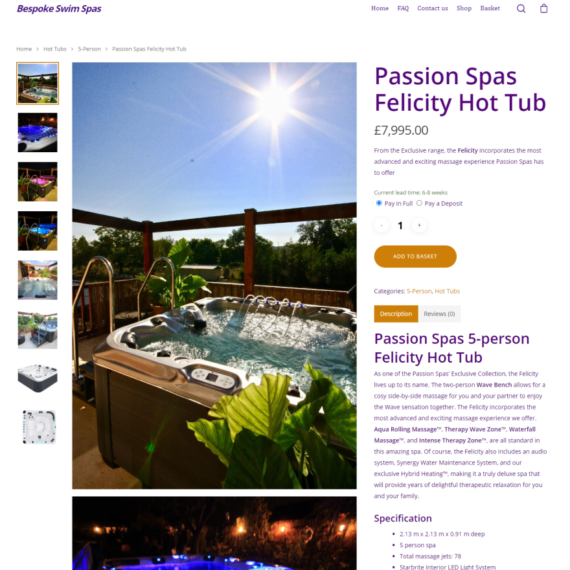 Bespoke Swim Spas is a family firm based in Staffordshire that imports and supplies hot tubs and swim spas. They used our WooCommerce Lead Time plugin to show lead times for their products on their single product page.
The online store configured the plugin to show the lead time for their swim spas and hot tubs on the single product pages. This way, their customers can get all of the product information from one page and make a purchasing decision.
The lead time is displayed under the product's title, price, and description. If a customer wanted to purchase, say, a hot tub, they would see that the lead time is 6-8 weeks.
If they wanted to place their order, they'd simply choose to either Pay in Full or Pay a Deposit and click the Add to Basket button to proceed to checkout and place their order.
Products with variations, such as the dual zone swim spa, that's available in different depths i.e. Std 126 cm and Deep 155 cm, displays the product lead time after the customer has selected a variation.
Sheila Lee Thompson of Bespoke Swim Spas was happy with how easy it was to set up WooCommerce Lead Time to display product lead times on their single product pages.
She followed our step-by-step tutorial to quickly configure lead times for the store.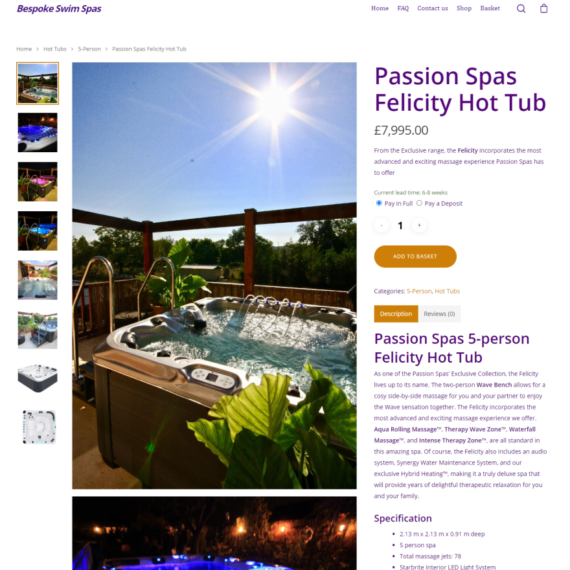 A simple plugin that just 'works' - I love the fact that you have the global option and can overwrite that for individual products as lead times alter (as they inevitably do). I couldn't believe that it wasn't something already built into WooCommerce, but hey-ho... :) Highly recommend this plugin and the friendly peeps at Barn2 Plugins (UK based too. So for me no waiting for different time zones to be on line, bonus!)
Use WooCommerce Lead Time to show lead times.