This article was kindly written for us by Sol, Creative Ninja at MyWorks Software.
With millions of happy users and thousands of raving reviews, WooCommerce now powers over 41% of all online stores. It's the world's most popular free e-commerce solution. This WordPress plugin makes it easier than ever for users to create an online store and start selling products to customers all around the world!
There are thousands of different types of online businesses, and thousands of different reasons why people choose to start selling online. The end goal is always the same: to sell!
As with any type of business, simply building a WooCommerce website is not enough. You have to work, test and adjust in order to make your business successful. Some of this will require research, and some of it will require trial and error. We've used our experience building dozens of successful WooCommerce stores to create a guide to building a store that sells!
Step 1 - Building Your Foundation
What's essential to both a house and a WooCommerce store? Their foundation!
None of the bells and whistles will matter if your site isn't built correctly. The most important part of building a WooCommerce store happens in the beginning. Those first steps are essential, but you'd be surprised by how many people rush through them, and then end up hitting walls down the road! Rushing through the tax setup section, for example, could bring you HUGE headaches later on...
So, our first piece of advice is: make sure you read through the WooCommerce guide about setup. Understand every single setting and step that you go through. Don't skip or guess. We know, reading instructions and going through settings isn't fun, but it has to be done. Luckily, the WooCommerce setup wizard will guide you through the process of setting up your pages, store, shipping and taxes, and payments.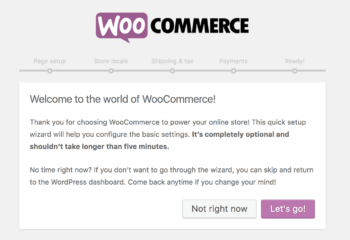 Payment Processors
Most configurations will vary based on your store, but one big one is payment processors! You can't sell if you don't accept your customers' payment methods.
WooCommerce doesn't come with a payment processor, so you will have to select a third party processor. We recommend using Stripe to process credit cards, and PayPal to accept PayPal payments. Depending on your type of product, you may find it beneficial to add a "pay later" option.
Data & Analytics
If you don't measure results, how can you pinpoint your strengths, weaknesses, and areas to improve? In a physical store you can gain insights by simply observing your customers. In an online store, you do so by tracking their behaviour.
Set up Google Analytics early on, as it will allow you to track all of your data and make it easy for you to analyse it to find your performance, as well as detect your weaknesses and opportunities to improve and sell more. It's incredibly easy to setup using the Google Analytics Dashboard Plugin.
Site Speed
Site speed is crucial. If your pages don't load quickly, you may lose a lot of visitors and sales. Remember - most online shoppers are lazy. You have to make it as easy as possible for them to find what they're looking for.
The easiest way to make your website lightning-fast is to use a fully optimised WordPress host such as WP Engine. These come with all the built-in performance measures you need, such as caching. The more expensive plans also come with a content delivery network (CDN) to speed up the website for visitors all over the world.
If you're using a more basic host, then WP Rocket is a great option. Cloudflare is ideal for selling to customers around the world. It's a CDN that allows you to have your content on different servers around the world, thus loading your site quickly across all countries.
Security
Security is always a priority. Make sure your store is equipped with an SSL certificate in order to instill trust in your customers, and protect their information.
Step 2 - Creating Engaging Design and Copy
Design and content are very important aspects of your store. This is about more than just making your pages look appealing. Your online store should be more than just a platform to make sales; it should present your unique brand, share a story, and allow the customer to connect with it.
Think of your ideal customer - what are their motives? What's their pain point? What issue are you solving? What will appeal to them? Think about all of these things... and then build a site that will speak to your ideal customer. A site that will engage that customer. User experience is crucial, so always keep that in mind.
Branding
Have you noticed how most stores you visit in person are different from each other? They all have their own branding, their unique style, and their own voice. Design your site according to your brand, and allow your site copy to speak in your brand's unique voice - it will work wonders in helping you stand out among your competitors.
If you don't have a brand image or identity, create a mood board. Jump on Pinterest and flip through a magazine and look for things that influence or relate to your brand. Think colours, imagery, language, fonts, etc. Put together anything that you think represents your brand or your ideal customer.
Then, create a brand style sheet. Set your brand colours, inspirations, and 'feel' and condense them into one page. This sheet will help you build your site, write copy, and select elements that are true to your brand.
Content
Creating useful content is a great way to attract and engage new visitors. Build a blog into your site, and create content that will help, motivate, and ideally inspire your visitors. Show them ideas of how to use your products, and give them tips and advice for topics related to your store. Doing so will allow you to develop a deeper connection with your visitors. This sets you apart from your competitors.
Serve, Serve, Serve!
Help your customers by giving away any free resources that you can. Serve visitors before they turn into paying customers, and you bet they'll turn into paying customers! The more you serve your customers, the more they will trust you. Trust = loyalty, which leads to more sales!
Depending on the nature of your product and the type of customers you may want to also implement live chat on your site.
Step 3 - Setting Up Products That Sell
Next comes setting up your products! To make sales, you have to show the customer what the product is, how it will make their life better, and instill desire.
The ideal type of setup will vary by the nature of your product. Do make sure that you display your products in a manner that your audience will appreciate. What would they like to know about the product? What would they like to see? Should you have images, demo videos, or any type of explainer?
Photos and Videos
Your product images are very important. Make sure they're high quality images that do a great job of showcasing your product's features. If you don't have great photos that show off the qualities and details of your products, you may want to consider arranging a product shoot.
Your WooCommerce store's visitors won't be able to touch, feel, hear, or even smell your products. So you need to make your products most appealing to the only sense they'll be able to use - visual.
The YITH WooCommerce Zoom Magnifier is a great tool to allow visitors to zoom in on product images and showcase a closer look of the details of your product. Or, check out this post on creating WooCommerce galleries.
Depending on your product, it may be a good idea to create videos that demonstrate the product in use, or show every angle of the product. If it's a complex product, what better way to explain how it works than to do so in video form? Videos are much more captivating than text, and hey, maybe your marketing department can make use of that video as well!
Pricing & Product Positioning
Pricing and product positioning is a big one! E-commerce is no different from any other type of business in the sense that you will have to price and market your products strategically in order to make sales.
With online businesses, you're not just competing with your neighbour, you're competing with every other store on the internet! Do your research, find out what competitors are doing and develop your strategy.
Product Presentation
Next, you need to convince possible customers to purchase your products, and ideally convince them to add more products to their cart! There are thousands of WooCommerce extensions available to add features to your store. The most suitable tools will vary by your type of products.
One great tool that is suitable for almost any type of store is the WooCommerce Product Table Plugin. It allows you to present your products and give your visitors a user-friendly way make purchases. If you haven't heard about this plugin, read all about how it can help to increase your conversion rates.
The customised structured table layout created by WooCommerce Product Table allows you to display sales-driving product data, appealing images, makes it easier to select multiple items. You can also show reviews, show additional media, and compare products. It's completely responsive and looks great on mobile, and more! The possibilities with this plugin are endless!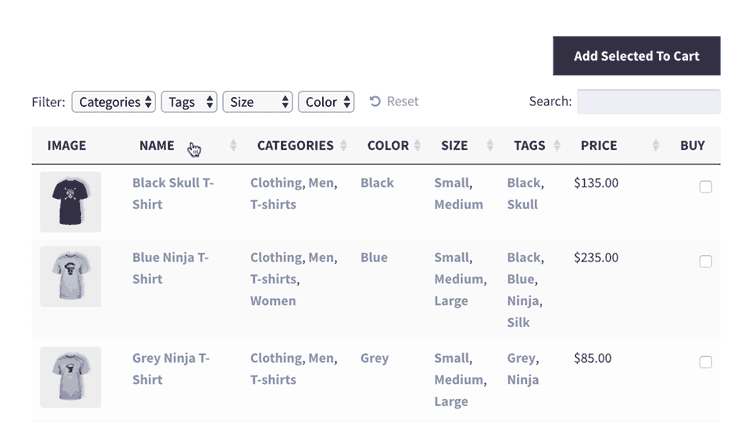 Write great, engaging product descriptions. Explain what the product is for, why your customer needs it, what makes it so great, and so on. What doubt might a viewer have? Make sure you answer those somewhere on your product page.
Another great tool is WooCommerce Multilingual. It works with WPML to allow you to translate the contents of your store, so that you can serve people of all languages! The more audiences you serve, the more you can sell!
To make your store truly global, you may also use the WooCommerce Multi Currency plugin, which will allow you to accept payments in different currencies. More currencies = more international buyers!
Step 4 - Automation
Automating key business tasks is an important part of building a WooCommerce store that sells. One of the biggest reasons why businesses fail is because they are built to rely completely on the owner. Once the owner needs a break, has to take time off, or experiences "burn out", the store begins to fall apart.
Think of the most successful multi-national businesses - why are they so successful? Because they've been built in a way that they don't depend largely on the person running them. They run on simple, replicable, and standardized systems.
Take McDonald's for example. Regardless of whether or not you like their food - no matter what location or what country you go to, you can always expect the same level of quality. Why? Because they've put systems in place for every single process, so that every burger patty, bun, and french fry is cooked exactly the same way.
Your business depends on the systems on which you build it on. That's is why it's so important to build any business to run without depending on you. Build your site as if you were planning to franchise it. Put all important systems in place so that it can run successfully without relying on you. After all, you're probably not building an online store to be glued to your computer.
Luckily, there are so many tools for WooCommerce that it's quite easy to build a completely automated store. A few of the key processes you may consider automating include:
CRM
Catering to your customers is important. If you have more than a handful then it will be difficult to keep up and make sure that every visitor/customer receives the same elevated experience. A CRM platform can help you engage and convert visitors, as well as make repeat sales to past customers. (For more info, check out 'What is CRM?')
There are quite a few great platforms to choose from, and Signpost is a great one. It's like an assistant that does everything for you - from collecting leads (even from missed phone calls), to building your online presence by getting you reviews. It can even encourage repeat sales and referrals via customised emails.
Signpost develops campaigns for you, and tailors each a different strategy for each and every contact, depending on their behaviour. With the Signpost sync plugin, you can easily sync your WooCommerce Store to Signpost and completely automate your CRM.
Email Automation
Cart abandonment emails, sale announcement emails, repeat purchase reminder emails, personalised offer emails... All of these are great ways to boost your sales, but you probably don't have time to send tailored emails to every single customer, or to tell them you miss them or suggest they restock a product after x days.
Not to worry, there are plugins for that! Select the plugins you find to best work with your store, and sit back and relax as you know these automated systems are out reminding your customers about your store!
Accounting & Inventory
Accounting is one of those things that few people like, but everyone has to deal with.
As a business owner, you probably won't have the time to enter every WooCommerce sale, inventory update, customer, or payment into your accounting system - and to make time, you will have to take time and resources away from more important tasks. So why not automate your accounting and inventory management?
With the WooCommerce Sync for QuickBooks Online and the WooCommerce Sync for QuickBooks Desktop plugins, you can easily sync all of your WooCommerce data into QuickBooks, and vice versa. Come tax season, you'll be very thankful you automated this part of your business! There are also plugins to integrate with other accounting systems such as Xero.
Knowledgebase
A great way to automate answering customer inquiries as well as provide useful resources to answer customer questions is to have a documentation/knowledge base. This shows customers that you care, as well as saving you time on providing customer support.
Those are our top tips to building a WooCommerce store that sells. Good luck!
About the Author
Sol Spier is the Creative Ninja at MyWorks Software, a company that's passionate about developing software solutions that increase e-commerce efficiency and automation.