WordPress 4.6 was released this month and includes several new features and improvements. For me, the most exciting new development is the inclusion of automatic broken link checking.
Wasn't link checking always part of WordPress?
Nope!
Broken link checking has always been a problem for WordPress websites. Until now, WordPress didn't do anything to check your links actually work. This made it easy to accidentally add broken links.
We have always used a free broken link checker such as Dead Link Checker before we launch a website. It's fantastic news that WordPress will do this automatically as we add the content to each page or post.
How will I know about broken links?
When you add a link into a page or post, WordPress will check the link. Any broken links will be highlighted, similar to how it highlights spelling errors. It's as simple as that!
But you still need other link checking tools!
The built-in broken link checker is great. However it does have limitations as it only checks broken links while you're editing your content. This means that WordPress still won't warn you if a link breaks later on.
Links can break through no fault of your own. For example, you might have linked to a page on an external website which no longer exists. So you still need a process for checking for broken links. I'd recommend setting a regular reminder to yourself to check using either Dead Link Checker (or similar) or Google Search Console.
How to check for broken links
There are a few ways to check for broken links on an ongoing basis:
Broken Link Checker plugin
The Broken Link Checker WordPress plugin automatically checks all your links on a regular basis. However I do NOT recommend this plugin because it will slow down your site. It searches the database for broken links in a resource-hungry way and is a drain on resources. If you want to automate broken link checking then I'd recommend signing up to a paid tool that will do this outside of WordPress.
Broken link checker websites
My favourite free broken link checker is Dead Link Checker. However this only lets you do one-off broken link checks. To check on a regular basis, there are lots of premium link checker websites that you can sign up to. These aren't WordPress-specific and can be used to check the links on any website.
Google Search Console
To manually check for broken links in Google Search Console, go to Crawl > Crawl Errors and click the Not Found tab. This is a good way to spot broken links but it does include a lot of false positives.
For example in this screenshot of the 'Not Found' tab for the Barn2 site, nearly all of the links relate to non-existent pages that never existed. We don't have a category called wordpress-blog. Or a tag called wordpress-migration. We don't have a page 7 in our blog! I have no idea why Google tries to crawl URL's that aren't linked to from anywhere and this doesn't necessarily indicate a problem with your site.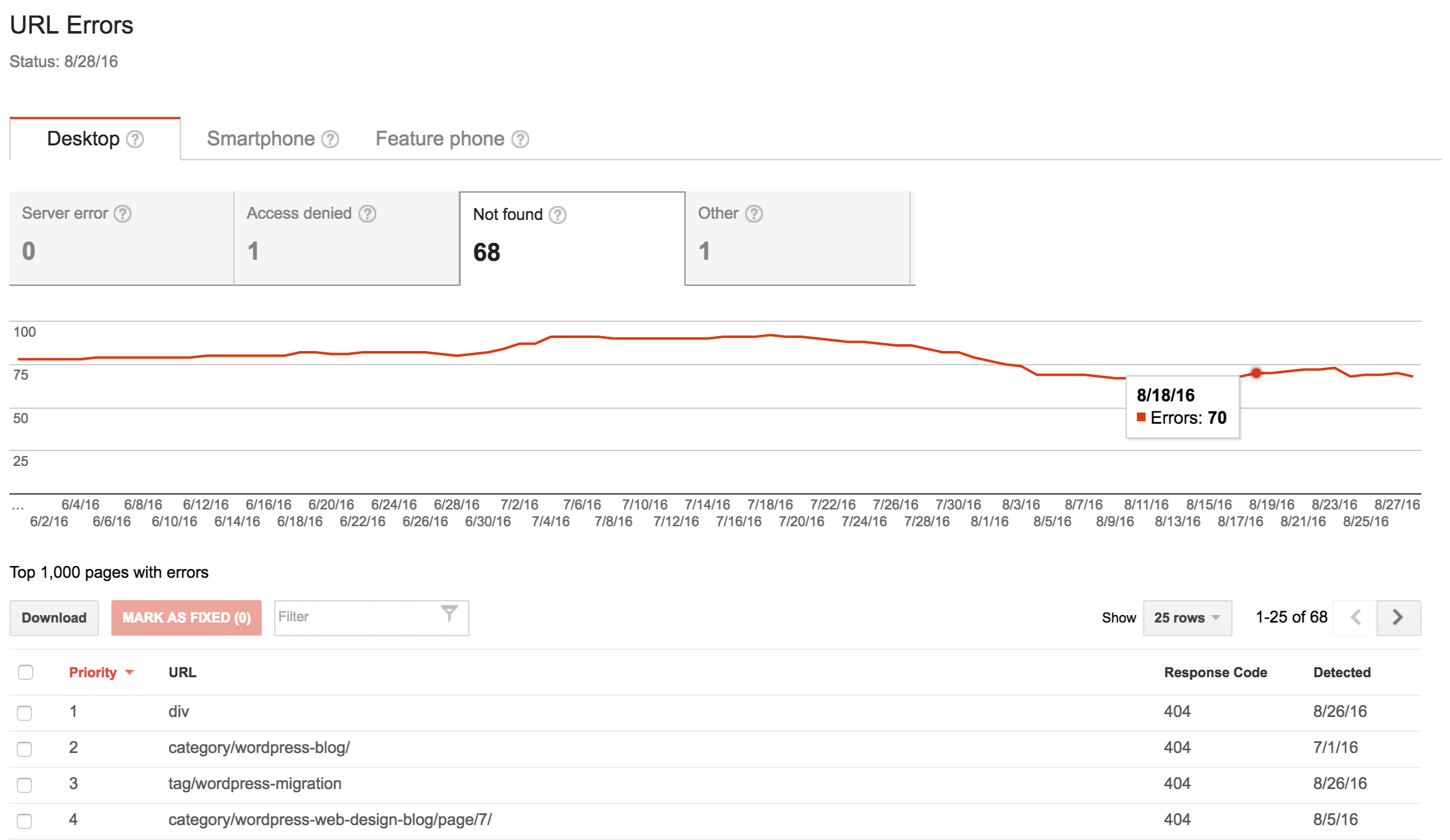 In summary, it's great that WordPress 4.6 checks for broken links as you type. However links can still get broken after you've published your content, so you still need to check for broken links every now and then.
Which broken link checkers do you use?
Do you use any broken link checkers for your own website? Please add your recommendations in the comments below - especially any that you can use to set up regular checks.
And if you think your website doesn't need maintenance, think again! Broken link checking is one of several important ongoing maintenance tasks. Our top website maintenance tips will help you to prioritise the most important regular tasks for your website.
Or if you'd like to take care of broken link checking for you, sign up to one of our WordPress maintenance plans with regular support time - and SEO too, if you like. We can take care of your WordPress housekeeping tasks and keep your website running smoothly.