This is the ultimate guide to WooCommerce for photographers. WooCommerce offers some fantastic opportunities to sell photos online, whether this is to the general public or specific clients. I'll walk you through the best WooCommerce photography plugins and WooCommerce gallery plugins , as well as provide tips on how to sell more photos on your WordPress website.
Not all photographers want to sell their images to the general public. If you provide bespoke photography services, you'll want to sell photos in secure areas of your website that only certain clients can access. Fortunately, WooCommerce for photographers is straightforward. And if you're not a photographer, don't worry! These solutions are suitable for anyone wanting to create client-specific products or categories in WooCommerce.
By the end of this article, you'll know how to choose the best WooCommerce for photographers plugins and set them up:
What if my client has already paid for their photos?
Skip straight to the section you're interested in for detailed written instructions. To bring it all together, we've also created this video tutorial on how to create a complete WooCommerce photography website. It covers all the features you need, including quick bulk upload, photo order form pages with variations, plus a password protected category for each client:
WooCommerce & WordPress for Photographers: how useful is it?
Does just what I needed. I list the set of photos based on each client. Good adjustment and easy to use.
There a huge number of WooCommerce gallery plugins, WooCommerce gallery plugins and other miscellaneous plugins for photographers. A huge number already have WordPress websites. It's hardly surprising given that WordPress powers over 1/4 of all websites. A huge number of WordPress photography themes and plugins are available. This makes WP for photographers easy: you can create professional websites using flexible, off-the-shelf solutions.
WooCommerce is the world's biggest e-commerce platform. As well as powering a huge 94.3% of all WordPress e-commerce websites, it's used by over 41% of all e-commerce sites worldwide. Wow.
While popularity isn't everything, WooCommerce is obviously here to stay. It's well supported with a huge ecosystem of Woo experts behind it. With so many plugins and add-ons available, there are plenty of options for selling client-specific products in WooCommerce. Not to mention all the other great plugins and features for displaying photos in WooCommerce.
Types of photography you can sell with WooCommerce
You can use WooCommerce to sell absolutely any tip of photography product - digital or printed. For example:
Any photo file format JPG, PNG, GIF, and any other type of image file.
Type of photography Artistic photography, aerial or drone images, client photography (e.g. family, couple or wedding photos), editorial images, event photos, portraits, stock photos.
Image genres Animals, architecture, beaches, holidays and travel, business, celebrities, cities, fashion, food and cookery, home and lifestyle, natural photography, panoramas, seasonal photography, sports and fitness, technology.
Delivery mechanism Digital photos, printed photos, or images printed onto other media such as stationery and promotional materials.
Whatever type of photos you need to sell, you can do it with WooCommerce. Keep reading to find out how.
WooCommerce for Photographers case study – Photo Studio TNK WooCommerce photography website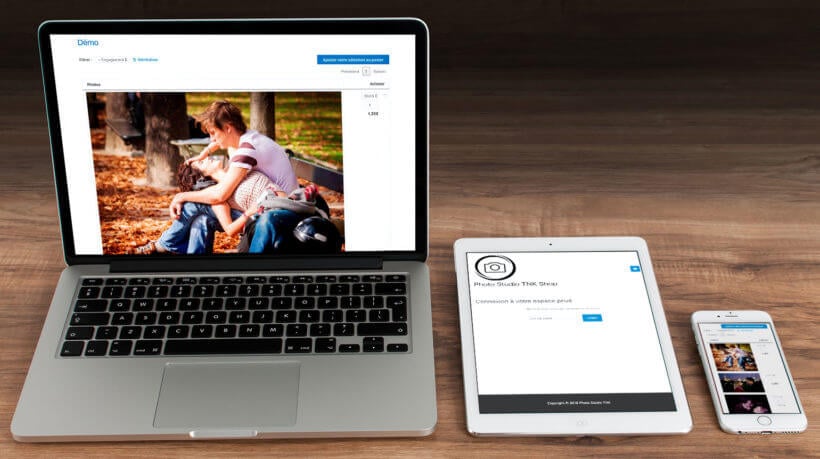 Photo Studio TNK is a WooCommerce for photographers website run by Thierry in Paris, France. His clients book him for photoshoots, he then sells the prints to them on his WooCommerce website. Selling prints is a big part of his business, so Thierry's clients each need access to a private space where they can view and purchase their photos. That's why Thierry's WooCommerce website is powered by our WooCommerce Protected Categories and WooCommerce Product Table plugins.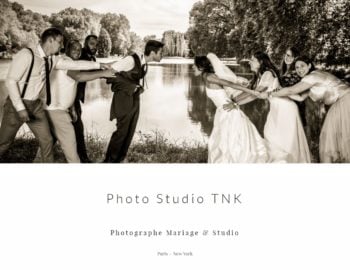 This is how it works. After a photoshoot, Thierry uploads the images into the client's hidden WC category. The client is sent a password. They log on to their hidden area to view the images. Each image is displayed in one table than can be filtered. Clients can view images, select variations and add multiple photos to the cart, all from this one table.
It works well for customers as they can view the images on their mobile or laptop and they don't need to leave the page to purchase their chosen images.
You can read more about Thierry's WooCommerce photography website here. Or read on to find out more about how to make WooCommerce gallery plugins work for your photography business.
Why sell client-specific products in WooCommerce?
There are lots of reasons why a photographer might want a WooCommerce photography plugin to sell client-specific products. Woo for photographers is highly flexible. Let's take a look:
Event or wedding photography

Wedding photographers take photos of a specific event such as a wedding. Afterwards, they need to upload the photos of the event for the couple to view.
A wedding photographer will typically charge a fixed fee for the event itself, with perhaps a photo album included in the price. They may earn extra revenue from the wedding by selling extra options to the couple and their guests. For example, the photos can be bought individually (either as photo prints with different framing options, or as digital prints for download) via the photographer's website. The photographer might also sell packages via their website, such as additional albums or photo montages.
The images must be uploaded to a secure area of the WooCommerce photography website that only the couple - and possibly their guests - can access. People with access to the photos should be able to buy them online.
Family photographer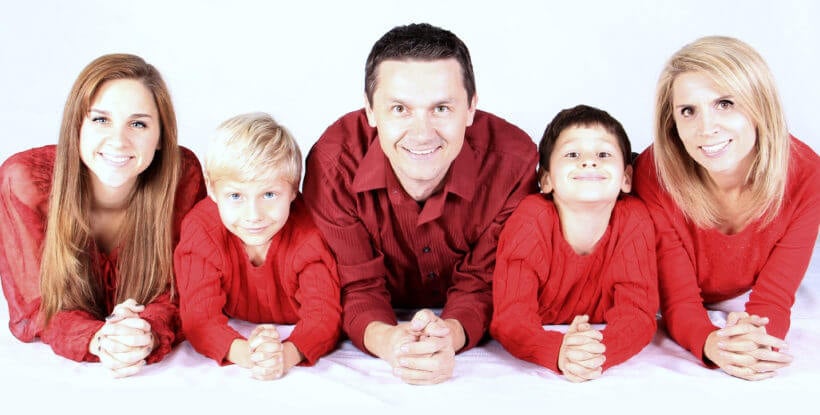 A family photographer is similar to a wedding or event photographer in that they're commissioned to do a photoshoot of a specific family. They might do the photoshoot for free, with the family just paying for the photos they actually want.
After the photoshoot, the photos need uploading to a private area on their website. The family can login, choose their photos and buy online.
School photography
School photographers take individual and class photos of school children. After visiting the school (which they typically won't charge for), they earn money by selling the photos to parents. The same often happens in nurseries, pre-schools and kindergardens.
Traditionally, school photographers would print a preview of each photo which the school would distribute to parents. This still happens, but parents are typically directed to the school photographer's website where they can view all the images of the class and buy online. The website often sells many options such as different packs and framing choices, and even other objects printed with the photo (e.g. mugs or mouse mats).
Given the confidentiality around photos of children, it's important that school photography is uploaded to a secure area. Only the individual parents - or perhaps the parents for the whole class - can access the photos.
---
How photographers can sell client-specific products in WooCommerce
There's an excellent plugin to sell client-specific products to photography clients. It involves creating hidden areas of your WordPress WooCommerce website that only the appropriate client can access. It does this by password protecting a category so that only people with the correct password can view and buy the hidden photos.
Password protected categories are better than creating a separate login for each user and giving them access to specific photos in WC. This is because:
You don't have to spend time creating a separate user login for each client.
You can easily give multiple clients access to a hidden category of photos. For example, wedding photographers can give a shared password to the bride and groom, and all their wedding guests. Everyone can access the protected category and buy the photos, resulting in more sales for you! (Tip: You can create multiple passwords for each customer, if you want to. This is still easier to manage than creating a full WordPress user login for each person who accesses your protected photos.)
Create a password protected category for each client
WooCommerce Password Protected Categories is the easiest plugin to sell client-specific products on a WooCommerce photography website.
To use the plugin, photographers can create a separate product category for each client in WooCommerce. You can then upload all the photos for that client to the relevant category. For regular clients, you can create sub-categories - one for each event or photoshoot.
How to create client-specific WooCommerce password protected categories
Create a WordPress website with WooCommerce and WooCommerce Password Protected Categories installed.
In Pages > Add New, create a page called 'Client Login' (or similar). Leave this blank and Publish the page.
Go to WooCommerce > Settings > Products > Password Protected Categories. De-select the options to show protected categories and products in the public areas of the site. This will hide your client-specific products so no one else will know they exist. Change any other settings as needed, for example to customise the text on the WooCommerce category login form.
Go to Products > Categories and create a category (plus any sub-categories) for each photography client. In the 'Visibility' section, choose 'Password protected' and enter 1 or more passwords. (Tip: Don't password protect any sub-categories - they will automatically inherit the same password as the parent category.)
Upload the photos that you want to sell to each client by creating products in WooCommerce and assigning them to the correct category. (If you've already added your photos products for the client, go to the main Products list in WP. Use Quick Edit to categorise them quickly.)
Finally, go to Appearance Menus and add your Client Login page to the menu. Or if you prefer, link to this page from the header, footer or anywhere else on your site. (Or just keep it hidden from your public website and send the link to your clients.) You can also add a login form to a text widget using the shortcode: [category_login].
And that's it!
That's all you need to do to sell client-specific products and categories for a WooCommerce photography website. When a client visits your website, they can click on the 'Client login' link to view the login page. On entering the correct password, they will be automatically directed to their own category. They won't be able to see your other clients' categories - just their own.
The plugin is simple but secure. Visitors will be prompted for a password whether they try to access the login page, the category page, a sub-category or a specific product page. Once they've unlocked their client-specific category, they can navigate anywhere within that category without having to re-enter the password.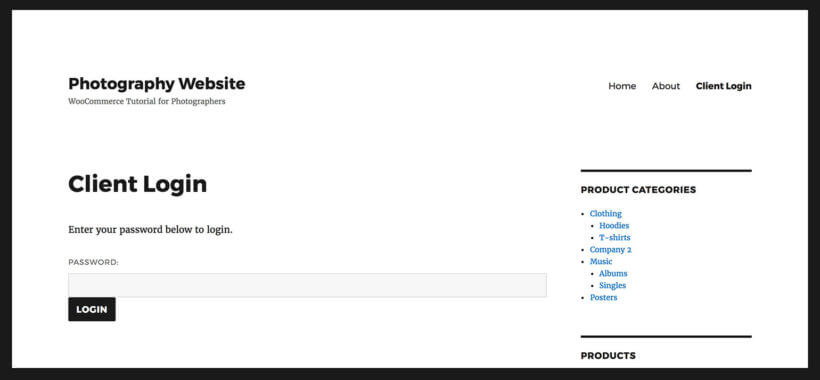 It's the perfect way for any photographer to securely sell customer-specific products in WooCommerce.
---
Bonus! Tips on using WooCommerce for a photography website
So far, you've discovered an easy way for photographers to use WooCommerce to sell photos to specific clients. Then some tips on how photographers can use WooCommerce more effectively.
Sell physical photo prints, downloadable digital photos & other types of product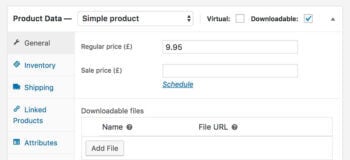 One of the best things about WooCommerce for photographers is that you can sell multiple product types. The ones most suited to a WooCommerce photography website are:
Standard products This is a traditional 'physical' product which you will ship to the customer. With this product type, you can add postage costs.
Downloadable products You can also use WooCommerce to sell downloadable products. These don't have a shipping cost. When you create a downloadable product, you can upload the digital image file of the photo. Once a client has purchased the digital version of a photo, they will be given access to a secure link where they can download it.
By combining simple and downloadable products, you can design a WooCommerce photography website where you can sell photo prints and digital versions. If you only want to sell one of these product types (e.g. some photographers refuse to sell digital versions of their photos), that's fine too!
Use WooCommerce Product Table to list more photos per page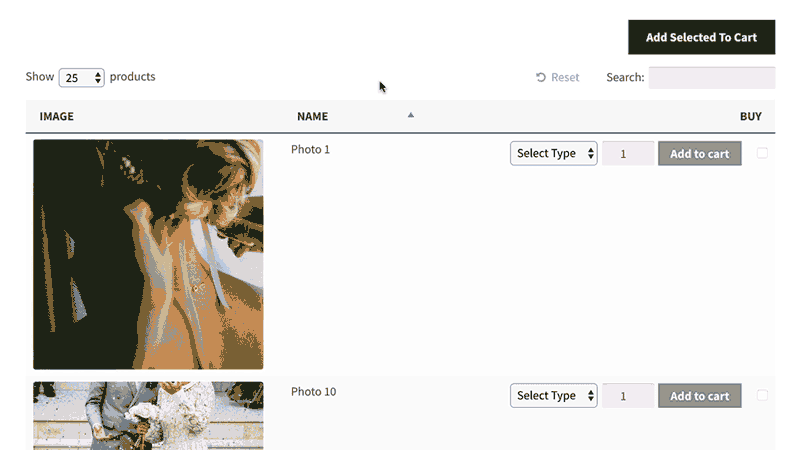 Most themes have a fairly typical WooCommerce category layout, which may or may not be suitable for selling client-specific photography products. This tends to have big images with the product name, price and add to cart button.
The usual layout is pretty good on most WooCommerce for photographers websites due to the big images. However, it's less appropriate for selling photography products that aren't so visual. For example, a product category for framing options and photo bundles may not need big images. Instead, you might prefer to list as many products per possible, with extra information to make it easy to compare products such as size and colour.
If that applies to any of your products then WooCommerce Product Table offers a better photo gallery layout. It lists products in a searchable, sortable table or grid with filters.
You can make the product images as big or as small as you like (or hide them completely). This is better for less visual products such as frames or bundles, where you just want to list the options on a single page.
You can even use it as a one-page order form, where customers can select variations, quantities and add to cart directly from the product table. There are lots of ways to use product tables to increase your conversion rates and get more sales.
How to use WooCommerce Product Table to sell photos with password protected categories for each client
WooCommerce Product Table is fully compatible with the Password Protected Categories plugin that I told you about earlier. To use the two plugins together, you just need to follow these instructions to automatically add the product table layout to your category archive template file.
When your photography clients log into their hidden password protected category, they will see their photos presented in a product table layout.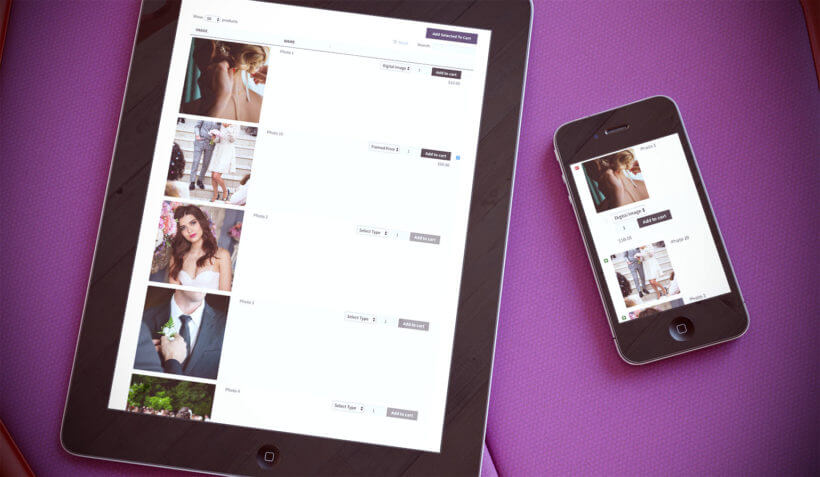 WooCommerce gallery plugin: Check out our separate tutorial on selling more photos with a WooCommerce gallery layout.
What if my client has already paid for their photos?
Some photographers upload photos so that clients can buy them individually, whereas others take payment as a package beforehand. You can let clients order photos without having to pay for each one. The exact method depends on whether you're selling physical or digital downloadable photos.
Photo prints and physical products
Add your photos as WooCommerce products using the method that I described above. Instead of requiring payment online, choose an offline payment gateway such as 'Invoice'. You can rename this to anything you like, so the word 'invoice' won't appear anywhere.
When the customer adds photos to the cart and the checkout, they can use this pseudo payment method to complete their order without having to pay.
If you still want to take payment for other types of product, then that's fine too. Simply use the Conditional Shipping and Payments plugin to show the pseudo payment method for specific categories only.
Downloadable digital photos
Your customers can also download their pre-paid photos from their private portal, without having to pay online. To do this, I recommend using the following plugins alongside WooCommerce Protected Categories and WooCommerce Product Table:
Free Downloads WooCommerce - Add each photo as a downloadable WooCommerce product, and use this free plugin to allow customers to download them without having to check out or pay online.
WooCommerce Quantity Manager - If a client has pre-paid to download a specific number of photos, then use this plugin to restrict the number of products they can download. For example, if they have purchased a package of 20 photos then you should set a maximum quantity of 20. You can set limits on the client's whole category, or individual products/photos.
Use quickview to show multiple photos and image zoom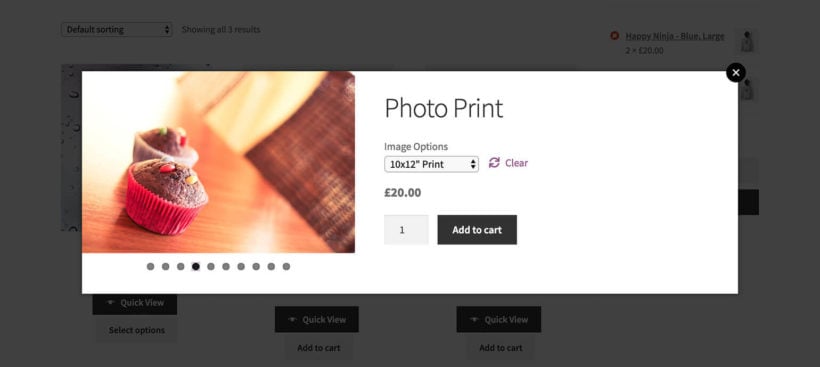 WooCommerce Product Table is ideal for listing photography products. However, the size constraints of the image column mean that it can only show one static image of each product.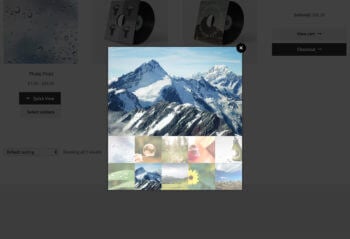 You can show extra images by adding the WooCommerce Quick View Pro plugin. This handy plugin displays the full image gallery for each product, and customers can scroll between images by clicking on the thumbnails or using navigation bullets.
You can hover over an image to zoom in on it, showcasing your photos in full high definition that will inspire people to buy them.
The quick view plugin is very flexible and you can choose which style of photo gallery to show, and whether to include images only or whether to add extra product data and purchase options. It's the perfect way to provide further information and show off your photography more effectively without taking people to a separate page for each product.
Use product variations or add-ons to provide multiple options
WooCommerce photography websites often need to sell products with several options. For example, you might sell a photo print in multiple sizes. You might offer a choice of framing options. You could offer different file formats for your photos.
Give customers a choice with product variations
Use variable products in WooCommerce to add extra options. Customers can select the combination of variations they need and see the updated price before adding photos to the cart.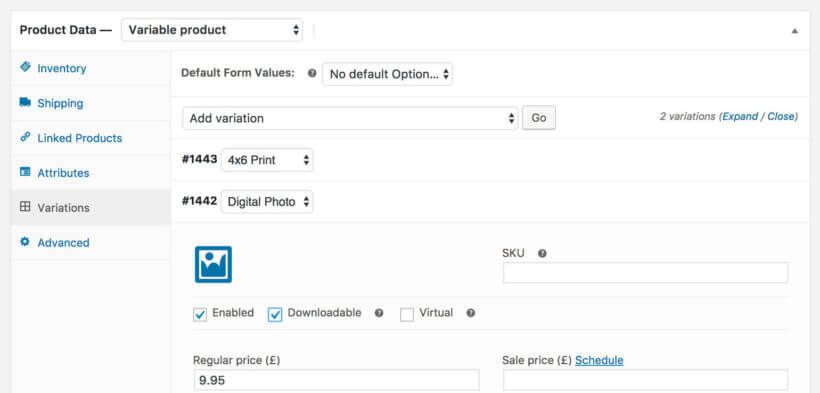 Sell optional extras and customizations with Product Add-Ons
If you need extra flexibility (e.g. multi-select checkboxes or space for the customer to add a personal message), then you can use the WooCommerce Product Options plugin.
This WooCommerce extension adds extra add-on fields to the product page where clients can add text, upload a file, or choose additional options.
The add-on options will appear in the add to cart column of your product table. Customers can select them before adding to the cart.
Add a watermark to protect your images
Many photographers who sell photos in WooCommerce wish to protect their images and prevent people from downloading them without making a purchase. After all, the product featured image is available for people to see before they buy. Anyone with basic computer knowledge knows how to right click on a photo to download it, or how to take a screenshot of it.
There are several easy ways to protect your photos:
When you add the product featured image, make sure it's low resolution. That way, if anyone downloads it then it won't be print quality. They must pay for the high resolution downloadable product in order to get the full quality version. (Of course, they can still share the low res photo on social media, so you may want more protection.)
You can also use the YITH WooCommerce Watermark plugin to automatically add a watermark to your featured images. This is a neat compromise because while it doesn't prevent people from downloading the image, the watermark will prevent them from using it. They must buy the photo in order to receive the un-watermarked version.
---
Bulk import photo products: WooCommerce import and WooCommerce Gallery plugins
Since publishing this tutorial, lots of you have asked how to bulk import photos to sell in WooCommerce for photographers. For example, a photographer might want to upload an entire photoshoot to their website and sell each image as a separate product. It would take too long to do this manually, so you need a WooCommerce gallery import plugin that can import simple, variable and downloadable products.
You can do this using the official Product CSV Import Suite plugin. I'll tell you how to import your photos using this plugin now:
Instructions - Product CSV Import Suite
Get the plugin and install it on your WooCommerce site.
Use FTP to upload all the photos to the /wp-content/uploads/ folder on your website. To keep your photos organized, add them under the current month. This is easy, as the uploads folder is already structured by month. (If you haven't used FTP before, learn how here.)
If you want to create a lower resolution version of each photo to use as the main product image, upload these too.
Next, prepare a CSV file containing the product data that you wish to import. The easiest way to create a CSV file is to use spreadsheet software such as Microsoft Excel or Numbers. When you've finished, use the Save As or Export option to save the file as CSV.
Add all the product data using the column headers in the import plugin documentation. If you want each product or variation to have the same data (e.g. price) then you can copy and paste rows of the spreadsheet to quickly add them - just make sure each row has a unique URL for the actual image.
If you're selling photos as downloadable products, use this section of the documentation to add the downloadable product data to the CSV file. This includes downloadable file URL (this will be the URL of the photo that you uploaded via FTP), download limit and expiry.
When the CSV file is complete, upload it using the Product CSV Import Suite plugin. This will automatically import your photos as WooCommerce products, so you can start selling them.
Preparing your CSV file sounds a bit daunting. Stick with it, as the documentation is excellent and covers everything you need to know. WooCommerce.com also provide excellent live chat support to help with any problems. Once you've created your first CSV file, it will be much easier next time.
WooCommerce for photographers – time to create your website!
I hope this guide has helped you to choose the best WooCommerce photography plugins or WooCommerce gallery plugin for your WordPress website. I'd love to hear how you get on.
You've learned:
Which are the best plugins on WordPress and WooCommerce for photographers in your opinion – are there any I've missed? Please add your comments below.