Now you can list WooCommerce products in a table view or one-page order form, with unique pricing for each user! Simply use Woocommerce Product Table with WidsmLab's Customer Specific Pricing plugin. 
Our colleagues at WisdmLabs have been working hard to integrate their Customer Specific Pricing plugin with our bestselling WooCommerce Product Table plugin. They've done a fantastic job, and the latest version of the plugin will show the correct price for each user within the product table view.
What is Customer Specific Pricing?
Customer Specific Pricing is a plugin from WisdmLabs which allows you to display different product pricing for each user, role, or group.
It's ideal for any website that wants to charge different amounts to different types of customer. For example, WooCommerce wholesale stores often need to charge different amounts to retail and wholesale user roles, or even different amounts to each wholesale customer.
Read our complete guide on how to create a WooCommerce wholesale website. 
What is WooCommerce Product Table?
WooCommerce Product Table is our flagship WordPress plugin. It takes any or all of your WooCommerce products and instantly displays them in a searchable, sortable table with filters. It's the perfect way to create a WooCommerce order form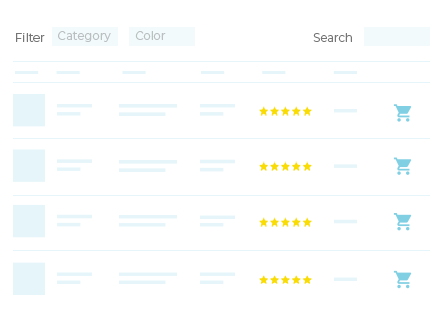 Speed up the buying process - start listing products in a table today!
How to use the plugins together
It's easy to create product tables with user specific pricing. Simply install the WooCommerce Product Table and Customer Specific Pricing plugins, and set them up as follows:
Firstly, create product tables using the instructions in the plugin knowledge base. Set up your tables however you want. To use them with user specific pricing, just make sure you choose these settings:

Include a price column in your list of columns.
Leave the 'caching' option disabled on the WooCommerce Product Table settings page. (It's important not to enable caching because each customer needs to see the correct price for them, and not a cached price from another customer!)

Finally, set up the user specific pricing plugin using the official documentation. Set up prices for specific customers and/or roles according to your specific needs.
Next, view the page containing your product table. You will see that the price column shows the correct price for the current logged in user. Magic!
Where to get the plugins
To create product tables with a different price for each user, you need the following plugins:
Use them together to provide a quicker way to buy, with the right prices displayed for each customer.