Creating private WordPress categories
The Password Protected Categories WordPress plugin has an option to mark categories as private. This works in exactly the same way as private WordPress pages or posts, which you can read about in the WordPress Codex. You can create private categories for any type of content in WordPress including blog posts and any custom post type.
Tip: For most people using Password Protected Categories, we recommend using the role protection option because it's easier to set up and gives you more fine-grained control. However, the private categories option is available if you wish to use it. 
Who can see private categories and their posts?
For most sites, only logged in Editors and Administrators can see private categories and the posts within them. You can change this by editing the permission levels for your site.
How to create private WordPress categories
To mark a category as private, go to the Add or Edit Category screen for your post type (e.g. Posts → Categories) and click the option to either add a new category or edit an existing one.
In the 'Visibility' section above the 'Add New Category' button, select 'Private' before saving your category.
You can add as many private categories as you like, while leaving the remaining categories public.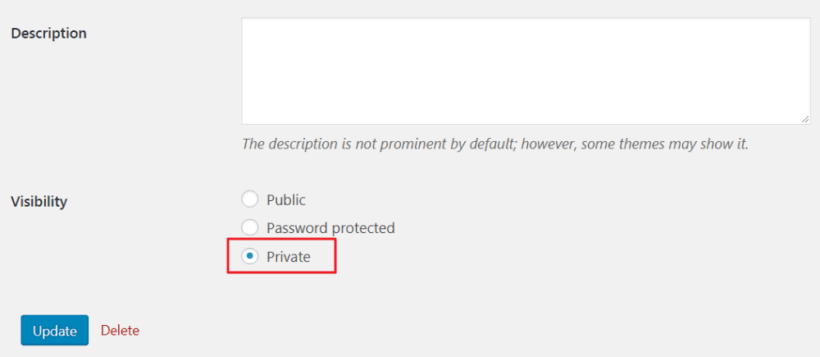 Logging into private categories
Private categories use the standard WordPress login system. This means that people can login via the default WordPress login page (/wp-admin) or you can install any front end login plugin such as Theme My Login or Profile Builder. If you're using an e-commerce or events plugin that comes with its own login page, then this will work too.
We particularly recommend Theme My Login or Profile Builder. They have a handy feature where you can choose where each person is redirected based on their user role. If you have created a dedicated role for people who can access your private categories, then you can use Theme My Login to automatically direct them to the private category when they login.
Still need help?
If searching the knowledge base hasn't answered your question, please contact support.