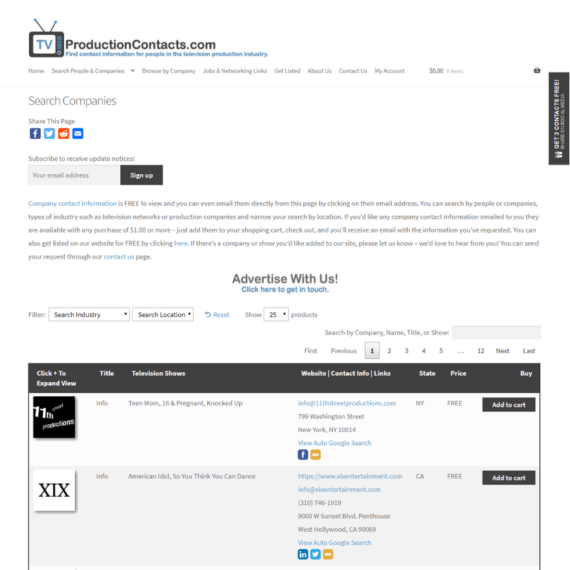 TVProductionContacts.com's mission is to connect people within the TV production industry. The site hosts an online directory of contacts. The directory includes the details for individual producers to production companies and even CEOs. Company details are free to view whereas individuals' contact details are hidden but available to purchase. This is where our WooCommerce Product Table plugin provided a perfect solution.
The directory has thousands of entries, but it's easy for visitors to the site to sort through the listings using the three dropdowns. You can filter the table by industry and location, and also choose whether you look for companies or people. There's also an option to use the search box at the top of the table if you know exactly who you're looking for.
Each contact's listing includes the company they work for, the shows they've worked on and the state they work in. The final two columns show the cost of purchasing the contact details as well as the add to cart button. When you've found the details you want, just click on the add to cart button to make your purchase and unlock the hidden information.
The site also uses Posts Table Pro to power the job board. Read about how TV Production Contacts uses Posts Table Pro here in our separate case study about TV Production Jobs.