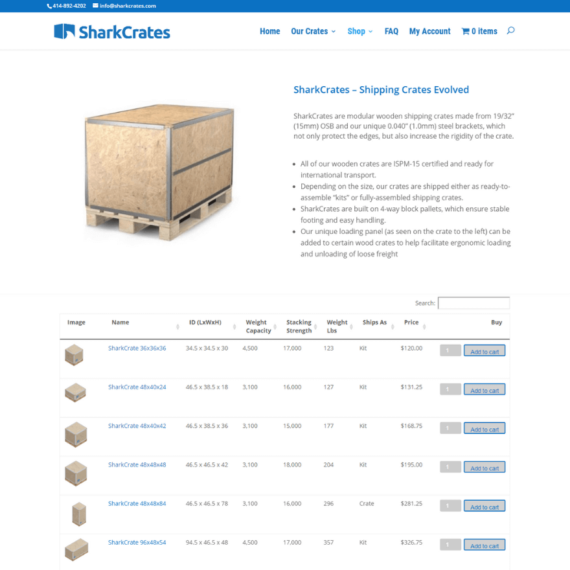 SharkCrates sells reusable wooden shipping crates through their website. Because of the variety of wood crate sizes and specifications, they chose to use our WooCommerce Product Table plugin to power their product table.
They've added a product table to their product descriptions. It gives them extra flexibility when listing products and multiple variations. Each product is listed with custom fields where the technical data for each product is stored. Each column in the product table lists data from the custom fields.
As all the crates are listed in one product table on a single page, it's easy for customers to compare the crates as all the info is listed side by side in the product table. Columns show the dimensions, weight capacity and stacking strength. Plus, an image of each crate is embedded into the table for customers to expand for a closer look.
The table can be sorted by seven different column headers. So if you know the dimensions you need or your maximum budget, you can just sort the table by dimensions or price.
Nate at SharkCrates is really happy with how the WooCommerce Product Table plugin works and equally as happy with our video tutorials:
I was looking for a great table plugin that allowed me to create a "store" out of my product table and the folks at Barn2Media nailed it! Not only does the table work brilliantly, but their abundance of support documentation and videos thoroughly explain every feature and setting. As a business owner (and not a programmer), their videos are so easy to follow and don't assume that you know everything about Wordpress, Woocommerce, and programming in general. You definitely get what you pay for with this plugin - and that's a good thing!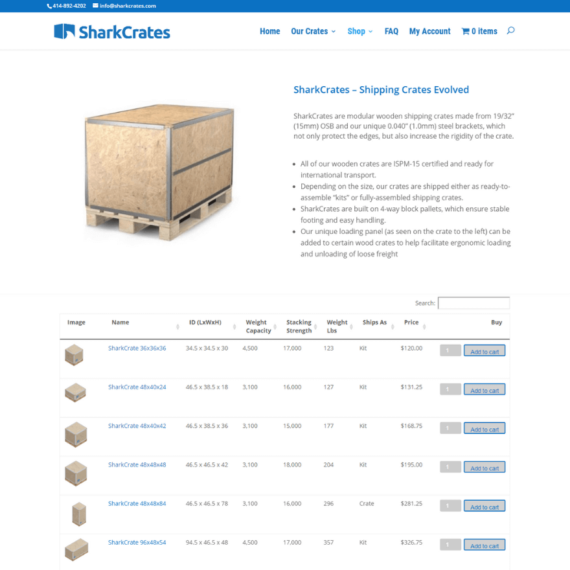 Look at how SharkCrates sell variable products online, and then do the same on your own website!
Use WooCommerce Product Table to sell products with multiple variations online.