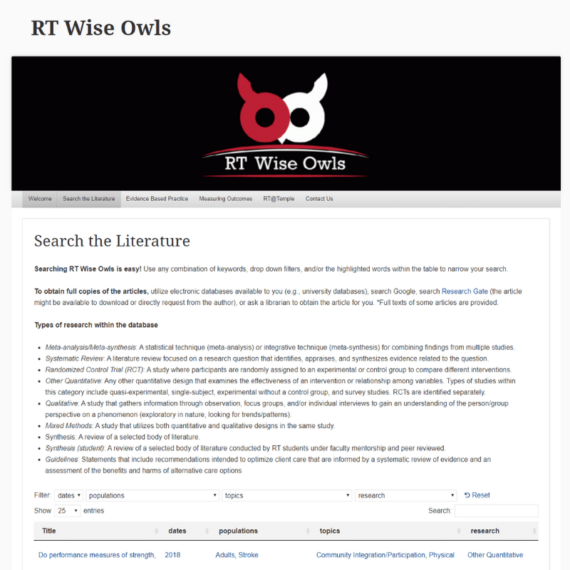 RT Wise Owls was developed by the Recreational Therapy Program at Temple University. It is a free recreational therapy database and resource center. The website uses our Posts Table Pro plugin to create a sortable literature database.
Students and therapists need to be able to quickly sort through the literature list, which isn't easy with almost 400 research resources in the list. That's why four filter drop downs have been added to the top of the table. This provides four different ways to find what they're looking for. They can filter by date, population, type of research and topic.
After the table has been filtered, the user can choose any column to sort the data. And once the right database item has been found, the user clicks on the title and is taken to a page with the citation and a link to the research article.
Why not have a look at this database in action, or read RT Wise Owls' raving review of the Posts Table Pro plugin below?
This program, coupled with CPT UI works perfectly (Pods didn't work in our environment)! We had close to 400 posts to place into the table, so we additionally utilized Post Type Switcher to easily move the posts to the new post type. The table looks so CLEAN and our users can now quickly and easily find & filter the research they need. We absolutely LOVE it!!!! It improved our site's search functionality tremendously! A special shout-out to Katie for providing us with OUTSTANDING support in getting this up and running. She responded to email communication almost immediately and had the patience of a saint in helping us problem solve (as we weren't very computer savvy). This is a an absolutely wonderful product!!! Thank you!!!