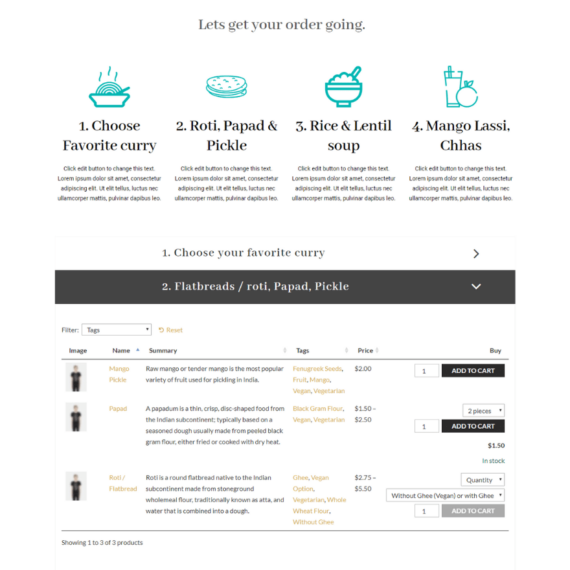 OrderAmysFood.com serve fresh vegetarian food to their customers in the Albany area in the U.S. They specialize in cooking traditional Indian food. Customers can order online with the quick single order form powered by our WooCommerce Product Table plugin.
There are several steps to a single order. You need to choose your curry, side dishes and beverages. With that many options, it can get a little overwhelming, but that's why it's broken down into four bite-sized stages using the Elementor page builder plugin. This plugin adds an accordion. And each accordion contains a new product table.
Each product table can be sorted by the column and filtered by tags. If you want to find vegan-friendly dishes, you just have to chose that tag in the dropdown above the table. As each item has different options such as size or spice level, dropdowns are built into the table. It's such a simple order process, once you've made your choice, click add to cart and you're good to go!
Related tutorial: Tutorial: Create a WooCommerce Restaurant Ordering System to Order Food Online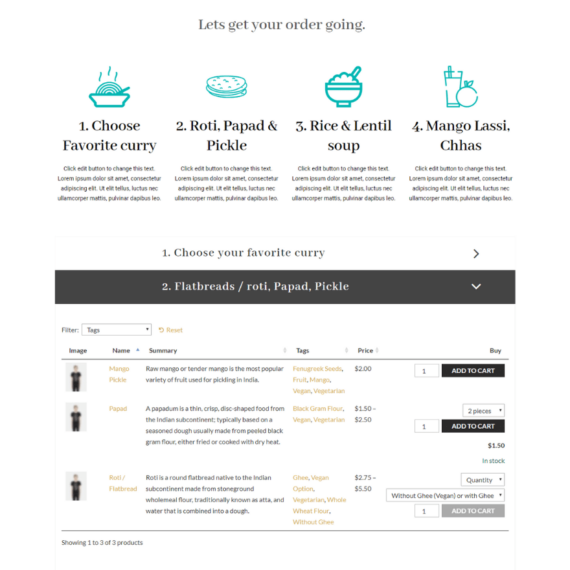 Use the Product Table plugin create your own order form to sell food online.