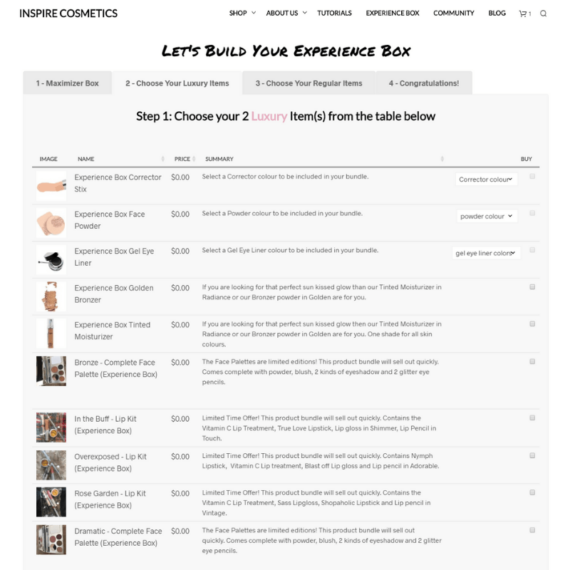 Inspire Cosmetics is a US-based cosmetics company offering customers affordably priced cosmetics. They have used WooCommerce to create a responsive and user-friendly Build Your Own Experience Box product.
The WooCommerce Product Table plugin supports the pick-your-own experience boxes. Thanks to a multi-step page, customers add products to their experience boxes in simple stages. First, they choose their experience box. Next, the customer selects the box contents from two lists. And finally, the order is completed with the WooCommerce cart and checkout.
The WooCommerce Product Table works alongside two other plugins - the Beaver Builder WordPress page builder plugin - used to create the tabbed layout. And the WooCommerce Min-Max Quantity plugin, which makes sure customers select the right quantities. This means Inspire Cosmetics can sell different sized boxes with different validation rules.
When used creatively, WooCommerce is a great tool for selling made-to-order products and bespoke experience boxes. See for yourself how the Inspire Cosmetics' experience box product builder works.
Related tutorial: Use WooCommerce to Sell 'Build Your Own' Products: Veg Boxes, Hampers & More!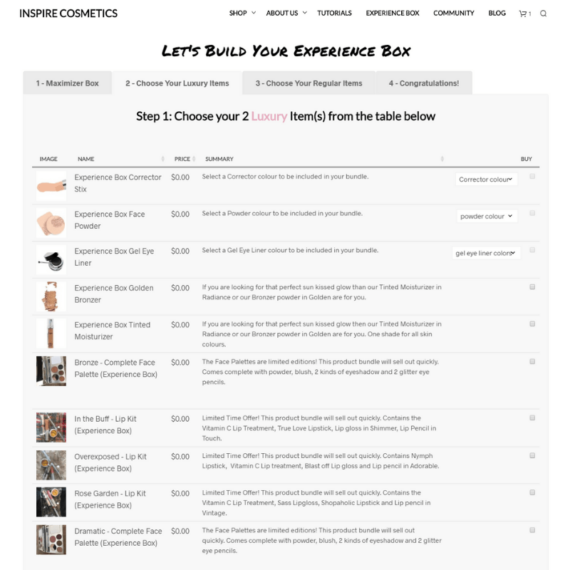 Use our Product Table plugin to create a 'build your own' e-commerce system on your own website.