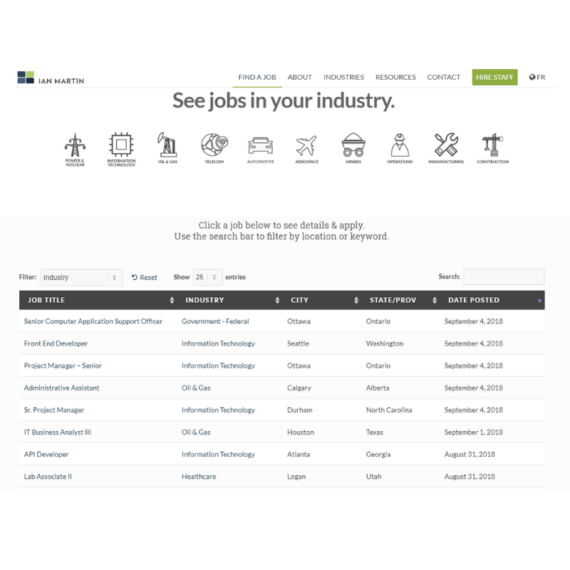 IanMartin.com is a Canadian-based recruitment and project-staffing firm. They specialize in IT and engineering recruitment.
They needed a job board WordPress plugin which could list jobs in a required layout and handle custom post types. The plugin also needed to work with a plugin called Matador. Matador pulls jobs from the applicant tracking system, and the job ads are then displayed as custom post types. That's why IanMartin.com chose our Posts Table Pro plugin.
Posts Table Pro is ideal for IanMartin.com's job list. With the plugin, jobs can be divided into categories and industries, then filtered to requirements by the jobseeker. With the filter dropdown, jobseekers can quickly sort through and find jobs in their industry. And when users click on an industry in the table, it filters the job list by that industry.
The plugin has also been used to create lists of jobs from specific industries, separating those jobs from the central list of all jobs. An example of this is the Automotive jobs page - the job board on this page only displays jobs in the automotive sector.
Related tutorial: Create a WordPress Job Board with the Posts Table Pro Plugin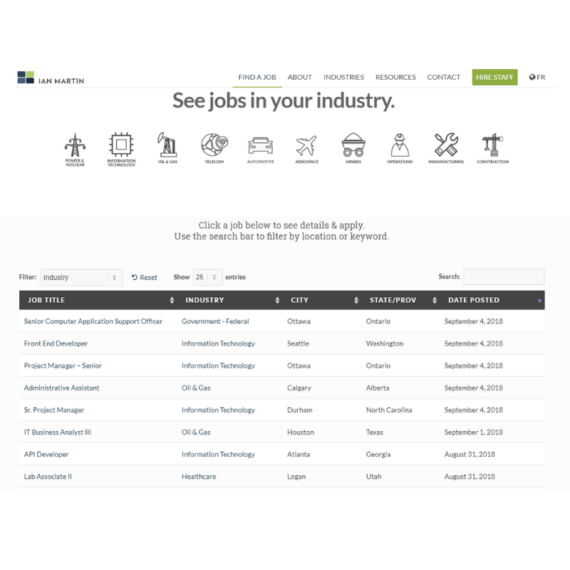 Use Posts Table Pro to create a user friendly job list in WordPress.