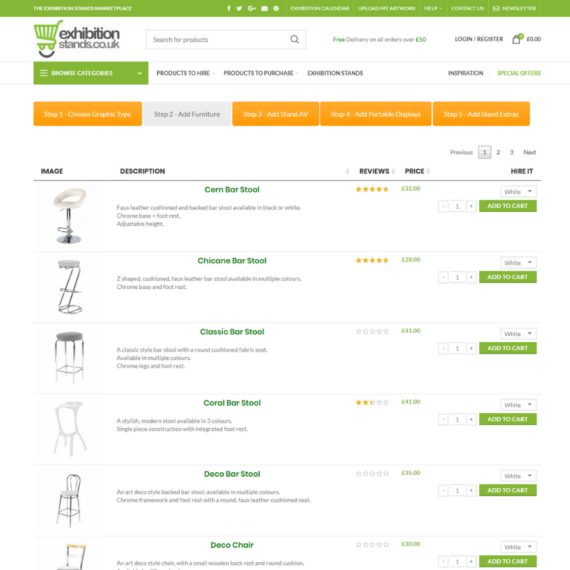 Exhibition Stands is a UK based exhibition company. They hire and sell exhibition stands using their WordPress WooCommere website. Companies can buy or hire everything they need to exhibit at a show.
With so many options, they needed an easy way to guide customers through the order process. That's why they needed our WooCommerce Product Table plugin.
The order process is broken down into a 5-step structure. Each part of the process is a different page with a new product table. The customer can navigate from one step to another using the links at the top and bottom of the pages.
Customers don't need to spend long searching for items - the product table on each step has been adapted with different columns to help sort the products. What's more, extra formatting makes the product descriptions in step 1 even easier for customers to read.
As you can see from Exhibition Stands' multiple-step order process, the WooCommerce Product Table plugin is a great way to display and sell non-visual items like these exhibition stands.
James Gibbins of Exhibition Stands is really pleased with how WooCommerce Product Table has improved his website. Just have a look at his glowing review:
Does what it says it does, lots of config options. Easy to setup and tinker with until it suited my website. A good investment for my website, now my clients can trawl the products we offer quicker and easier without getting lost in the process.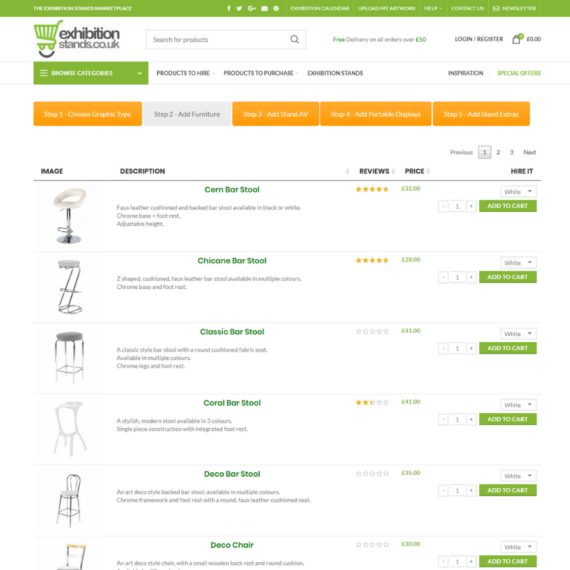 Use WooCommerce Product Table to create an user-friendly ordering system.