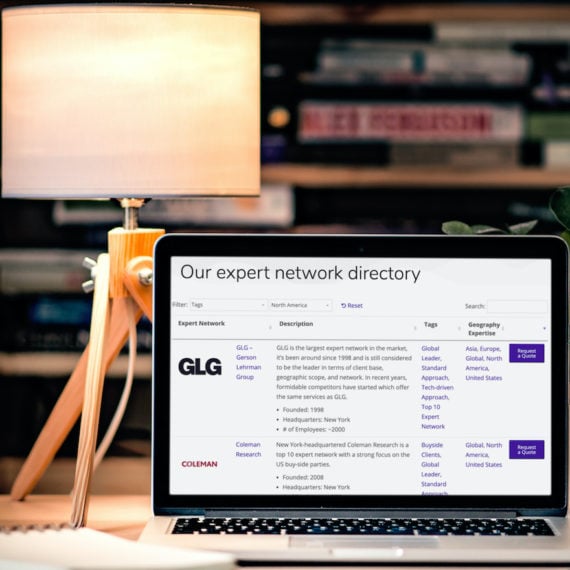 ENinsider helps users navigate the expert (or knowledge) industry by providing a directory of expert networks that they can browse and request a quote from. They used our Posts Table Pro WordPress plugin to create a directory of expert networks that visitors could easily search through and find the expert networks they'd like to get in touch with.
The directory of expert network listings makes it easy for people to search for the knowledge networks they're interested in contacting for a quote. Visitors can request a quote from up to five expert networks at a time.
Users can sort the expert networks listed in the table by their names, tags, and geography expertise. In addition, the table provides filters for tags and geography expertise, as well as a search box which makes it easy to narrow down your search.
For each expert network listing, ENinsider displays the logo, name, description, tags, geography expertise, and a Request a Quote column. The Request a Quote feature is bespoke. They built it as a custom feature using our instructions on how to add a custom column to the table. As well has having lots of built-in features, Posts Table Pro is developer-friendly and makes it easy to add bespoke functionality on top of it.
Tip: If you want to sell contacts then you can achieve a similar result with our WooCommerce Product Table plugin.
The table is configured to display all of the expert network listing on a single page. At the time of writing, ENinsider has a total of 37 entries in their database, all of which are displayed on the Expert Network Directory page.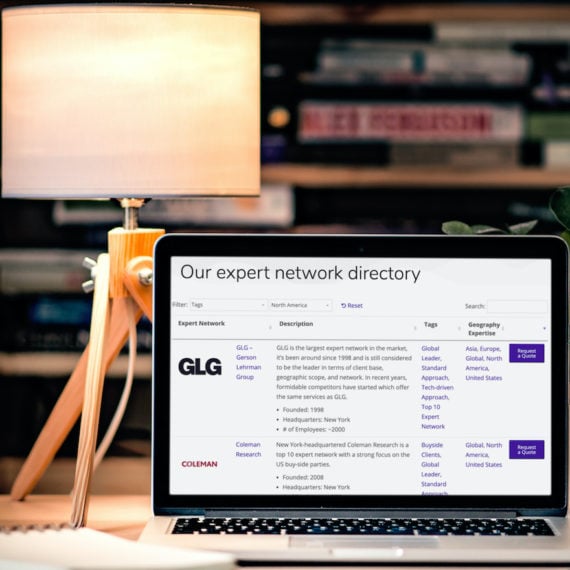 The founder of ENinsider was delighted with how the Posts Table Pro plugin fit his use case. Being developer-friendly, it gave him the option to add bespoke functionality to meet his exact requirements. He followed our step-by-step guide to quickly create a directory.
Use Posts Table Pro to create a directory of networks or contacts with easy search, sort, and filter.