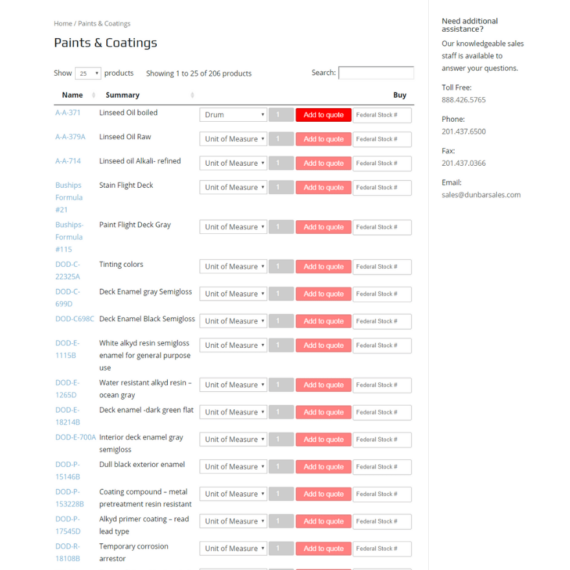 Dunbar Sales is a US company supplying MIL-spec adhesives, paints, coatings, lubricants and corrosion preventatives.
The Dunbar Sales website lists the technical products available to purchase but as they don't require large images, the default WooCommerce grid layout wasn't right for the company. All it needed was a simple product list view. That's exactly why the developers chose our plugin, WooCommerce Product Table.
The product table lists the products in a neat tabular layout with columns for name (which is used for product code), summary, plus 'Buy' column with product variation dropdowns.
Dunbar Sales have enhanced the product table's functionality with some third party plugins. An Add to Quote plugin allows customers to request a quote. The WC Fields Factory plugin adds an extra text field for customers to enter the federal stock number for each product.
Why don't you see for yourself how the product list works on the Dunbar Sales website?
Learn how to create product lists on your own website with our tutorial: WooCommerce Product List View Plugin: The Ultimate Guide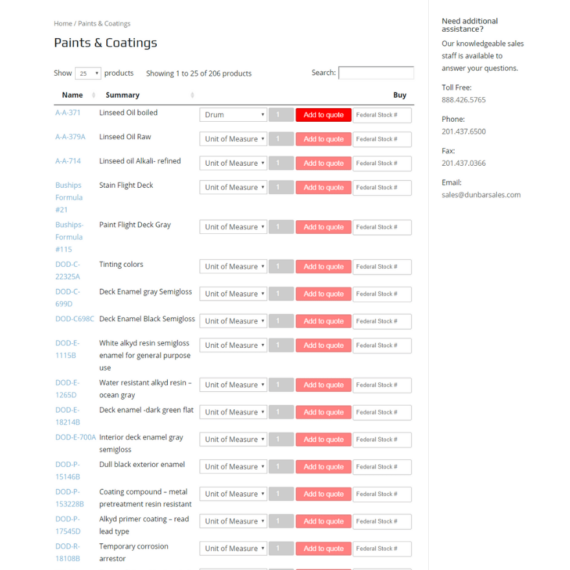 Use the Product Table plugin to display your products in a simple list format with one-page ordering.