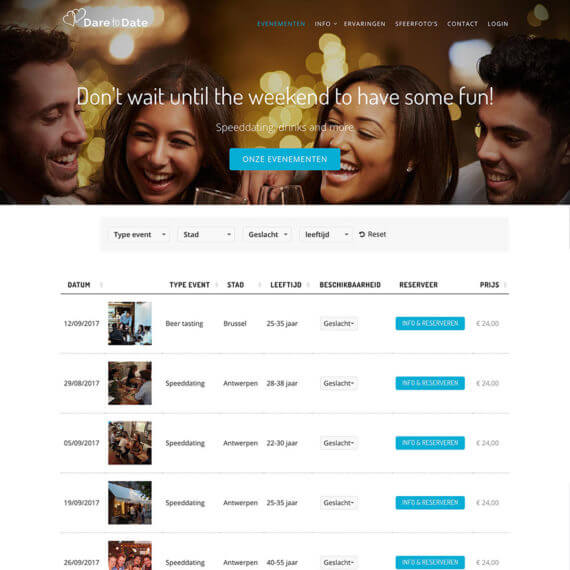 Dare to Date are using our WooCommerce Product Table plugin in an unusual and interesting way!
Belgian web design agency Fixdawel were developing a speed dating website for Dare to Date. They needed an innovative and user-friendly way to list upcoming dating events.
The brief was for people to search for dating events based on information such as type of event, location, gender and age. The website should list suitable events. The WooCommerce dating website needed to list products in a structured layout with various data about each event. Customers should be able to select their gender and book a place using WooCommerce.
Fixdawel did some research and discovered that WooCommerce Product Table met all these requirements. They used the plugin to list upcoming dating events in a tabular grid, with each event as a separate WooCommerce product. They added custom fields and taxonomies to store the various event data and display it in the table.
Filter dropdowns above the table make it quick and easy to find events. Daters can click through to the single product page to view more event data and subscribe.
This is the first time we've seen Product Table being used as a WooCommerce dating plugin, and it looks fantastic. If you want to create your own dating website with WooCommerce, look no further!