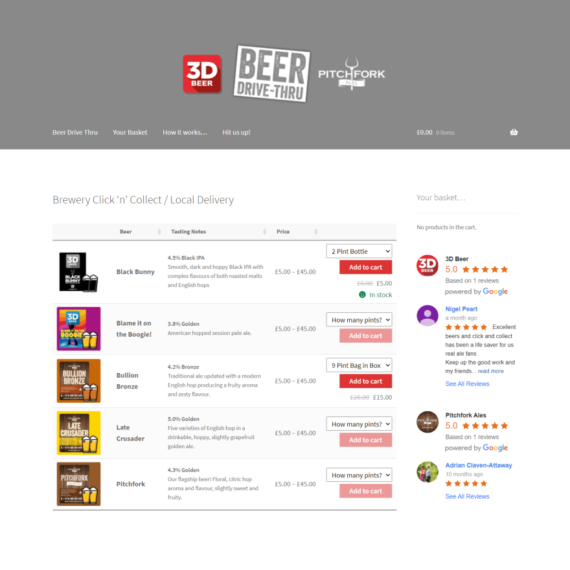 Beer Drive Thru is a brewery online store that sells beers and ciders online to customers in England, Scotland, and Wales. They used our bestselling WooCommerce Product Table plugin to let customers place orders online using a one-page order form.
The brewery set up two different pages – Brewery Click 'n' Collect / Local Delivery and Nationwide Home Delivery – to give their customers the option to either collect orders from the store or have them delivered to their doorstep.
Both pages have a similar one-page order form with a few differences. The beer and cider prices and minimum beer pints customers can order vary for local delivery and nationwide home delivery.
Customers can view details about each beer or cider including an image, product name, tasting notes, and price. Next, they can choose how many pints they'd like to place an order for using the variations dropdown (for beers) or the quantity selector (for ciders).
Beers are available in different pint options including 2 pint bottles, 4 pint bottles, 9 pint bag in box, 18 pint bag in box, and 36 pint bag in box. Ciders are added as simple products, each approximately 2.6 pint bottles.
Customers can simply select the variation they'd like to purchase or set the quantity and click the Add to cart button to add the beers and ciders to their shopping cart.
The owner of Beer Drive Thru, Dave Turner, was delighted with how easy it was to use WooCommerce Product Table to set up a one-page beer order form for both shop pages. He followed our in-depth tutorial closely which allowed him to quickly set up a brewery online store without having to code.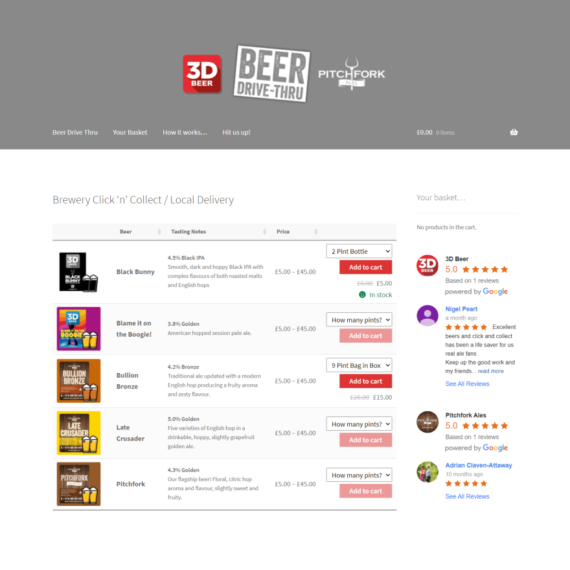 Dave praised the "stylish and functional" plugin and said:
"Very happy with "Product Tables" - it's nicely flexible in terms of both function and style and is a big factor in making the customer experience so much smoother. Excellent support too!"
Use WooCommerce Product Table to set up your own online brewery store with one-page order forms.