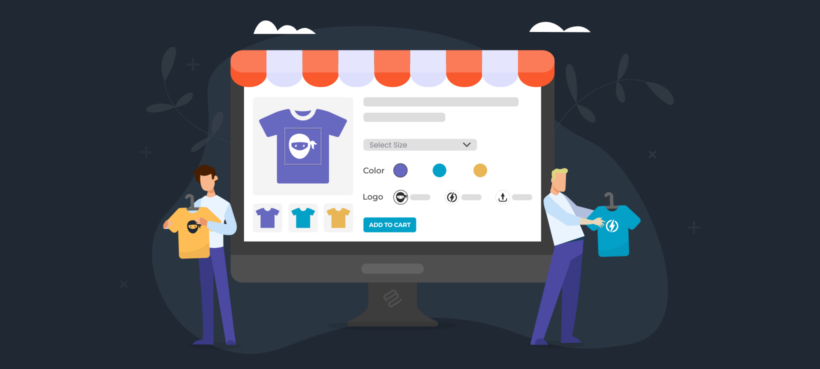 If you run an online t-shirt design store, then it's important to give your customers as many t-shirt customization options as possible. But WooCommerce doesn't support this out of the box. This is why you'll need a WooCommerce t-shirt designer plugin that allows users to create custom t-shirt designs.
T-shirt design companies with online stores do not have the same needs as other eCommerce stores. Because people have different design preferences, you'll need a plugin that allows your customers to participate in the design process. That's where WooCommerce t-shirt designer plugins come in.
These WooCommerce plugins allow site visitors to choose their preferred text, colors, images, and clip art for their t-shirt design. They can also resize and rotate images, texts, and other design elements. Customers also get the chance to use pre-designed templates which can be a real time-saver. Depending on the backend configuration, these plugins allow buyers to modify their designs as much as possible.
Involving customers in the t-shirt design process shows that you care about their needs. This encourages them to become loyal to your brand and complete multiple return purchases in the future. They can also easily make free referrals and promote your brand organically.
In this article, we'll look at 8 WooCommerce t-shirt designer plugins that you should consider for your online t-shirt business.
Best WooCommerce t-shirt designer plugins
If you're looking to give your customers flexible options when designing t-shirts on your site, these WooCommerce plugins will go a long way. When utilized efficiently, these tools will help you earn more from your online t-shirt design business.
Let's check them out!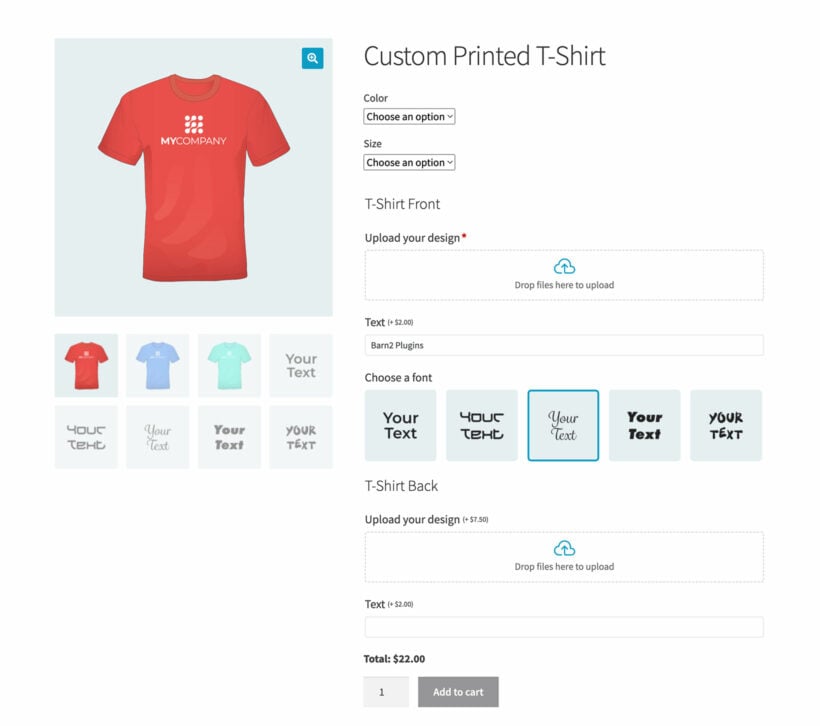 Top on our list of recommended WooCommerce t-shirt designer plugins is WooCommerce Product Options. It is an excellent design solution for your web-to-print store. This plugin gives customers many design options for t-shirts and other products.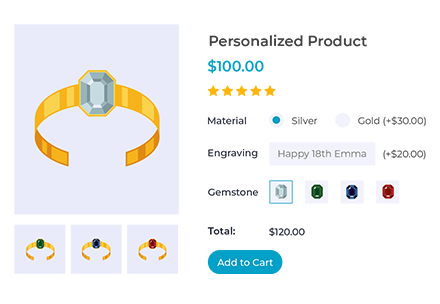 Add extra options and flexible add-ons to your WooCommerce products in seconds.
Customers don't have to manually send you any details about their design preferences because the entire customization process is fully automated. WooCommerce Product Options is rich in features that not only boost user experience but also help you land more sales.
Key features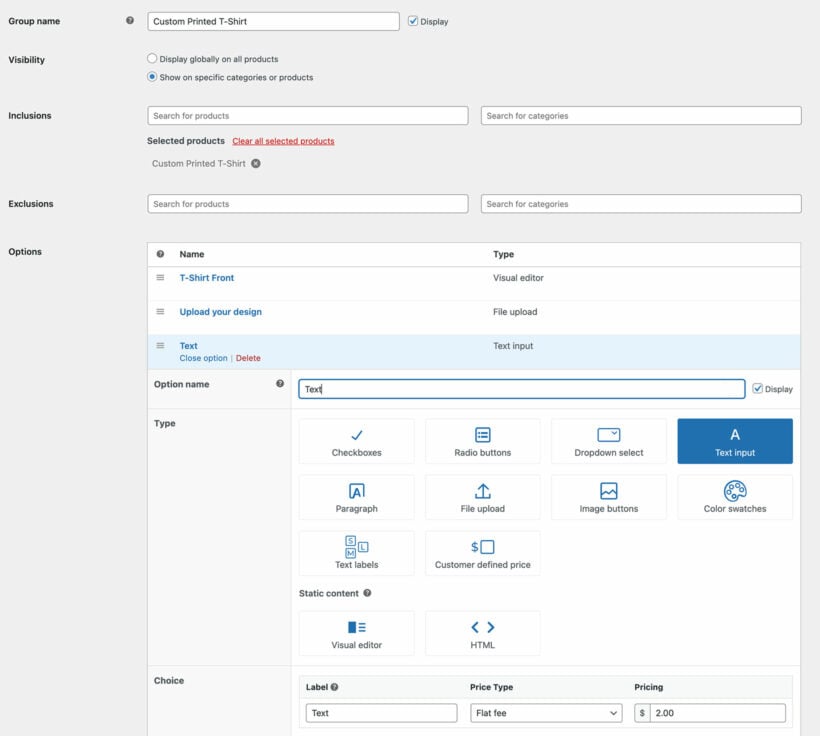 File upload fieldsThese fields allow customers to upload different logos and images on the front and back of their t-shirts. You can add as many file uploads as you like. This is ideal if you allow customers to add their design to multiple locations on the t-shirt, such as the front, back, sleeves, or even the t-shirt label.
Radio button fields and color swatchesCustomers can choose where designs should be placed on their t-shirts and how prominent they should be. All they need to choose their preferred t-shirt colors is to switch between any of the color swatches you enable on the backend.
Text fields and font optionsNo doubt, your site visitors want to add custom text to their t-shirts. WooCommerce Product Options allows them to do this easily. They can even choose text fonts using a dropdown, or by clicking on an image of the typeface.
Easy setup with options groupsManage your store with ease by creating a cluster of product options called groups. These groups allow you to add multiple options to specific products or categories at the same time. You can also exclude certain products or categories.
Dynamic variables (price fields, labels, etc.)Add variable attributes to your product options or groups, depending on the

type of option. For example, you can enable product labels or even set fixed pricing, a quantity-based fee, or pricing based on character count.

Conditional logicKeep the t-shirt designer page clean by only showing certain fields based on the customer's other selections:

Works with everything!
This plugin works seamlessly with all Barn2's plugins. For example, you can use it with WooCommerce Product Table and Quick View Pro to enable buyers with bulk t-shirt orders to tweak multiple items at the same time and preview the final designs quickly.
And even more importantly, you can use it with WooCommerce Bulk Variations to create a quick buying grid of the t-shirt sizes and colors:
To learn more about the WooCommerce Product Options plugin, watch this video: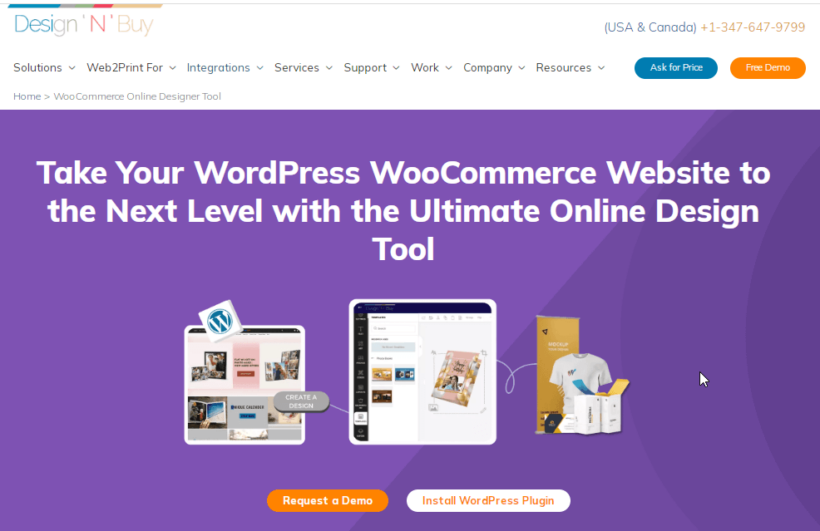 This powerful WooCommerce t-shirt designer plugin allows you to design, print, and sell personalized products in no time. With Design 'N' Buy, your clients get to personalize and order their t-shirts using their mobile phones or computers. You can manage your t-shirt print business from design to print and delivery on a single platform.
All you need to get started is to install and activate the DesignO WooCommerce plugin, add your products, and then set the elements your clients can customize.
Key Features
Time-saving templatesYou can create new templates and assign preset ones to products so that customers can make personalized designs.
Manage your workflowFrom your DesignO dashboard, you can monitor and process customers' orders in real-time and easily and quickly assign jobs to the production team.
Instant salesOnce you add a product to your store, the customize button appears on your store's front end, and customers can start customizing the product immediately so that you earn from it.
With the impressive capabilities of Design 'N' Buy, you can attract more customers and boost your business.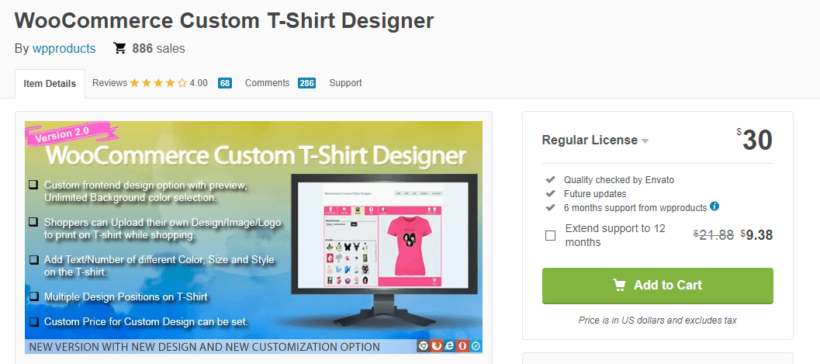 This is another feature-rich WooCommerce t-shirt designer plugin that allows clients to design custom t-shirts. The admin controls the design flexibility from the backend and can provide several options to cater to customers' design preferences.
With WooCommerce Custom T-Shirt Designer, customers can add and align texts, images, and logos anywhere on the t-shirt. They can also switch t-shirt colors and preview their t-shirt designs once they're done.
Key Features
Create fully customized designsCustomers can easily upload their preferred texts, images, and logos. They can also design both sides of the t-shirt.
Preview optionsCustomers can see what the final design looks like and make adjustments if they need to before placing orders.
Flexible backend customizationAdmins can control how flexible the t-shirt design process will be for customers. They can customize templates, change button settings, enable or disable design panels for products, set prices, and view all customers' orders.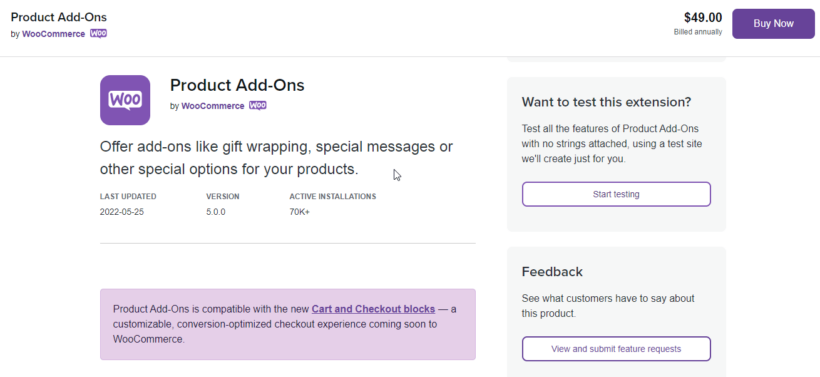 If your goal is to give your customers a design experience that makes them return repeatedly, you should try Product Add-Ons. With this WooCommerce plugin, your customers can complete their orders in one shopping experience without the back and forth of follow-up emails.
Key features
Text and color customizationsYou can allow customers to add personalized texts to t-shirts using different fonts and styles. They can also choose their preferred t-shirt color.
Image-based selectionsYou can improve customers' experience by showing them pictures of items. Pictures help customers see the exact thing they want to buy before paying.
Dropdown and checklistCustomers can choose from a range of options using a dropdown. Checkboxes also enable a seamless customization experience.
Once you set up add-ons, they'll appear immediately on your product pages. To get started, you can download the free version or upgrade to the premium version to enjoy more features.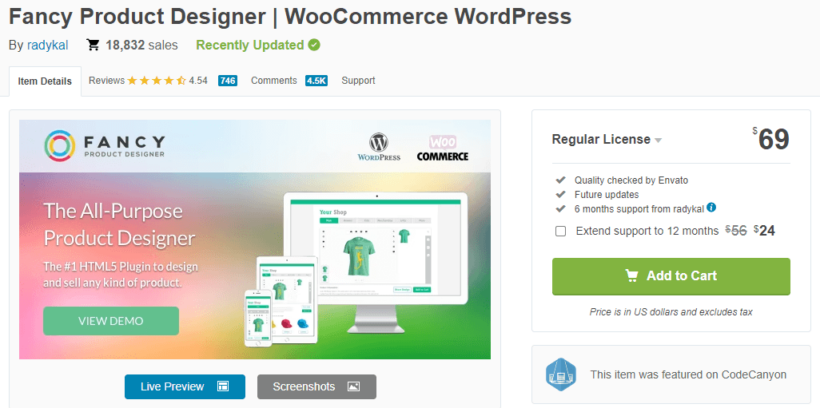 The next WooCommerce t-shirt designer plugin on the list is Fancy Product Designer. This plugin lets your customers design and customize any type of product. The customization and upload interface is interactive, and the functions and features are suitable for a wide range of products.
Key features
Several customization optionsCustomers can upload media from different sources and devices in JPG, SVG, or PNG formats. They can also change colors using the color picker or from preset colors. They can add text effects and change image size, position, opacity, and more.
Multiple layout optionsYou can customize the interface elements or choose from pre-designed layouts as an admin. You can also modify the Product Designer's actions to suit your needs.
Multi-device and multilingual supportThe plugin offers seamless functionality across various devices. You can also translate it into any language.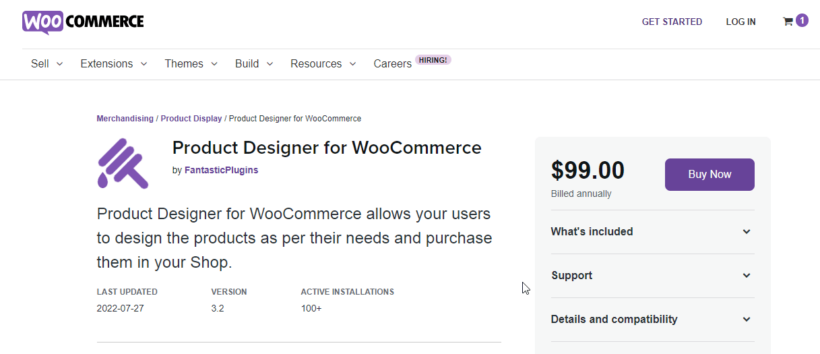 Like the other plugins we've discussed, Product Designer for WooCommerce allows customers to personalize their t-shirts as well. By clicking on the customize product button on the Single Product Page, customers are directed to the Product Designer page, where they can add images, text, shapes, and clip art to their products.
Key features
16 pre-designed templatesThe plugin comes with several product templates on which customers can build their designs. You can edit each product template to suit your needs.
Save and download designsUsers logged in to their accounts can save designs and make their purchases later. They can also download their designs after making a purchase.
Add product attributesUsing the assigned fields, you can include options for customers to choose attributes like product color, gift wrap messages, and size.
Printable filesYou don't need to convert the designs to print format because the output files are programmed to be print-ready.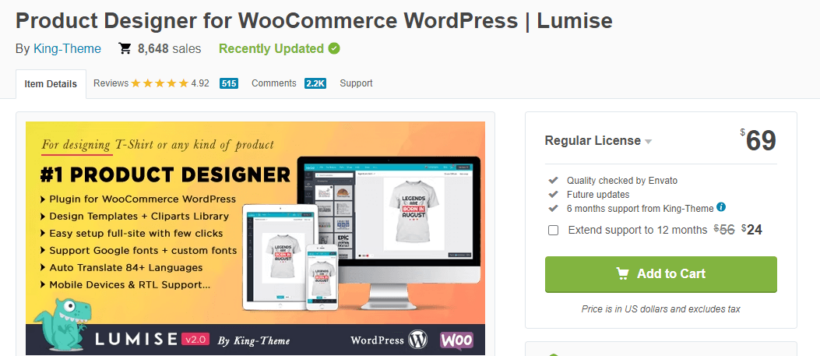 Lumise is a top-rated WooCommerce design plugin with a user-friendly interface. It allows customers to design different kinds of products, including t-shirts. The plugin is packed with features that make designing easy.
Key features
Prebuilt templatesLumise allows you to create your templates for products and sell them to customers using its design templates system.
Design flexibilityCustomers can use free internet resources with Lumise's connector. You can also access the latest Google fonts and can upload custom fonts. With layers, you can easily arrange elements.
Seamless workflowThis plugin allows you to take orders without stress because customers can design products, add them to a cart, edit the cart, and checkout easily.
Multi-device and multilingual supportCustomers can easily access the plugin if they use a laptop or mobile device. Lumise also supports several languages. The translation is done from the admin panel, and you can insert translated texts there.
The plugin allows customers to export and import designs and crop images. It also comes with free resources and images that users can work with.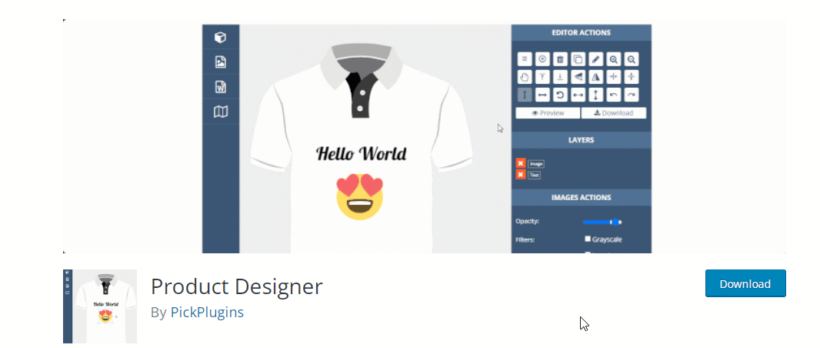 The last WooCommerce t-shirt designer plugin on our list is Product Designer. This plugin offers user-friendly design tools that allow customers to personalize several products.
Product Designer is packed with excellent features that give customers a satisfactory design experience. Customers can upload their images or access stock images from the website for their design. They can also add clip art, text, and other elements to their designs and preview or download designs before placing orders. You can download the free version here.
Key features
Add custom fonts and quotes to designsYou can upload popular quotes at the backend that users can choose to display on their products. Users can access over 50 Google fonts and other tools to enhance text appearance.
Design on any sideProduct Designer allows customers to design on any side of the product. They can design products' front, back, left, right, top and bottom.
Create unlimited templatesWith this plugin, you can create different design templates for your products. Customers can choose based on their preferences and edit the templates if needed.
Add codes to designsAn outstanding feature of this plugin is that it allows you to add QR codes and barcodes to your designs.
Product Designer is a WooCommerce t-shirt designer plugin that can be used independently. It can also work with several e-commerce platforms. However, it works best when integrated with WooCommerce.
Tips for selling custom t-shirts using WooCommerce
You don't mind making more money while you sell t-shirts online, do you? Here are 2 important tips to help you optimize your online t-shirt design business.
1. Allow customers to choose product variations
No doubt, product variations are an important part of any WooCommerce t-shirt designer store. But things can easily get messy when a buyer needs to select t-shirt designs, especially in bulk. WooCommerce Bulk Variations is the best plugin that makes it easy to add variations to products.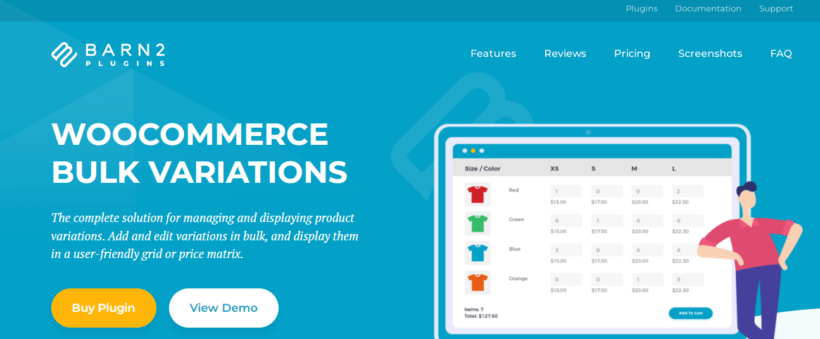 This plugin allows customers to choose t-shirt sizes, styles, and colors before adding them to their carts. It is compatible with any WooCommerce t-shirt designer plugin that shows product variations.
For example, you can use it with WooCommerce Product Options to create a grid of t-shirt sizes and colors, with options such "Upload your design" and text fields underneath.
2. Add product quick view
It's important to save customers time by allowing them to preview items quickly and make purchase decisions fast. When it comes to speeding up customers' shopping, Quick View Pro is the go-to plugin.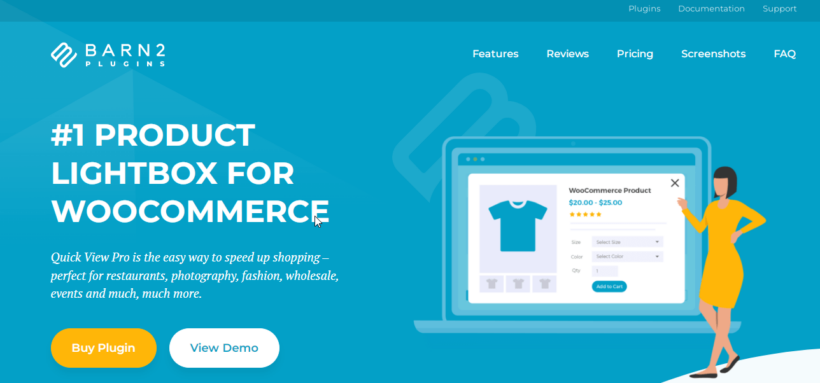 It lets customers preview items and add them to the cart using a lightbox. The plugin is fully customizable, and it is the only Quick View plugin that can integrate with WooCommerce Product Add-ons. It is also compatible with WordPress translation plugins.
Pick the best WooCommerce plugin for custom t-shirt designs
In this article, we've shown you different WooCommerce t-shirt designer plugins that can help you meet the diverse needs of your customers. These plugins have fantastic features that boost your customers' t-shirt design experience and help you sell clothes online.
Our most recommended WooCommerce t-shirt designer plugin is Barn2's WooCommerce Product Options. This plugin is easy to use, compatible with all themes, and gives customers a wide range of t-shirt customization options.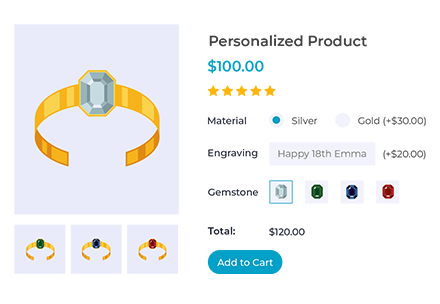 Add extra options and flexible add-ons to your WooCommerce products in seconds.
We hope this guide has proven helpful in choosing the best WooCommerce t-shirt designer plugin for your online store. Let us know if you have any questions in the comments section below.