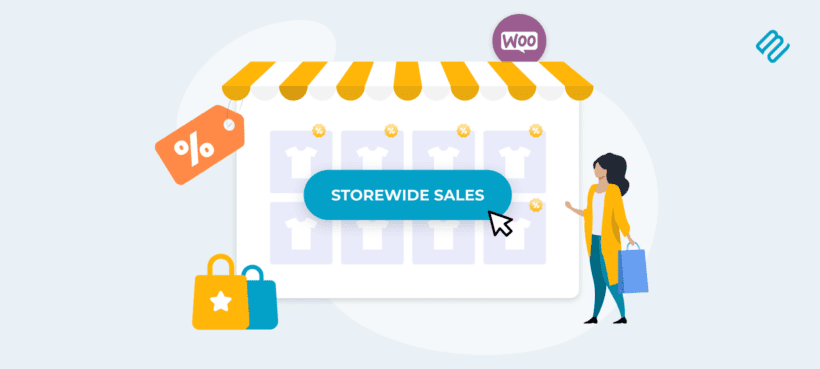 A WooCommerce storewide sale, as the name indicates, is when store owners offer a discount on all (or nearly all) of the products in their store. It's a great way to attract new customers to your ecommerce store and encourage people to buy from you.
WooCommerce on its own lets you add sale prices for individual products. If you have a large product catalog, setting up sales prices on all products can take up a lot of time.
The good news is that you can easily run storewide sales in your store with the WooCommerce Sitewide Sales plugin.
Introducing the Sitewide Sales plugin
WooCommerce Sitewide Sales lets you set up storewide sales on your WooCommerce store. It's perfect for running Black Friday, Cyber Monday, or other flash sales on any WordPress site.
The plugin is easy to configure. All you have to do is set the sale's start and end dates, choose a template, pick a banner, and assign the storewide discount. WooCommerce Sitewide Sales also lets you create a custom sale message that you can display on your store before the sale begins, while it's running, and when it ends.
In addition to this, the plugin lets you track WooCommerce sales performance and view reports directly from the plugin's settings page. This way, you always know what's working and what isn't.
The WooCommerce Sitewide Sales plugin makes it incredibly easy to offer fixed or percentage discounts on your entire WooCommerce product catalog in a few simple steps. As a result, you can attract more customers to your store, boost sales, and move old inventory.
Tutorial: How to create a WooCommerce storewide sale
In this tutorial, we'll show you exactly how to set up a WooCommerce storewide sale.
Step #1: Install WooCommerce Sitewide Sales
Make sure you have the WooCommerce plugin installed and activated on your WordPress site. Next, get the WooCommerce Sitewide Sales plugin and install it on your WordPress site. Click the Activate button to continue.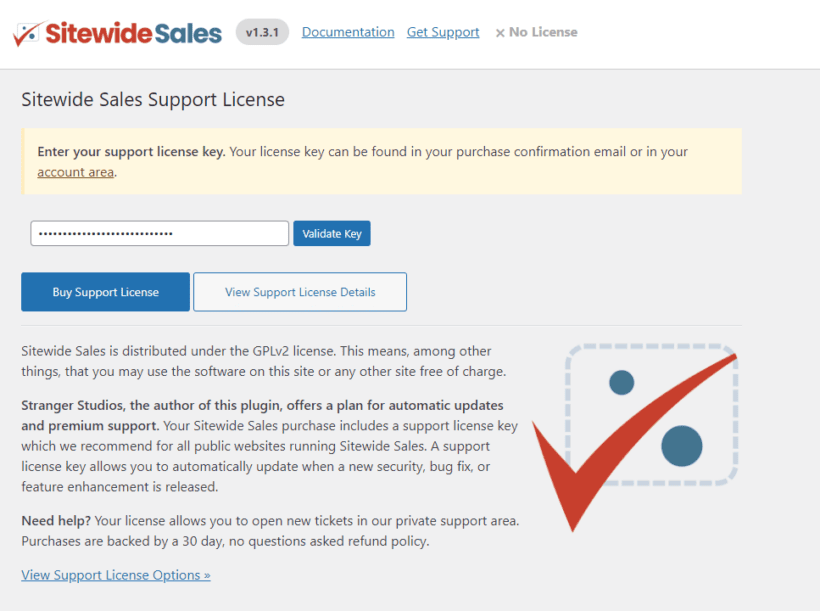 Go to Sitewide Sales → License from the WordPress dashboard to activate the plugin's license key. Click the Validate Key button to proceed.
Step #2: Create a storewide sale
To create a storewide sale, go to Sitewide Sales → Add New and click the Add New button.
Start and End Dates
Enter a suitable title for the sale and set the sale's start and end dates. The plugin also lets you set the sale's start and end times.
Sale Type
Next, choose a Sale Type using the dropdown menu.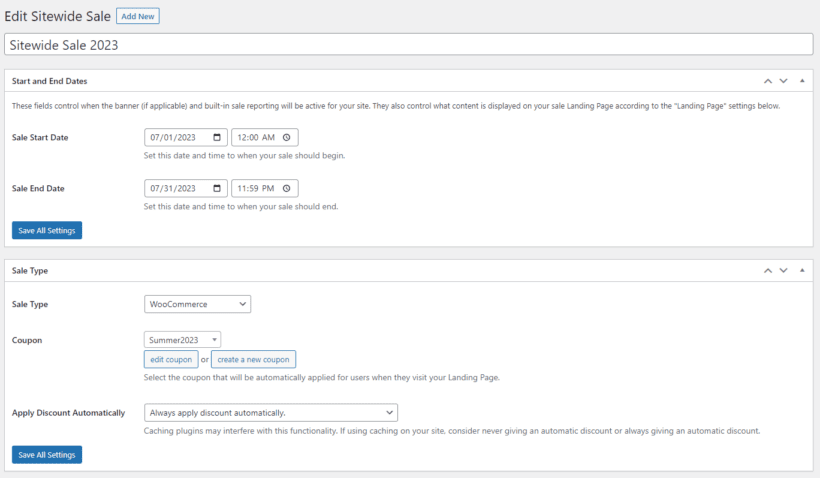 The plugin lets you choose between 4 different types of sales including:
Paid Memberships Pro
WooCommerce
Easy Digital Downloads
Custom
Since we're setting up a sitewide sale in WooCommerce, we'll select the WooCommerce option. Once you do that, the plugin will prompt you to select a Coupon. The dropdown menu will show the different WooCommerce coupons you've already created. You can also choose to edit an existing coupon or create a new coupon by giving it a title and entering the discount amount and type.
Next, choose when you'd like the discount coupon code to be applied. You can choose to:
Do not apply discount automatically.
Apply discount automatically if user has seen the landing page.
Always apply discount automatically.
Sale Banner
These options let you set up a sales banner for your sitewide sale. You can choose between 3 banner types – Custom Banner, Popup Maker, and Reusable Block.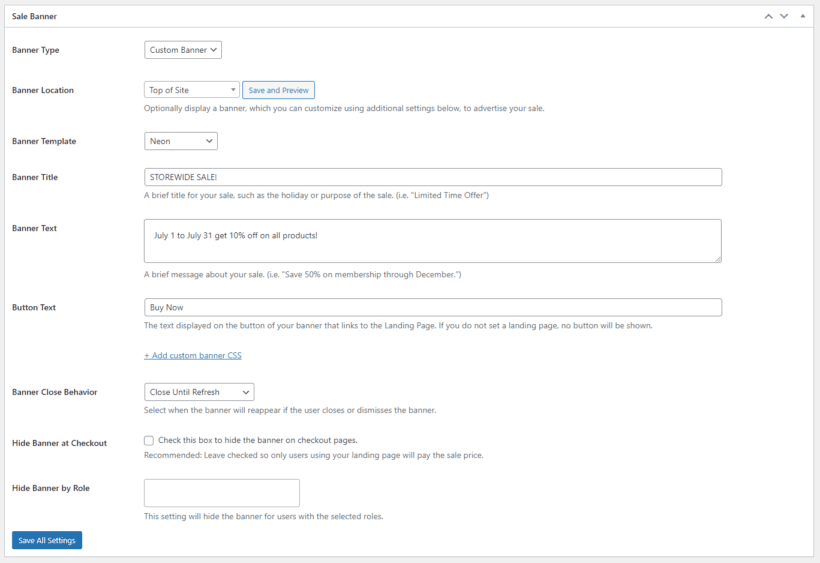 Next, choose where to show the banner either at the top of your site, at the bottom of your site, or the bottom right of your site. At this stage, you can save and preview your sales banner.
The next step is to choose a Banner Template from 7 different options. You can also set a Banner Title, Banner Text, and Button Text. In addition to this, the WooCommerce Sitewide Sales plugin lets you set the sales banner's close behavior and decide whether you want to show the banner at checkout or not.
Optionally, you can choose to hide the sales banner by user role which means customers with the user role you specify won't see the sales banner when they visit your online store.
Related tutorial: How to add On Sale badges to your WooCommerce store.
Landing Page
The WooCommerce Sitewide Sales plugin lets you choose a landing page (or create a new landing page) for customers.

You can use this landing page to add content that customers can see before your sale begins, during the sale, and after the sale ends.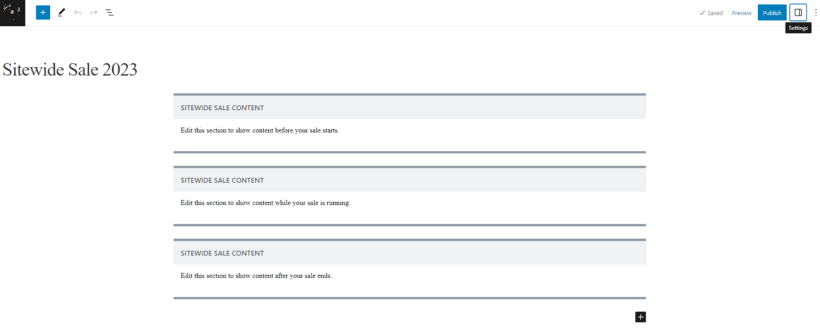 Step #3: Preview
Here's what it looks like on the front-end: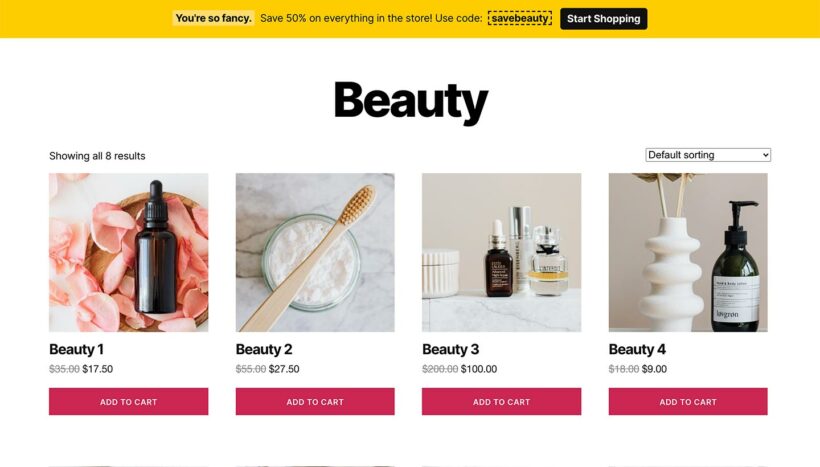 Promoting your storewide sales
Putting up a storewide sales banner is just the first step to running a successful sale. To get the most out of it, you have to promote your sitewide sales.
For most store owners, the primary goal of a storewide sale is to increase sales and market reach. With this in mind, there are plenty of effective marketing strategies you can use to promote storewide sales:
Social media. Use social media ads and posts to get the word out about your storewide sale to new and existing customers.
Email marketing. Before running the sale, send out an email broadcast to your list letting them know the storewide sale details. Be sure to mention when the sale begins and ends, and if customers need to enter a coupon code to avail discounted prices.
Website banners. You can create website banners to let site visitors know you're running a sale. Mention the bulk discount customers can expect to get (e.g. 10% off on entire stock) to encourage them to go to the shop page.
Special offers page. Create a Special Offers page to list all of your on-sale product categories in WooCommerce. This makes it easy for customers to quickly find the specific products that are selling at a discounted price.
Where to get the plugin
Running storewide sales on your WooCommerce store is a great way to increase your market exposure, attract new customers, boost conversions, and generate more revenue.
By using a plugin like WooCommerce Sitewide Sales, you can create successful storewide sales. It's also important to promote your storewide sales through website banners, a special offers page, social media, and email marketing.
Ready to create a WooCommerce storewide sale? Get Sitewide Sales today!