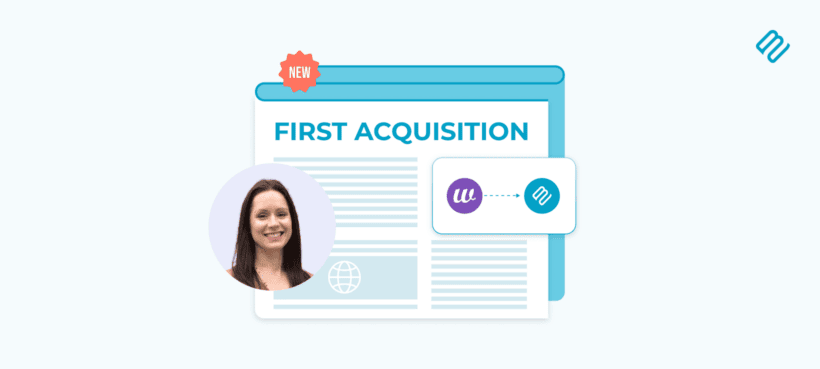 If you've read my previous Year in Review posts, you'll know that I've wanted the experience of acquiring another WordPress product for a while now. Well, now I've finally done it! Here's the full story.
Today, I'll thrilled to announce that the WooCommerce Product Tabs plugin from WPConcern has joined the Barn2 family. This is the first ever acquisition at Barn2, and marks the start of an exciting new chapter for us.
Keep reading to learn all about the product, why it's such a great fit for Barn2, and how the acquisition will affect existing and future users of the plugin.
Latest WordPress acquisition news: Barn2 has acquired the WooCommerce Product Tabs plugin from WPConcern! https://barn2.com/blog/woocommerce-product-tabs-acquisition
Click to Tweet
What is WooCommerce Product Tabs?
WooCommerce Product Tabs is a flexible plugin designed to allow e-commerce store owners to add extra data to their product pages. It does this by adding extra tabs to the page, which you can use to add a range of additional product information to WooCommerce product pages.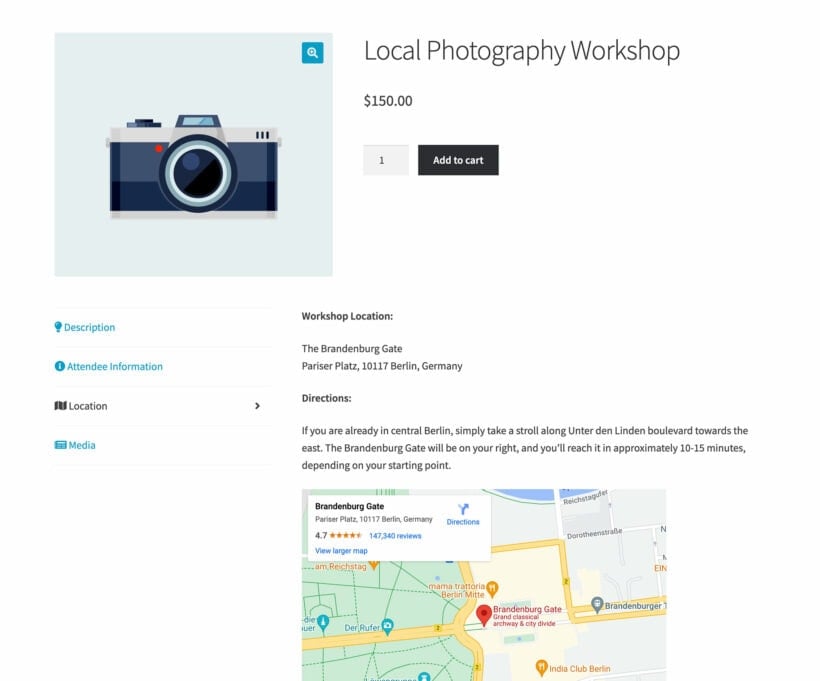 As a result, shoppers have all the information they need to add the product to their cart, helping to increase conversion rates while reducing the need for them to contact you with their enquiries.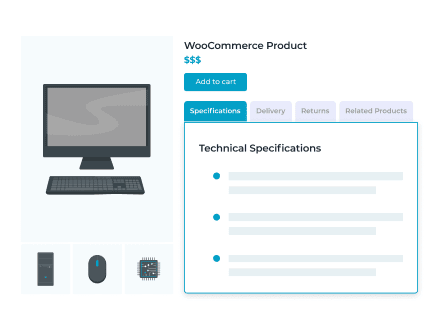 Boost your product pages by adding custom tabs containing extra information.
What sort of extra product tabs can you create?
The great thing about WooCommerce Product Tabs is that you can use it to create literally any type of extra product tab. Here are some examples.
Extra product information
Specifications tab: If your products have technical specifications that you don't want to include in the product description, an additional tab can help. For example, tech gadgets or automotive parts often have detailed specs which would be more appropriately displayed in a separate product specifications tab.


Download tab: If your products have relevant downloadable resources like manuals, guides, templates, or software, a download tab would be beneficial.


Videos tab: Video content is engaging and useful for explaining complex products or showcasing lifestyle items. This could include product demos, tutorials, unboxing videos, or even customer testimonials.


FAQs tab: A Frequently Asked Questions (FAQ) tab can save customers time and reduce support queries.
Ingredients or materials tab: For food products, beauty products, or handmade items, an additional tab listing the ingredients or materials used could be very helpful for customers who are sensitive to certain substances or prioritize natural ingredients.
Size guide tab: If you're selling clothing, shoes, or other items where sizing is crucial, a size guide tab showing the product dimensions can be helpful.
Assembly/usage instructions tab: If your product requires assembly, having a dedicated tab with instructions can be very handy.
Certifications tab: If your products have certifications, awards, or are backed by scientific research, this tab could house that information.
Warranty & maintenance tab: Here, you can provide details about warranty terms and conditions, along with maintenance tips.
3D models and AR tab: If your products have 3D models or AR experiences, this tab could house the necessary viewer or instructions.
Personalization options tab: If your products have customizable options, a tab explaining these could be beneficial.
Customer reviews & photos tab: This tab could showcase customer-submitted photos and additional reviews or testimonials.
Upselling related products
Related products tab: This can be useful for showing products that are usually bought together or are from the same category or collection.


Events & workshops tab: If you hold related events or workshops, details and schedules could go here.
Additional order information
Shipping and delivery tab: It's very important to include a shipping calculator on the product page. That way, customers can check the shipping cost before deciding whether to buy a product. In addition, you can use WooCommerce Product Tabs to create a custom shipping tab containing a table of your shipping options and costs.
Financing options tab: If you offer financing or payment plans, a tab detailing this would be useful.
Location-specific info tab: This could include product information in different languages, or shipping and delivery specifics for various regions.
Product enquiry tab: Sometimes, customers need to make an enquiry about the product before ordering. You can make this easy for them by creating an 'Enquire' tab and inserting a contact form using any WordPress contact form plugin such as Gravity Forms.

Extra company information
Charitable causes tab: If a portion of your proceeds goes to a charity, an additional tab explaining this could help attract like-minded customers.
Sustainability tab: For companies with sustainability efforts, this tab can contain information about eco-friendly practices related to the product.
Press & media tab: This tab could house articles, press releases, and media features about the product.
History & Craftsmanship tab: If your product has a rich history or unique craftsmanship, this tab could tell that story.
As you can see, there are absolutely loads of reasons for adding extra tabs to the WooCommerce product page. As a result, it can benefit a huge proportion of WooCommerce store owners. That's what makes the plugin so interesting for us.
Story of the acquisition
On 27th June, Manesh Timilsina from WPConcern reached out to me on Twitter to ask if I was interested in acquiring his WooCommerce Product Tabs plugin.
While this sort of thing happens quite often, this particular opportunity immediately caught my attention. There were several reasons for this:
Product tabs are a very natural fit for our existing WooCommerce plugins. I instantly knew that the plugin would appeal to many of our existing customers.
The free version of WooCommerce Product Tabs had over 9,000 users and excellent reviews on wordpress.org.
The premium version had 93 existing subscribers. Their subscriptions were on Freemius, which I knew could be transferred to Barn2 - unlike if they were on another gateway like PayPal or Stripe.
Support-wise, the plugin seemed very manageable as the number of tickets received was very low.
No marketing had been done other than upgrades from the freemium version. That made it my ideal plugin to acquire because we could easily increase sales by plugging it into the Barn2 marketing machine 🚀
The cost of the plugin was affordable for us, and the right amount to experiment with our first acquisition before considering something more expensive.
I asked my Head of Plugin Development, Alessandro, to check the plugin's code. He confirmed that while it didn't fully meet Barn2 standards, it was a good plugin overall and something we could work with.
Things were looking good!
Should I or shouldn't I?
Before making an offer, I thought very hard about whether this was the right decision. While the plugin ticked many of the right boxes, I had several doubts too:
I have a track record of building plugins which are too small to make a big difference to the business. For example, it may not have been a good idea to build super-niche plugins like WooCommerce Discontinued Products or Easy Digital Downloads EU VAT which get quite low sales. While I was confident that WooCommerce Product Tabs would sell better than those plugins, I was also convinced that it wouldn't be a bestseller. Keyword research from our marketing company Ellipsis confirmed this. Did we want the distraction of another mid-selling plugin, or should I focus on bigger wins?
Alessandro had advised that it would be more work to add our licensing to the existing plugin and make the changes we wanted, than to build a WooCommerce tab manager plugin from scratch. Would the advantages of buying an established plugin outweigh the extra development time?
What would be the opportunity cost of reallocating time to the acquisition and delaying other important projects on our roadmap?
I consulted with various people and got conflicting advice. My co-director Andy felt it was a great idea because of being a perfect fit with our other products. Ellipsis thought it was too small from a marketing perspective. The people in my WP Business Mastermind group thought it was a good opportunity compared to similar acquisitions they have made. Dilemma 😕
Making a decision
Ultimately, I decided that it was worth the risk because it was the sort of plugin that we would likely build ourselves at some point anyway, had an established user base, and excellent cross-selling opportunities with our existing plugins. It felt like it would be the perfect way to get experience of acquiring a plugin so that I could learn from any mistakes and take on bigger acquisitions in future.
As a result, I sent an offer for the plugin. In my head, I was very clear of the maximum amount that I was willing to pay. I was interested in the acquisition, but knew that it wasn't the opportunity of a lifetime - therefore, I was happy to walk away if the price wasn't right. That put me in the best possible position for negotiation.
We negotiated for a few days until we agreed on a price and the details of the sale 🤝
The acquisition process
The process of actually acquiring the plugin was relatively fast and pain-free. It took less than 4 weeks from start to finish:
27th June - Initial contact and discussions.
5th July - Offer accepted.
6th July - Contract signed.
18th July - Purchase complete and assets handed over.
28th July - Launch of plugin on the Barn2 site.
Manesh and the WPConcern team were incredible to work with. They were fast to respond to any queries, patient with any delays, and did everything they promised.
It was ridiculously easy to transfer the existing subscribers to Barn2's new Freemius account. Freemius have done a great job in setting this up. We started receiving the money from new sales and renewals within minutes of the acquisition being complete.
Escrow was terrible, though! It took more than a week for them to approve the payment, and their process was very unprofessional. There were endless rounds of verification, with lots of errors in their system such as asking me to verify documents which they had already approved. It was difficult to contact them because they're on California time and start work after I finish. They didn't respond to support messages. They asked for even more verification information at the end of the process when they could have requested this earlier to avoid delay.
If you're planning a similar acquisition, then I'd recommend finding an alternative to Escrow because they added friction and delayed the process.
Barn2-ifying WooCommerce Product Tabs
I realise that's not a word, but never mind!
After the acquisition was complete, we started a project to make WooCommerce Product Tabs more like a Barn2 plugin, while maintaining backwards compatibility for existing users. I divided the project into two stages:
Licensing and initial launch

Update the free plugin to put it in Barn2's name (keeping the original developers as contributors), and add Barn2 branded banner and thumbnail images.
Add Barn2's Easy Digital Downloads-powered licensing system to the premium version for new customers, while keeping the Freemius code in place so that existing subscribers can continue to receive updates.
Create a plugin sales page and documentation, and launch them on the Barn2 site.
Arrange for WPConcern to redirect the old sales page and documentation.
Notify existing users of the change of ownership and how it affects them.

Plugin improvements

Make behind-the-scenes code improvements to meet Barn2 guidelines and standards.
Move the plugin settings and make various changes to improve usability in the admin and ensure a consistent style with other Barn2 plugins.
Identify popular feature requests from the free plugin support forums, create a feature request list, and implement them as appropriate.
As of today, phase 1 is complete. We now move to phase 2, in which our developer Ohid will take over as the plugin lead and implement the changes on the project plan. This will transform an already good plugin into an excellent plugin which is poised for future growth 💪
Of course, alongside these tasks, we are also implementing a marketing strategy for the new plugin based on the tried and tested Barn2 method 📈
What about existing users?
We've ensured a seamless transition process for existing WooCommerce Product Tabs customers. If you're already using the free or premium version, then you don't need to take any action - everything will continue working as normal.
Plugin updates and annual renewals
If you have an active subscription for your annual renewal, then this will remain in place with no changes. We promise never to increase the price for as long as your subscription remains active.
If you have cancelled your subscription, then when your current license expires, you can renew manually on barn2.com under our new licensing system.
Either way, you will continue to receive plugin updates as usual in the WordPress Dashboard.
Plugin support
Free users of WooCommerce Product Tabs can continue receiving support in the wordpress.org support forum, where we will be notified of your message. 
Premium users can receive plugin support from the Barn2 Support Center, where our renowned support team of WordPress experts will be happy to help you.
Either way, we're totally committed to continuing to support all existing users of the WooCommerce Product Tabs plugin.
How does it affect users of other Barn2 plugins?
One of my favorite things about this acquisition is how well our other plugins work within extra product tabs. For example:
People using our Document Library Pro plugin can now display product-related downloads (e.g., specification documents) in a dedicated tab.


Using WooCommerce Quick View Pro? The extra product page tabs also appear in the quick view product lightbox. That way, you can access the extra tabs from the shop page - no need to visit a separate product page!


Those using our WooCommerce Bulk Variations plugin could use an additional tab to display variations or a price matrix, instead of having this take up space on the main section of the product page.

Future plans for WooCommerce Product Tabs
Over time, we plan to continue investing in WooCommerce Product Tabs to ensure it continues being the best tab manager plugin on the market. As always, we'll do this by listening to what our customers are asking for and looking at how they're using the plugin. This will give us the insights we need into growing it in the direction that will most benefit them, making it even more useful for WooCommerce store owners.
For example, we've already noticed that the need for better translation support is a common issue in the wordpress.org support forums. As a result, we will prioritize adding this to both the free and pro versions of the WooCommerce Product Tabs.
Your ideas, please!
To help with the above, we are eager to hear your thoughts and suggestions. Please share your ideas or requests through our feature request form.
Summing up
This acquisition marks a significant milestone in our journey, one that expands our capabilities and promises an enriched experience for WooCommerce store owners. It's the next step on our vision to make Barn2 the one-stop-shop for adding sales-boosting features to your store.
Try out the WooCommerce Product Tabs plugin for yourself, and explore its potential.
Either download the free version, or get the full version here.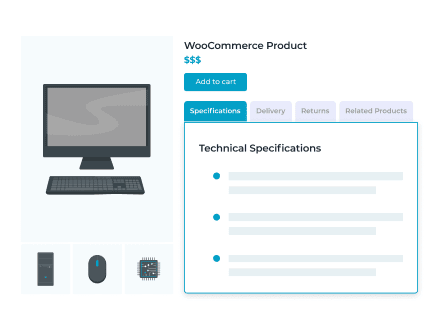 Boost your product pages by adding custom tabs containing extra information.