WooCommerce Product Table is our bestselling plugin of all time. We've been working hard to make it even better. Keep reading to learn what's new.
We've just released version 3.0 of our WooCommerce Product Table plugin. Here's a summary of the new features and improvements.
The top item on our feature request list is an option to display hidden products in the table.
Until now, WooCommerce Product Table always respected the WooCommerce visibility settings for each product. These are:
Shop and search results
Shop only
Search results only
Hidden
Lots of our customers have asked for a way to display hidden products in the product table. For example, you might need this if you use product tables to sell specific products which aren't available in your main shop.
In version 3.0, we've added a new option to the plugin settings page which lets you show hidden products in the table.
Variation name options for variable products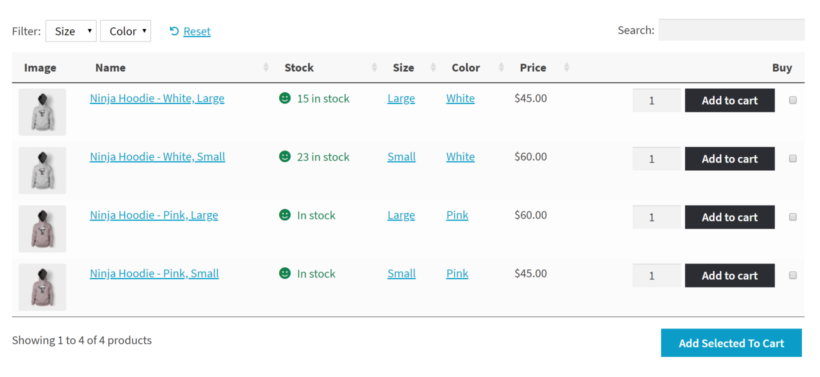 A product table with each variation listed on its own row
When you use the 'separate variations' option to list each variation on its own row in the table, until now the name of each variation would include both the product name and its attributes. For example, "Organic T-Shirt - Small, White".
Some of our customers want the flexibility to only show the product name or attributes, but not both. This is useful if a table already includes separate columns for the attributes; or if you're listing variations on the single product page and don't need to repeat the product name in every row.
You can now choose the variation name format on the plugin settings page.
New 'Date modified' column
We've also had requests for a 'Date modified' column which shows when the product was last updated. Previously, our knowledge base contained a code snippet on how to do this. We have now added it as a column, so you can add a date_modified column without needing to edit any code.
No more empty short descriptions
If you've included the product short description in the table, then it's a shame when this appears empty for products that don't have a short description. To stop this from happening, the main product description will now appear if no short description is available. This matches the logic in our other plugins, such as WooCommerce Restaurant Ordering.
As well as these new features, you'll benefit from many other fixes and improvements - check out the full list in the WooCommerce Product Table changelog.
Where to get WooCommerce Product Table version 3.0
If you're already using WooCommerce Product Table then you can update to version 3.0 via the WordPress dashboard. Otherwise, get the plugin and transform the way you display your products today!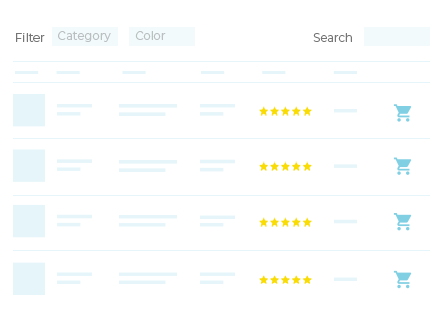 The easiest and most flexible way to list products and create quick order forms.