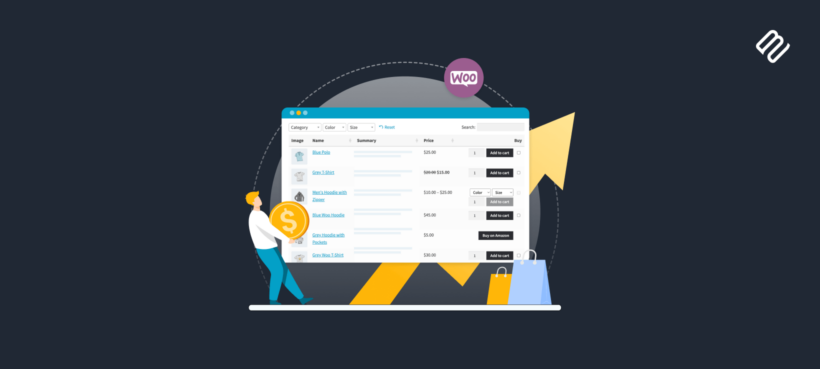 Want to improve your online store's user experience for a better conversion rate? WooCommerce custom product tables can do just that by displaying your products in a more bespoke way that is tailored to the type of items you sell.
Have you ever noticed that most WooCommerce stores look the same? That's because they all have a very similar layout, with the products laid out in a grid.
That's a shame because many products sell much more effectively when they're displayed in a custom WooCommerce product table layout.
In this article, I will explore how an effective product table can help grow your WooCommerce sales. You'll learn what to look for in a custom product table plugin, and practical steps to get your first table set up and running. The ultimate goal is to present your products in a more effective way that will maximize your sales 🚀.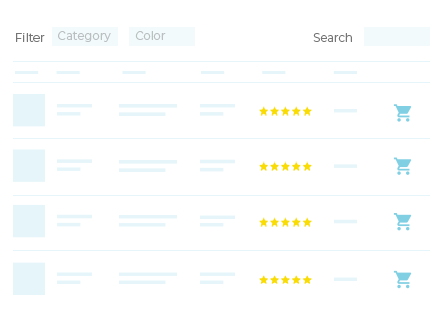 The easiest and most flexible way to create WooCommerce custom product tables.
What are WooCommerce custom product tables (and why does your store need them?)
If you sell online, then you'll know how competition among eCommerce businesses is increasing all the time. For example, one survey found that 40% of eCommerce companies evaluated their market competition as being very tough.
As a result, WooCommerce store owners need to avoid the 'cookie cutter' approach where all stores look the same. Instead, they need to design their stores in a way that is unique and tailored to their customers' needs.
Custom WooCommerce product tables offer an excellent way to make your products stand out. Instead of listing products in a grid and expecting customers to visit a separate page to learn more about each item, your inventory is displayed in a tabular format with rows and columns.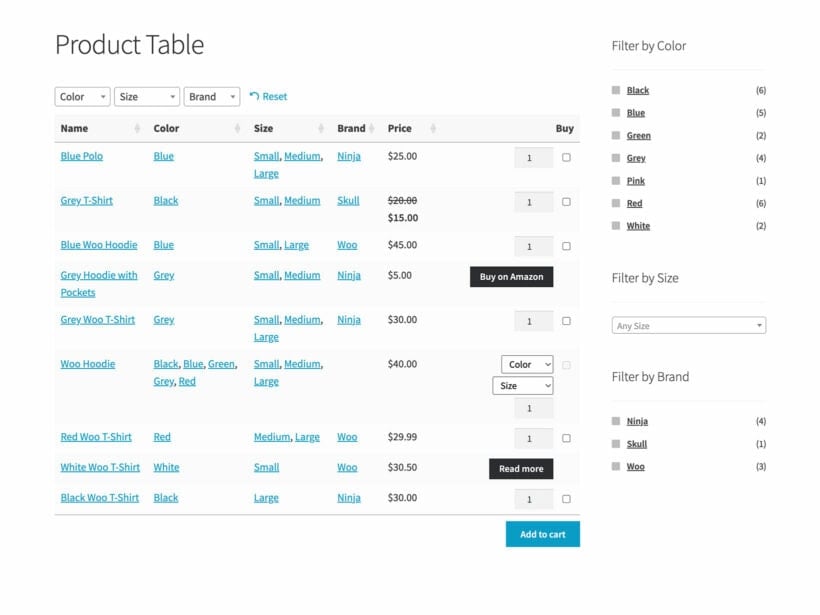 This has several advantages compared to the default WooCommerce store layout:
Custom WooCommerce product tables allow for a more organized and efficient presentation of products.
The best product table plugins come with advanced functionality, such as search, add-to-cart options, as well as options to customize their appearance.
A product table effectively functions as a one-page order form, allowing customers to view more product data and add to their cart without leaving the page.
As you can see, custom product tables greatly advance online shopping experiences and subsequently increase conversions and sales. They provide a concise, clear, and organized way for buyers to view, compare, and select products in a user-friendly manner.
This can bring huge benefits for your store. There's plenty of evidence that improving the presentation of your products has a positive impact on customer satisfaction, cart abandonment rates, order size, and overall sales. For example:
Data shows that over half of consumers are likely to abandon an online purchase if they can't find a quick answer to their question. Product tables solve this issue by presenting product info in a very clear and easy-to-skim way.
Product information and pictures are important to 85% of consumers when deciding on which retailer to buy from. A product table is a great way to present this information very clearly, setting your product pages apart from competitors. That's because you can choose which columns of information to include in the table, and how big the images should be. None of this is possible in default WooCommerce without custom product tables.
Choosing the best WooCommerce custom product table plugin for your store
There are several custom product table plugins for WooCommerce, so it's important to choose the best one carefully. Here are some tips on what to look for:
Ensure it is updated regularly to ensure compatibility with WordPress and WooCommerce.
How easy it is to use?
Is it flexible enough, with a choice of customization options?
How developer-friendly and extensible is it?
Is customer support available to help you get the most out of the plugin?
Different stores might benefit from different plugins depending on their specific needs, so I have listed several custom WooCommerce product table plugins below. For example, not all plugins allow the same level of customization and some list products while others list variations. Take the time to research various plugins to find one that best fits your needs.
WooCommerce Product Table by Barn2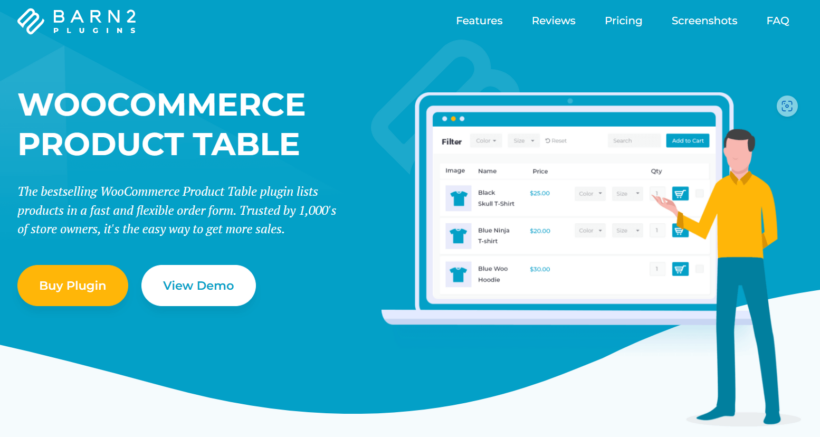 With over 12,000 users worldwide, WooCommerce Product Table is a popular, feature-rich plugin that creates fast and flexible custom tables for WooCommerce websites.
It offers extensive product data control, search and filter functions, intuitive 'Add to Cart' buttons, and the ability to create unlimited tables in various locations. In total, the plugin has over 50 customization options which make it incredibly flexible.
There are two simple ways to add custom product tables to your store. You can either use a simple shortcode to add tables to any page or post; plus a Gutenberg block. You can either create a global table which will be used on all the pages in your WooCommerce store, or you can create standalone product tables to use in addition to your standard store pages - it's up to you.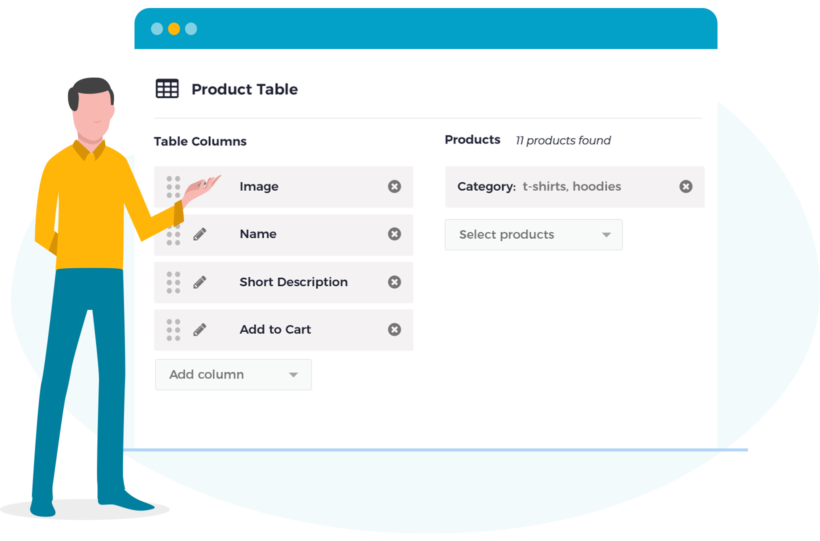 The main factors that make WooCommerce Product Table stand out against similar plugins are its position as market leader, it's huge number of options, and its ease of use. But just as importantly, it is coded to the very highest standards in WordPress and comes with industry-leading customer support. This includes technical support plus personalized advice on how to tailor the plugin to your exact use case.
Ninja Tables
Ninja Tables you to display dynamic data in responsive tables on your website, with built-in templates and a drag-and-drop table builder. It can be used for showcasing products, pricing tables, and feature comparisons and offers customization options for styling and placement on your site.
WooCommerce Product Table Lite
Note: Not to be confused with WooCommerce Product Table, which is from a different company. 
WooCommerce Product Table Lite simplifies the display of products on your website, offering three layouts and essential features. It's free, making it a budget-friendly choice. It also has the option to upgrade to a premium version for additional functionalities like 'remove from cart' buttons.
WooCommerce Product Table by AOVUP
A solution for creating one-page order forms, this plugin is suitable for wholesale price lists, product comparisons, and restaurant order forms.
It offers features like bulk 'Add-to-cart' options and customization of the 'Add-to-cart' button text. It also offers integration with the Advanced Custom Fields (ACF) plugin for displaying custom data.
WooCommerce Bulk Variations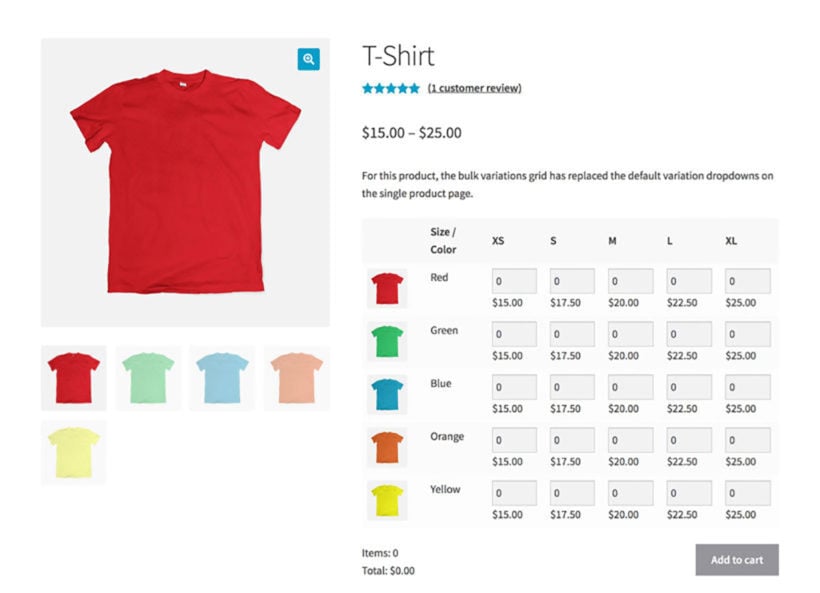 WooCommerce Bulk Variations is a different type of custom product table plugin. Instead of listing multiple products in a table, it creates custom tables of the variations for a specific variable product.
If you want to add table layouts to your shop page then you should use WooCommerce Product Table instead of Bulk Variations. However, Bulk Variations is a good solution if you want tables of variations instead.
Product Variation Table for WooCommerce
Another plugin for displaying product variations in a customizable table format, this replaces the default dropdowns for variable products. It works in the same way as the WooCommerce Bulk Variations plugin, listing the variations for just one product in a table.
It offers control over column display and placement on single product pages in its free version, with the pro version adding more advanced features like bulk variation addition and multiple layout options for bulk variation tables.
Step-by-step guide to installing and customizing WooCommerce Product Table
In this section, I will show you how to create customizable product tables using the market-leading WooCommerce Product Table plugin:
Install WooCommerce Product Table:

Download the plugin from the Order Confirmation page or the email containing your license key and download link.
In your WordPress dashboard, navigate to Plugins → Add New → Upload Plugin.
Click 'Choose File,' select the "woocommerce-product-table.zip" file, and click 'Install.'
Once uploaded, click 'Activate.'

To activate your license key:

Locate your license key in the email confirmation received after purchase.
Activate it in the setup wizard, which opens after activation.

Next, you can create your first product table. The best way to get started is on the settings page at WooCommerce → Settings → Products → Product Tables. This is where you'll set the global defaults for all your product tables. You can then override these for individual tables as required:

First, choose how you plan to insert the table into your store. If you want to use custom WooCommerce product tables to replace your default store layouts then select the templates that you want to do this (e.g. the shop and category pages). Otherwise, leave these boxes blank and you can add the custom tables using a shortcode later.

The 'Columns' option is important and lets you choose which product data to include in the custom table. There are loads of options, so click on the documentation link under this option for full details.
Choose any other options for your custom product tables, such as how many products to display per page, what to include in the add to cart column, adding product filters to appear above the table, and more.
Use the design options to customize the styling and colors of the custom product table. Choose your preferences for border color, header background, cell background, font size, and color. For more extensive styling, you can employ custom CSS within your theme or child theme.
How to add custom product tables to the WooCommerce front end
Once you've finished, there are 3 ways to add a product table to your preferred pages:
If you selected any shop page templates on the settings page, then the custom product table will appear on these pages automatically.
If you use the block editor then install the free Gutenberg Block for WooCommerce Product Table plugin and use it to create tables using a 'Product Table' block.
Use the [product_table] shortcode to add product tables to any page, post, or text area. You can use it in various areas on your site, including page builders like Divi Builder or Elementor, the Classic WordPress editor, or the Gutenberg editor. It also works in single product page descriptions, widgets, and theme template files. There are lots of shortcode options to customize each table individually, overriding the global options.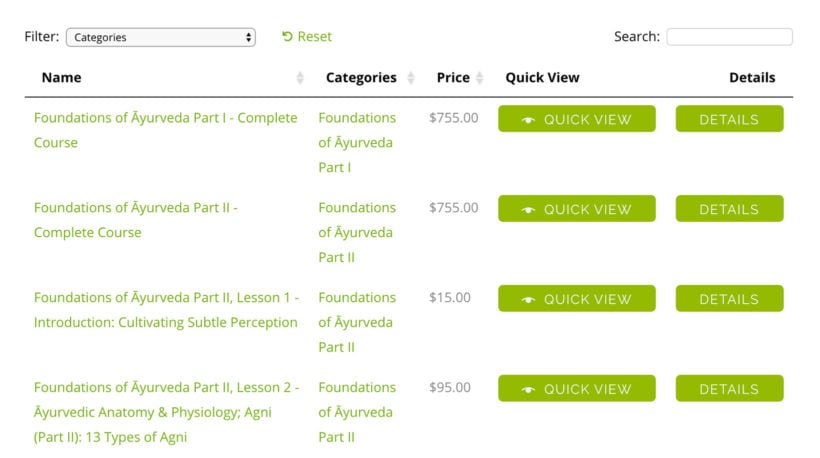 Adding custom columns to your product tables
The WooCommerce Product Table plugin provides a huge choice of columns which you can include in your custom product tables. These are:
SKU
Database ID
Product name
Long description
Summary/short description
Date published
Date modified
Categories
Tags
Image
Reviews/average star rating
Stock
Weight
Dmensions
Price
Buy
Button linking to the single product page
In addition, you can also columns for any product attribute, custom field or custom taxonomy.
Mix and match these columns as needed to create your custom WooCommerce product tables.
Customize the table column headers
You can rename each column in the product table to create your own custom header text.
This is really easy: simply add a colon after the column followed by your desired column name. For example, you might add this to the Columns option in order to rename the "Product Region" column to "Region": name, description, product_region:Region, price, buy
Creating custom product table columns programmatically
As you can see, WooCommerce Product Table comes with a wide range of columns which you can use without writing any custom code. However, you might want to create your own custom columns programmatically - for example, in order to integrate with other plugins or add other custom functionality to the table.
To allow you to do this, the plugin contains developer filters for this. These are aimed at experienced WordPress developers and if you don't know how to use them then we recommend posting a job on Codeable.
Method 1: Simple custom column
Add a custom column to your table, either in the plugin settings or directly within the shortcode using the "columns" option. You can name the column as desired.
Use the wc_product_table_custom_column_ hook in a custom plugin or your theme's functions.php file. This hook takes three arguments and is used to define the data that will appear in the custom column.
For instance, if your column is named "product_region," the hook should be: wc_product_table_custom_column_product_region
Method 2: Advanced custom column
Add a custom column as in Method 1.
Use the wc_product_table_custom_table_data_ hook to return a class that implements the Table_Data_Interface. This class should retrieve the data for your custom column.
Optionally, you can provide get_sort_data" and "get_filter_data methods if sorting and filtering need customization.
Ensure that your column's name in the hook (wc_product_table_custom_table_data_product_region) matches the name you provided.
You can adjust sorting and filtering using the get_sort_data and get_filter_data methods.
How to customize the WooCommerce product table even further
You can carry out additional customizations to your product table with the help of additional plugins. The possibilities are endless, but here are some suggestions to get you started.
Create custom fields and taxonomies
To create custom fields, you'll need a custom field plugin. WooCommerce Product Table works with them all, including Easy Post Types and Fields plugin, Advanced Custom Fields (ACF), or Advanced Custom Fields Pro. You can also use others such as Pods and Toolset.
Follow the official custom fields plugin documentation for details. Ensure that you select the 'Products' post type when setting up custom fields to make them accessible in the product Add/Edit screen.
Add advanced product filters to the table
WooCommerce Product Table already comes with some pretty cool filtering options to help customers to find products: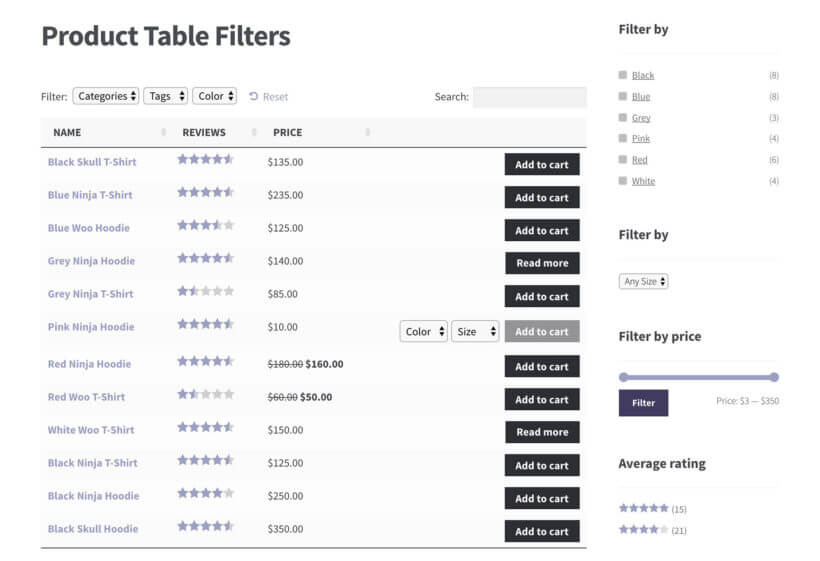 For even better filters, you can use it with the WooCommerce Product Filters plugin. This provides even more filtering options and makes things even easier for customers: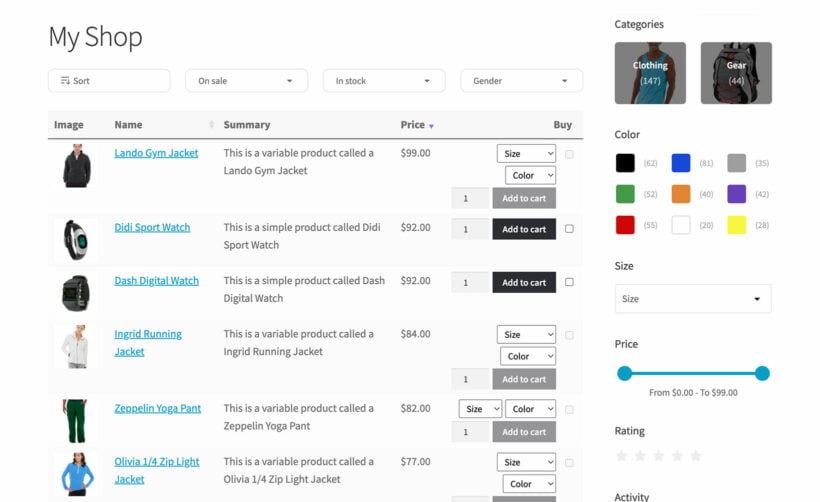 Add custom product options to the 'Buy' column
WooCommerce Product Table lets you display variation dropdowns in the 'Buy' column of the custom table.
For more flexible product options, you can use it with the WooCommerce Product Options plugin. This allows you to add extra options to products, such as checkboxes, text fields, and file uploads:
Infinite customization possibilities
As well as using WooCommerce Product Table with other plugins, you can use the built-in developer hooks and filters to do your own customizations. This gives you pretty much free rein to create any type of custom WooCommerce product table that you wish.
Enrich your WooCommerce store with custom product tables
Many products sell better if you present them in a custom product table instead of using the default layout that comes with WooCommerce. That's because the product table layout is much more flexible, provides more data about each product, and lets customers select options and add to the cart without having to leave the page.
As a result, custom product tables are key to driving higher conversion rates in WooCommerce stores.
The WooCommerce Product Table plugin is the best way to add custom product tables to your store. This hugely flexible plugin lets you create literally any type of table you wish, with more than 50 easy customization options. It's easy to set up and comes with extensive documentation and video tutorials. It even comes with a 30-day money back guarantee so you can try it on your site risk-free 😀.
Install it on your site and start creating custom product tables today: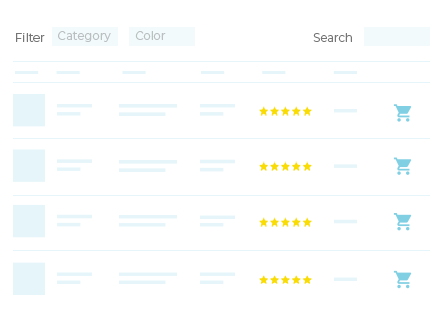 The easiest and most flexible way to create WooCommerce custom product tables.