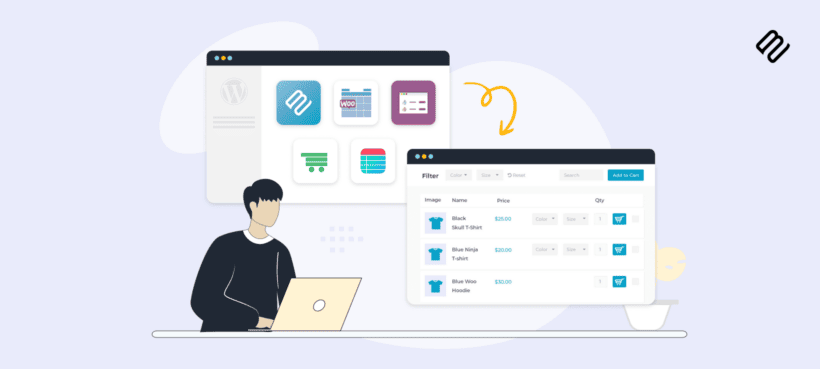 Looking for the best WooCommerce product table plugin? Product tables are a great way to display products in a table format or create quick one-page order forms on your website. Here's a roundup of the top five options you should consider.
As a WooCommerce store owner, you know firsthand that optimizing how products are presented can significantly impact your store's conversion rate and revenue.
One practical approach to achieving this is replacing the default WooCommerce layout with filterable and searchable tables or quick one-page order forms. However, the default WooCommerce install doesn't offer alternative layouts, so you'll need a product table plugin.
In this detailed post, I'll cover everything you need to know about WooCommerce product table plugins. First, I'll discuss why you may need to use a product table plugin and the top things to look for when choosing one. Then, I'll share the best WooCommerce product table plugins to consider, starting with our very own WooCommerce Product Table.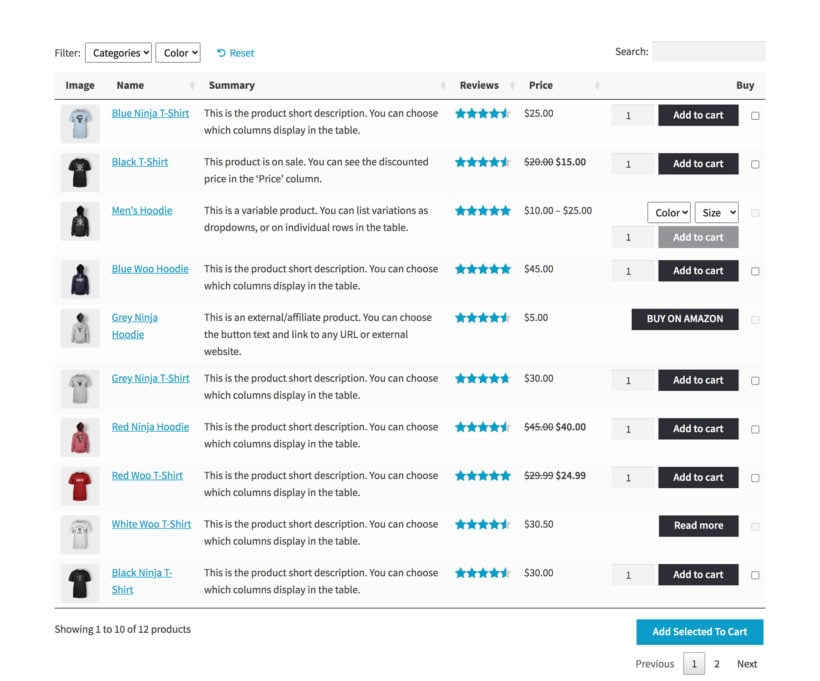 Note: Since 2016, our WooCommerce Product Table plugin has helped thousands of store owners increase conversion rates and revenue. We frequently update it based on our expertise and customer feedback to make sure that it remains the best product table plugin for WooCommerce. Check out the demo to see it in action.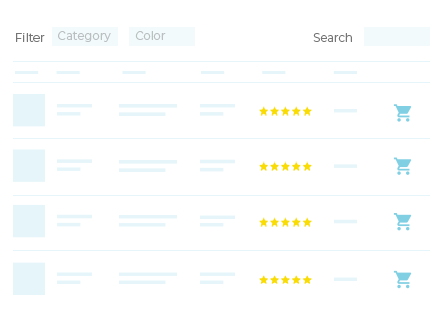 The easiest and most flexible way to list products and create quick order forms.
Limitations of the default WooCommerce layout
By default, WooCommerce showcases products in a grid or list format on the 'shop' page, 'category' pages, and search results of a website. Depending on your theme, it shows 12 or 16 products in total — 3 or 4 columns with 4 in each row. For context, here's how it looks: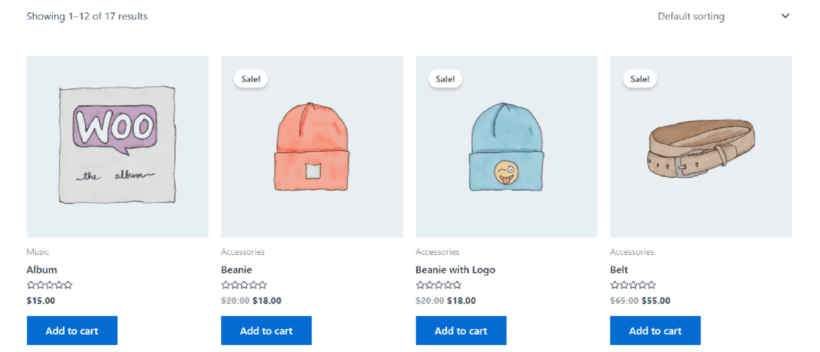 However, there are two fundamental limitations to this default WooCommerce layout:
It can only display a handful of products at a time:

 When customers are browsing stores that use the default grid or list layouts, they can only see a few items at the same time. If your store has many products, customers may struggle to find the exact products they want and will quickly bounce off your website.

It shows minimal product information: 

It doesn't allow store owners to include all the essential details customers need before making a purchase. This may frustrate customers as they'll be forced to navigate to the individual product page of each item they're interested in for the details.
Obviously, the default layout for displaying products looks good and works well for some stores. However, it isn't ideal for all stores and could result in lost sales and revenue in these cases. 
For instance, stores that don't sell many products may be okay with the default format. However, many stores that do sell a large number of products would be better off displaying their product catalogs in one-page order form layouts instead.
What is a WooCommerce product table plugin?
WooCommerce product table plugins (also known as WooCommerce product display plugins) let WooCommerce stores showcase products and relevant product information in a structured table format and allow customers to place orders from the table.
The best product display plugins arrange products in rows and custom columns and display essential information about each product — such as product name, product images, price, SKU, variation buttons, add-to-cart buttons, and more — all within a single table view.
Here's an example of a product table created using Barn2's WooCommerce Product Table plugin on the front end of a demo store: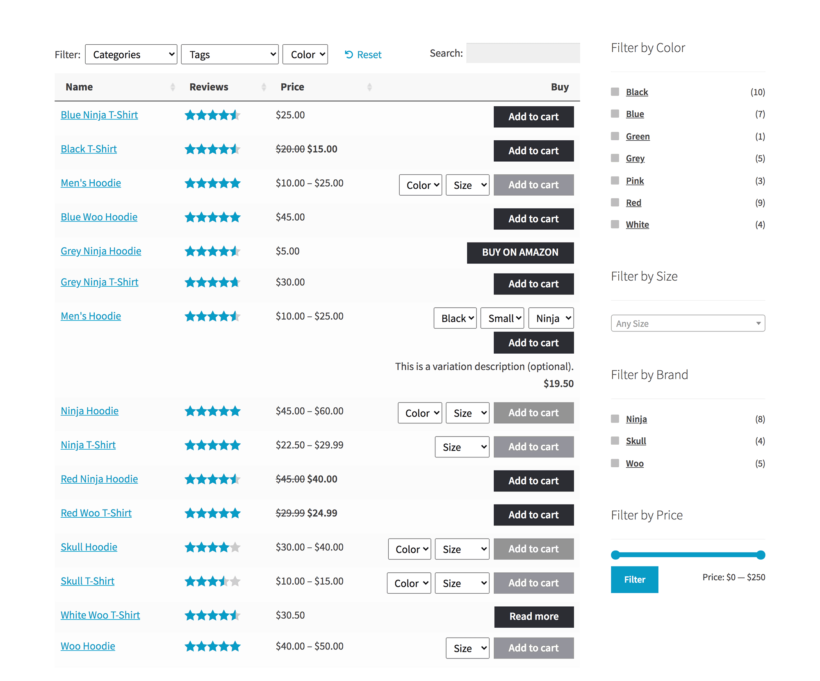 Any type of WooCommerce store can use product display plugins. However, the stores that do use them typically fall into the following buckets:
Stores with a large number of products, such as apparel retailers or marketplaces.

Stores that offer multiple variations, such as wholesale stores.
Websites whose customers expect quick one-page ordering. For example, restaurants with online food ordering services and event ticketing sites. 
What are the benefits of a WooCommerce product table?
Presenting products and product information in a table or quick order form looks 'cleaner' than the default WooCommerce layout. Plus, it has the following benefits:
Helps customers discover products

: A product table presents your products in a neat, organized, and easily scannable format. Shoppers can see multiple products on a single page, along with necessary details like product name, price, image, reviews, and other custom fields. 

Smoother shopping experience

: Product tables simplify the browsing experience for your customers. Instead of clicking through multiple pages to view different products, they can simply scroll through the table and filter, sort, or search for the specific items they want. This reduces the time and effort to find products and leads to higher customer satisfaction.

Speeds up the ordering process:

 With one-page ordering, customers can simply glance at the order form, click 'Add-to-cart', and begin checkout. Product tables reduce the friction in the buying journey by showcasing products effectively, giving shoppers all the relevant details they need before purchase, and access to the 'Add-to-cart' button all in a single view. This is especially beneficial for shoppers with a clear intent to buy, as they can quickly add items to their cart and directly begin checkout.

Boost sales and revenue:

 The combination of all of the above factors: better product discoverability, easier access to product information, fewer clicks, and the ability to add products to their cart increases conversion rates and overall revenue for WooCommerce stores. 
What makes a great WooCommerce product table plugin?
What separates an average product table plugin from a great one may depend on what you and your online store need when it comes to displaying products. Although there is no one-size-fits-all approach, here's a quick breakdown of the critical factors to consider:
Essential features
It's highly unlikely that every plugin will have the exact same set of features. However, here are the core features to look out for:
Robust sorting options:

Customers should be able to sort the table based on various criteria, such as price, popularity, name, etc.

Advanced search and filtering options:

To allow customers to filter products and find what they're looking for quickly and easily.

Variation dropdowns:

 If you sell products with multiple variations, e.g., size, color, version, etc., ensure that the plugin can display them effectively.

Add to cart buttons:

 Customers should be able to add products to their shopping carts from the table without navigating to individual product pages.

Support for bulk actions

: For example, adding multiple products to the cart at the same time.
Table design
Your chosen plugin should automatically inherit your theme's colors, fonts, design elements, and overall style without you having to touch a single line of code to configure it. This ensures that your product table matches your store's aesthetic and gives customers a cohesive shopping experience.
Ideally, the best product table plugin should have built-in styling customization options too. These should let you tweak key elements of the design such as the table border, header and font colors.
Expert customer support
The product table is where shopping happens on your site. Since it's mission-critical to keep your business running, you want to be sure you can count on your plugin provider's support team if you ever run into problems. Bonus points if they have detailed documentation and step-by-step tutorials so you can quickly troubleshoot basic issues yourself.
Compatibility with other themes and plugins
Many stores that use product table plugins also benefit from additional plugins like Quick View Pro (to add quick view buttons to open an instant product lightbox to the order form) or WooCommerce Fast Cart (to add an instant pop-up or floating cart for a speedier checkout process). Whichever plugin you choose, it should integrate well with your theme and all the other plugins you intend to use on your store.
Responsive on multiple screens
55.4% of customers shop on mobile phones. Meet customers where they are by using a plugin that automatically adjusts the order form across numerous screen sizes.
Performance
Most stores that use product table plugins have a large number of products and have customers who prefer an efficient ordering experience. Plugins with AJAX lazy-load are ideal because they load products as customers scroll and, therefore, provide a better shopping experience.
5 best WooCommerce product table plugins
Now it's time to answer the question you've been waiting for, "What is the best WooCommerce table plugin?" Here's an overview of the top choices to consider:
Barn2's WooCommerce Product Table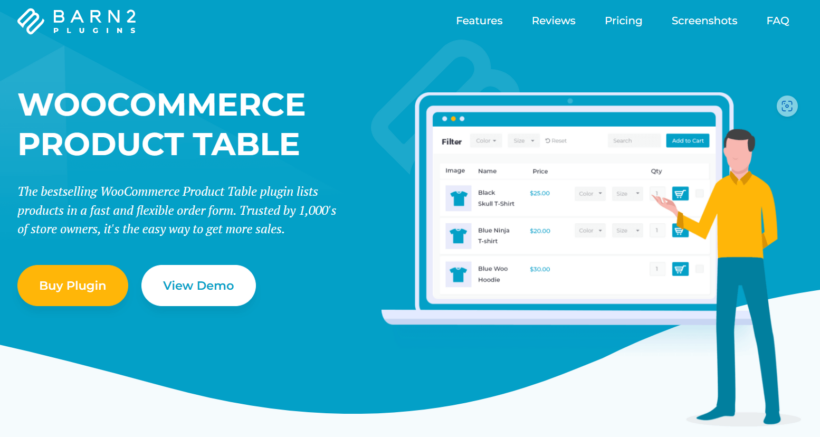 We first launched WooCommerce Product Table in 2016 and it's still the most popular and best product table plugin on the market. It presents products in a fast and flexible table/order form on thousands of websites and has accumulated nearly 300 five-star ratings and glowing reviews like these: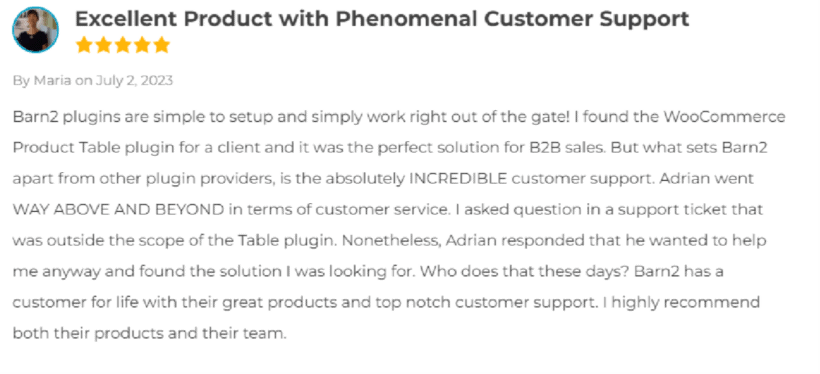 WooCommerce Product Table comes with 50+ powerful features, including:
Complete product data controls

to showcase any type of product information, such as images, reviews, variations, stock level, date, dimensions, price, add-to-cart buttons, custom taxonomies, and

much more

.

Powerful instant search, sort, and filter functions

so customers can quickly narrow down the list of products.

Intuitive 'Add to Cart' buttons

that allow customers to initiate check out speedily.

Create unlimited tables

 and place them in several locations on your website.

Display an unlimited number of products

 with AJAX lazy-load.
WooCommerce Product Table is pretty flexible and user-friendly. It works with WooCommerce product data, so you can manually add products to WooCommerce or import products with a CSV/XML plugin, and the plugin will extract and present them in beautiful product tables.
Here are some images showing different ways you can use WooCommerce product tables with this plugin:
Plus, it has extensive customization options. You can add custom headers for each table, select specific products to be listed, and much more. In fact, there are over 50 different customization options in this feature-packed plugin! 
WooCommerce Product Table provides 2 easy ways to add tables to your store:
Automatically replace the

replace the default WooCommerce 'Shop' and 'Category' layout.

Insert tables anywhere using a shortcode or Gutenberg block.
To know more, check out the demo or get the plugin.
Ninja Tables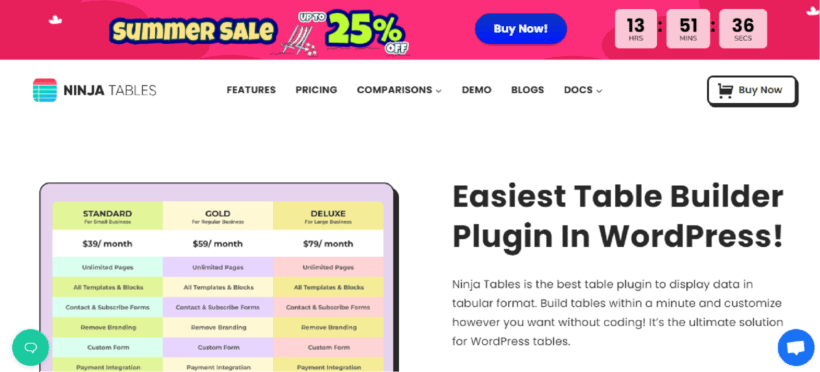 Ninja Tables is an advanced product table plugin that lets you present any type of dynamic data in smart, responsive tables on your website.
It is a multi-purpose WooCommerce and WordPress plugin. This means it has various other use cases in addition to presenting WooCommerce products. For instance, you can use it to showcase Amazon product listings, simple pricing tables, feature comparisons, and even movie reviews.
With built-in templates and a drag-and-drop table builder for multiple use cases, Ninja Tables is relatively easy to use. Simply pick your desired template, then tweak the items, rows, and custom columns you want to showcase in the table. 
You can use its default styling options, choose from pre-defined color schemes, or select custom heading, body, text, and hover colors. Once done, add your table anywhere on your store's front end with shortcodes.
WooCommerce Product Table Lite
Product Table Lite is a free WooCommerce product table plugin designed with simplicity and performance in mind. It's used on several types of eCommerce stores: online spare parts dealers, restaurant food menus, electronics stores, affiliates, and more.
WooCommerce Product Table Lite lets you create customizable product tables and supports pagination in case you choose to display products across multiple pages on the table. It offers three layouts for better user experiences: 
Standard product table:

This is the regular product table layout. You can add custom content, fields, styling, filter widgets for navigation and queries.

Compact product table:

AKA custom mini tables with basic details that you can add anywhere on your site.

Product List:

 To display products in a list view with a flexible table editor.
WooCommerce Product Table Lite offers the essential features you'd expect in a product table plugin. You'll need to upgrade to its premium add-on to add extra features. For instance, while WooCommerce Product Table Lite includes add-to-cart buttons for customers to add products to their shopping basket, it doesn't have 'remove from cart' buttons; that feature is only available in the premium version. 
Overall, it's still a solid choice if you're on a tight budget. 
WooCommerce Product Table Pro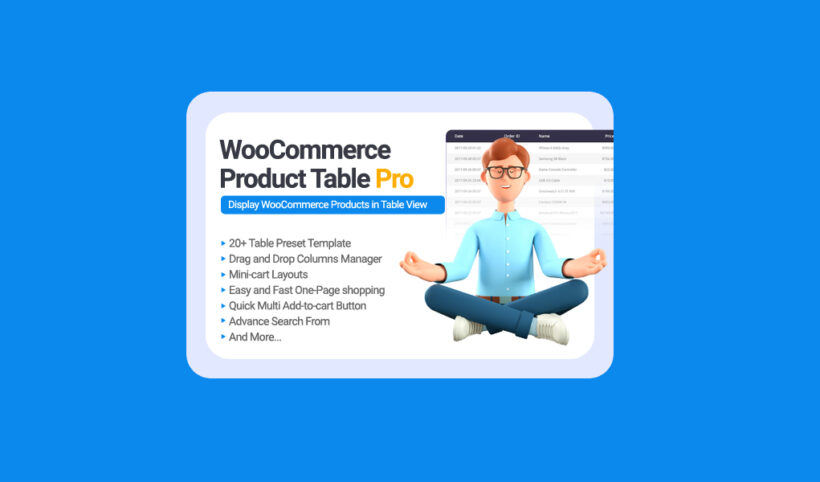 Product Table Pro is a professional tool for creating customized product tables in WooCommerce. Using its simple user interface, you can display all product fields, such as product title, description, images, stock quantity, price, variations, category, and more than 40 product fields, in separate columns.
You can also use a shortcode to display this table to customers so that the user can easily view and compare all the products and add them to their carts by pressing the Add to Cart button.
By creating a beautiful and attractive order form, this plugin will allow you to order several products at the same time quickly.
Other features of this practical plugin include:
Drag and Drop product table column manager.
Set different columns for desktop, tablet, and mobile devices.
Adding a quick and advanced search box to the product table.
Adding product filtering options based on price, category, variation, tag, custom field, and many other fields.
Combine the Mini Cart With the product table to allow users to access the cart.
Powerful query builder to display products from specific categories, tags, or variations.
And many other unique features.
The WooCommerce Product Table Plugin can be used in all WooCommerce stores for creating restaurant menus, pricing tables, product catalogs, and even order forms, and it can be designed fully responsive and compatible with mobile.
WooCommerce Product Table by AOVUP

AOVUP's WooCommerce Product Table plugin is a versatile plugin used to create efficient one-page order forms. It's used for a wide range of purposes: creating wholesale pricelists, product comparison tables, product bundles, restaurant order forms, and more.
This product table plugin has most of the features you'd expect in a product display plugin. It includes a bulk 'Add-to-cart' option that allows customers to add multiple quantities of products to their carts in one go, which further speeds up the ordering process.
It lets store owners change the text on the 'Add-to-cart' button to something more apt. If, for example, you run an events ticketing website, you can change the default text to "Get Tickets". In addition, it's tightly integrated with the popular Advanced Custom Fields (ACF) plugin that lets you create more advanced custom fields and display custom data.
WooCommerce Bulk Variations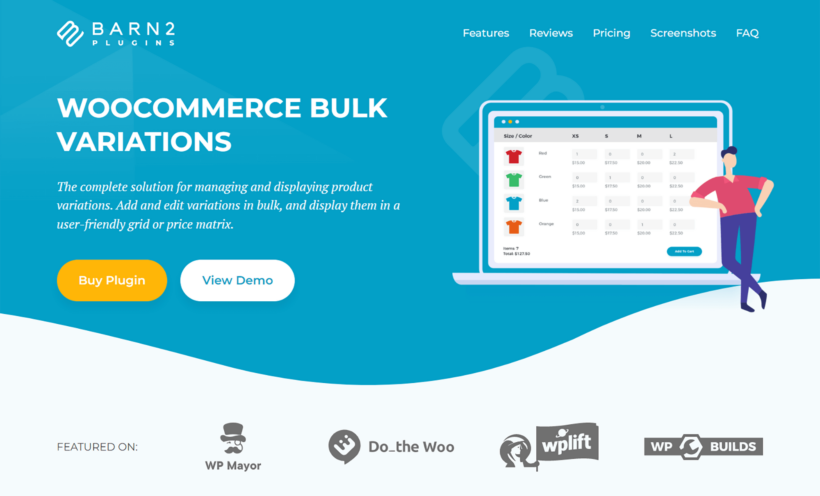 When people think of Barn2 and product table plugins, they normally think of WooCommerce Product Table. However, they also have a second table plugin for WooCommerce: WooCommerce Bulk Variations.
This works differently from the other plugins featured above because it lists variations in a table instead of products. The bulk variations order form appears on the single product page, instead of the usual variation dropdowns. This allows customers to see all the variations and their prices at once, select the required quantity of each one, and add to the cart more quickly. Use it if you want to display variations instead of whole products in a table.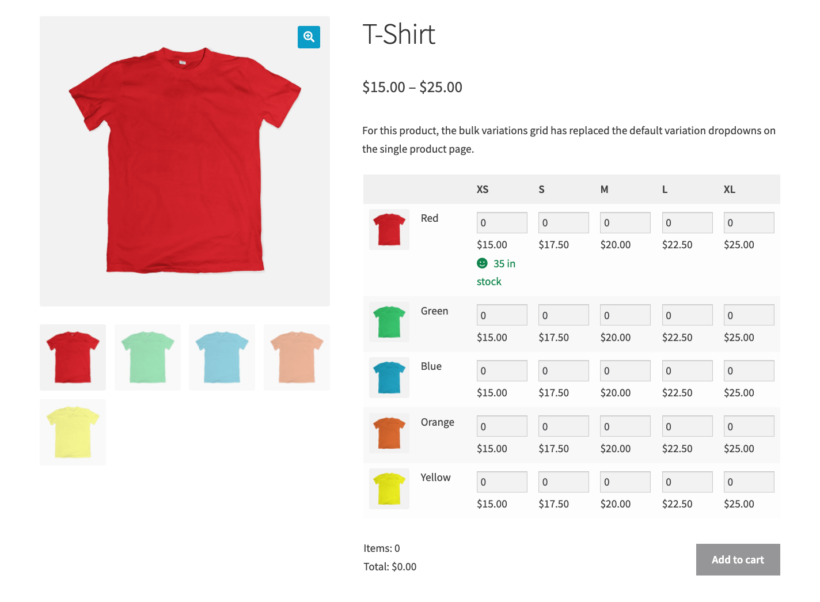 While this article is focussed on the best WooCommerce product table plugins, the Bulk Variations plugin is actually more than that. In addition to creating a variable products table, it makes it easier to bulk edit variations in the back end. That makes it an excellent option for both displaying and managing product variations more effectively.
Product Variation Table for WooCommerce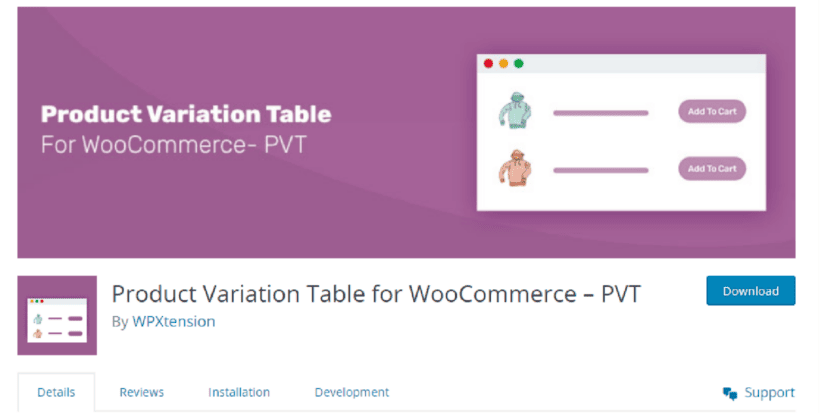 Product Variation Table for WooCommerce is another plugin which displays variations instead of products. Like WooCommerce Bulk Variations, it replaces the default WooCommerce variable products dropdowns and displays variations in a customizable table. It lets store owners customize how the variation table looks and the data it displays.
The free version gives you control over the columns to display or hide in the variations table. In addition, you choose where you want the variations table to be shown on single product pages. The plugin's pro version is more advanced and comes with more features. For instance, it lets customers add product variations in bulk and display bulk variation tables in two different layouts: checkboxes and quantity-based bulk carts.
Top tips to get the most from your WooCommerce product table plugin
Follow these simple tips to reap the most benefits from your product table plugin:
Choose relevant columns:

The columns in your product tables should provide essential information for customers to make informed buying decisions without overwhelming them. Include appropriate columns like product name, images, thumbnails, price, and stock availability. Depending on your products, you may also want to showcase attributes like size, color, and ratings.

Optimize the order in which table columns are presented:

Experiment with different column orders to see what resonates best with your customers. Then, arrange the columns strategically to prioritize the most critical information. For example, placing the "Add to Cart" button and price column prominently (usually in the far right column) can encourage quicker conversions. 

Search engine optimization (SEO):

 The benefits are two-fold: (1) to boost your site's ranking and (2) to help customers quickly find products and understand their benefits. You should optimize:

Product titles:

Use titles that are descriptive, concise, and naturally contain relevant keywords.

Product descriptions: 

Write original, compelling, keyword-rich content that highlights each product's features and benefits and entices customers to buy. 

Product images:

 Compress images before uploading them so that they load faster. Name your product images descriptively and with relevant keywords. Use appropriate alt tags.
Which WooCommerce product table plugin should you choose?
While there are many WooCommerce product table plugin options to choose from, these are the top five. And from these, the best WooCommerce product table plugin is WooCommerce Product Table by Barn2. Here's why:
With 50+ powerful features, we've baked in everything you'd expect in a product display plugin and then some. It's one of the first few plugins to allow customers to create custom product tables, and we've been improving it ever since.

It works for nearly any type of WooCommerce site. Store owners across various niches use it, and it looks great on any screen size.

It's AJAX-powered. This means it loads super fast, even for stores with hundreds or thousands of products.

You can get up and running in no time. It literally only takes a few minutes to set it up and create your product table, even for beginners.

While it's not the absolute cheapest, it provides the absolute best value for money regarding included features and invaluable (and delightful) customer support.
Get WooCommerce Product Table today!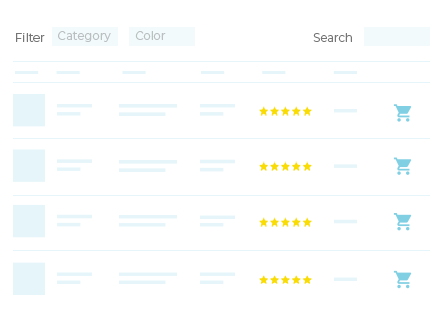 The easiest and most flexible way to list products and create quick order forms.