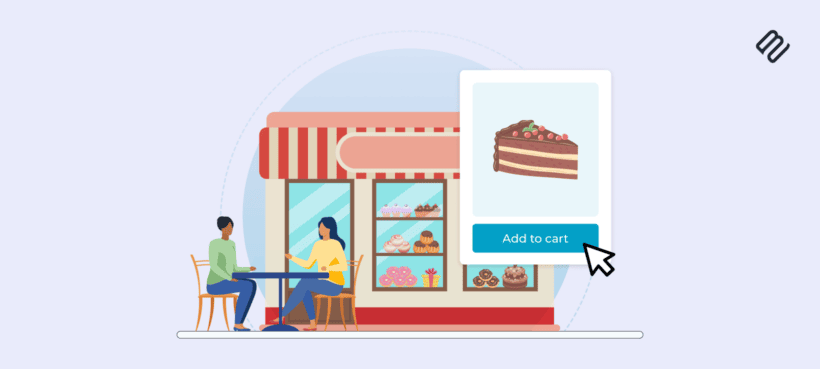 Want to know how to sell cakes online? Whether you've been running a brick-and-mortar bakery for years, sell cakes in your local farmer's market, or are just getting started with baking, selling online can be a fantastic option for your business.
By selling online, you can reach a wider audience and lower overhead costs associated with running a brick-and-mortar business.
However, many bakers, especially non-tech-savvy ones, don't know how to get started with selling cakes online. There's a lot to consider:
How to start a website for your cake business.
Food safety laws to be mindful of.
Deciding on pricing for online cake sales.
Marketing your online cake shop to the right people.
In this article, we'll take a look at everything you need to consider to get started with your online cake shop.
How to sell cakes online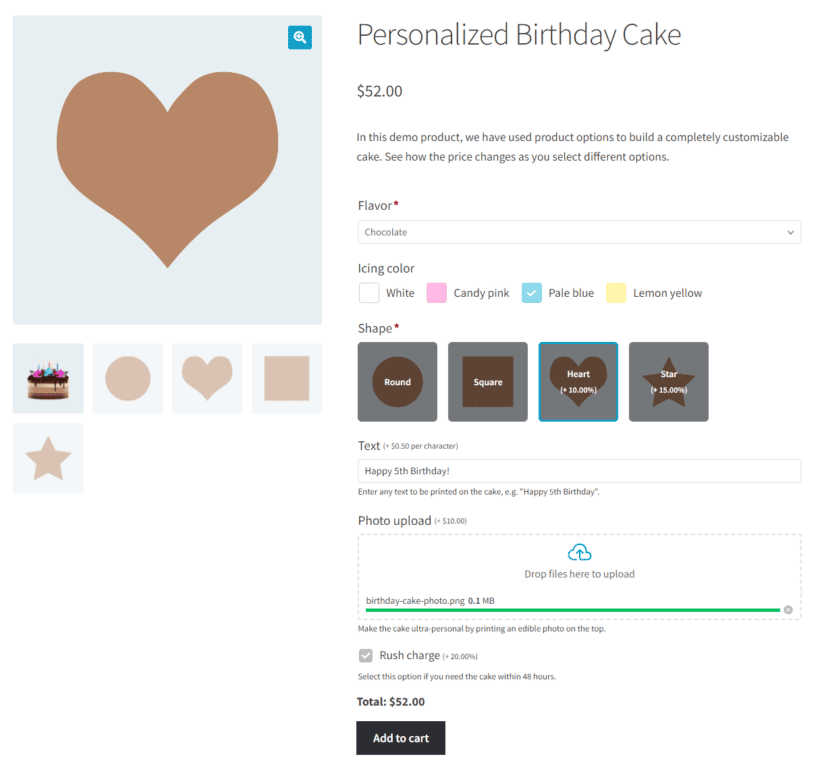 As a home baker, the best option is to use a popular website builder like WordPress along with WooCommerce, which extends WordPress into a full eCommerce online platform. By creating a WordPress website to sell cakes online, you'll be able to set up your own website. You'll also have full control over the content of your website and can easily make changes, add new cake products, and manage orders.
You'll need to buy a suitable domain name. The domain name is essentially the URL web address your customers can use to visit your online cake shop.
Here are some tips to keep in mind when buying a domain name:
Choose a domain name that's relevant to your business, especially if the exact name of your cake shop (e.g. BakeryName.com) is already taken.
Avoid hyphens and numbers in your domain name to make sure it's memorable and easy to spell for your potential customers.
Check for legal risks and make sure the domain name you're using is not violating any copyrights.
Try to pick a domain name that matches your online presence on social media accounts or build your social media to match your domain name.
Creating a virtual bakery experience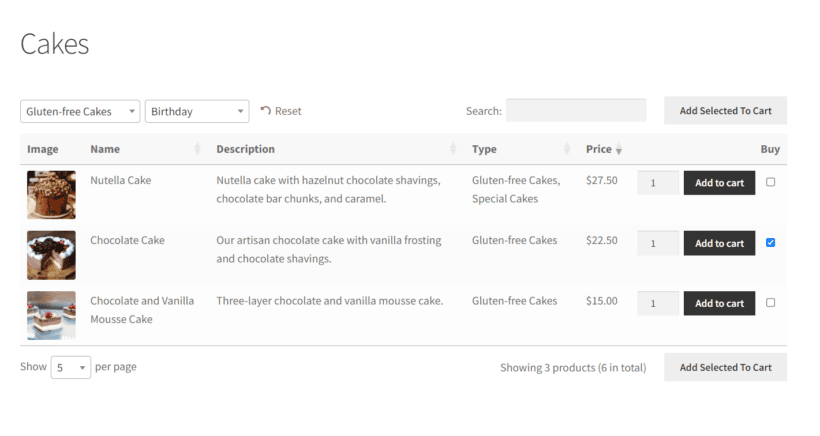 When learning how to sell cakes online, you have to take a different approach than traditional retailers when showcasing your products.
You will need to sell baked goods online either with standard options or as highly customizable treats. If you order a cake in person, you'd be able to choose from different flavors, fillings, and designs, or maybe even add messages. You'd also be able to make special requests such as requesting a gluten free cake. Your virtual bakery website should recreate this experience.
Let's take a look at two fantastic plugins that let you sell cakes online and create a professional-looking virtual cake shop. Both of these work on top of WordPress and WooCommerce - so you will use WordPress to set up your overall website, and WooCommerce to add the overall eCommerce business features such as adding products, offering delivery options and taking payment online (e.g. through PayPal if you want to take payments with no credit card). You will then use either or both of the following plugins to tailor your online store to the needs of a successful cake shop.
Add extra options to your cake products
The WooCommerce Product Options plugin lets you add extra fields so that customers can choose specific options or personalize their cakes.
You can add checkboxes, radio buttons, text fields, name your own price fields, date selectors, color swatches, and upload fields. Here are some examples of the types of option you might add when selling cakes online:
Let customers choose details such as the flavor or icing color.
Add a text field so that new customers can enter a personalized message to print on the cake, or any allergies or dietary requirements.
Display clickable images for selecting a cake shape or decorative extras.
Upload a personal photo to be printed on the cake (e.g. a picture of the child whose birthday cake it is).
Add tick boxes for chargeable extras, such as a rush fee for next day delivery.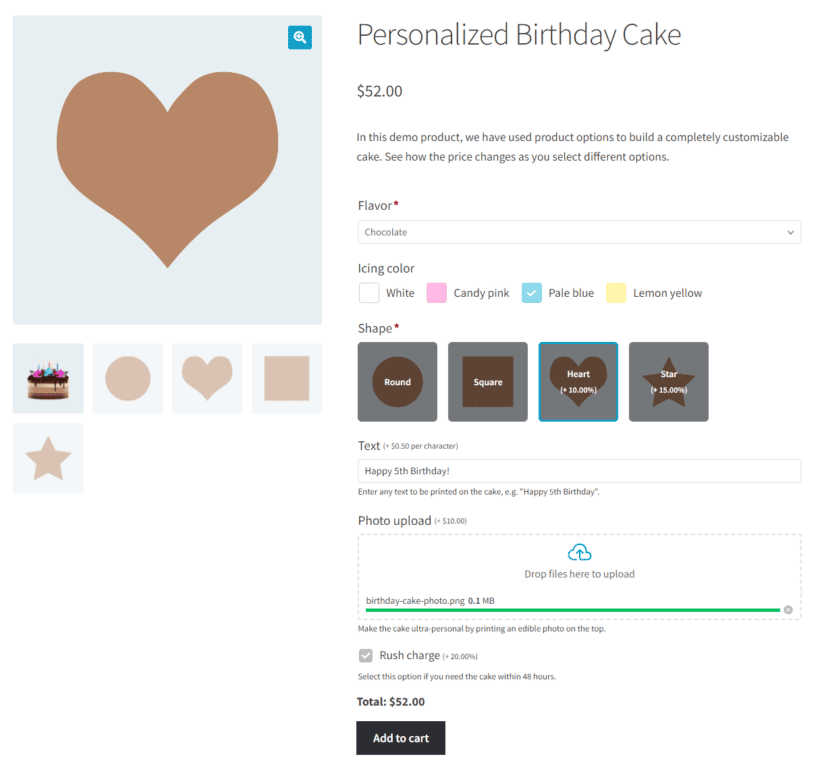 This way, entrepreneurs wanting to offer cake decorating services can re-create the cake shop experience online. It's the perfect way to sell completely personalizable and customizable cakes.
You can let customers create their own cakes by offering options for different flavors and icing colors. You can also let them add messages for the top of cakes or let them upload an image for inspiration. In addition to this, you might want to give customers the option to select the number of tiers especially if you offer wedding cakes.
You can add extra fees to each option, creating custom prices for each cake.
Additionally, the WooCommerce Product Options plugin comes pre-built with conditional logic functionality. This means you can hide or reveal customization options based on your customer's previous choices.
The plugin is perfect for home bakeries that want to sell different types of cakes online.
Create quick cake order forms
So far, this tutorial has looked at how to add personalization options to the cakes you sell online. But what about how the cake products are listed on your main shop page?
Normally, WooCommerce makes it quite time-consuming to find a product and add it to your cart. You find a product on your cake shop front page, visit a separate page for each cake you like the look of, and then add it to the cart for that page. That takes a while if customers are buying multiple cakes at once, e.g. in an online cupcake or brownie store.
When building an online cake shop, it's better to list the cakes in a searchable order form-style layout. You can do this with the WooCommerce Product Table plugin.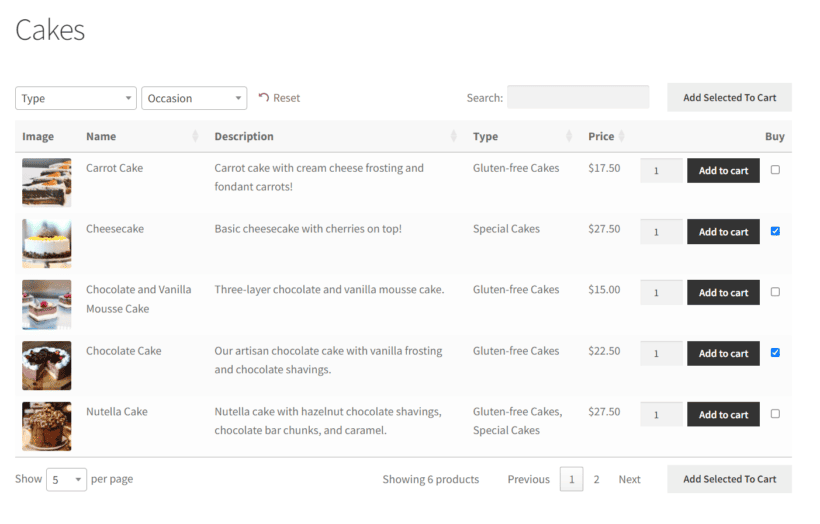 WooCommerce Product Table lists your food products in a customer-friendly table layout on the shop page. You can choose which columns of information to display about each cake, such as the name, flavor, occasion, and so on. The order form also has a 'Buy' column where customers can add cakes to their cart without leaving the page. They can choose the quantity of each cake, select any options that you created with the WooCommerce Product Options plugin in the previous section, and add them straight to their cart.
The product table layout also makes it easier for customers to find cakes they like. You can add filter dropdowns and a search box above the list of cakes. That way, customers can select details such as their favorite flavors, occasion (e.g. birthday, Christmas, or wedding) or dietary needs and instantly view cakes that meet their criteria.
You can also let customers add multiple products to their cart by clicking a single button. This further helps enhance the shopping experience on your online cake shop.
Understanding food laws and regulations for online cake sales
Whether you're selling food at your brick-and-mortar store or selling food online, it's important to make sure your bakery business follows safety regulations. This often applies to home baking as well as commercial kitchens.
Let's talk about some of the major issues you may want to consider when selling food items online on your site. It's important to also understand that all of these will vary by location so you might have to research your own regional laws and regulations:
Licensing. Before you go on selling cakes online, you will need to make sure you have the appropriate business license and registration that's needed.
Commercial kitchens. Most laws and regulations worldwide require you to create your food products in a commercial kitchen.
Home kitchens and commercial kitchens are both very different things. While some health departments have cottage food laws that allow you to bake and sell homemade cakes from your own home kitchen following strict health and safety guidelines, that's not the case for most areas.
A commercial kitchen requires you to follow good food handling and hygiene practices so that it can be safely sold to customers. You will also have to clearly label allergens on your products' site descriptions so your customers know exactly what's in their food and if they cannot eat specific items from your menu. Additionally, a commercial kitchen also has strict food preservation procedures. You have to properly store cakes to make sure they stay at a safe temperature during transport.
If you're unsure about anything, it's always a great idea to consult with a local food supply authority to ensure your commercial kitchen is following the absolute best practices.
Pricing your cakes for online sale
When selling cakes online, it's important to have a solid business plan in place. You have to factor in costs like delivery or transportation fees which require a different pricing structure for online cake sales. If you price cakes too high, you might be excluding customers and if you price too low, you risk making your product look low-quality.
Here's a quick step-by-step guide to figuring out pricing.
A great way to price your online cakes is by calculating the costs associated with creating a cake including ingredients, labor, overhead, transaction fees, and any other cake business expenses on top of the delivery fee. You can also research your competitors to identify the range of successful sales prices in your market which gives you a better idea of what your customers are willing to pay.
When pricing your cakes for online sale, you also need to factor in your expertise and consider adding a premium for any unique skills you bring to the table. Ideally, you want to choose a profit margin of no more than 10-20%, which is common for selling baked goods. In addition to this, you can also decide on how much you want to charge extra for different add-ons and customizations you offer customers.
When deciding on a pricing structure for your online cake shop, you also need to determine if you want to offer discounts for bulk orders or seasonal discounts to encourage more sales during the holiday season.
Once you set prices, you want to test and review your price points at regular intervals. This allows you to adjust the pricing of cakes or other baked goods (like cupcakes) based on the sales trends you see.
Ways to increase your cakes' value
As we noted earlier, if your product is priced too low, the customer might automatically assume it's not worth their money at all. Conversely, you have to back up a higher price point with a quality product or offer high value to customers.
One of the best ways to offer more value for your cake products is by introducing unique, interesting flavors. This way, customers will feel a sense of exclusivity when ordering a unique flavor of cake they cannot find anywhere else and ultimately justify paying the higher price.
In addition to using high-quality ingredients to increase your cake's value, you can also offer trendy or innovative cake designs that may attract certain audiences. For example, if there's a huge movie launch, you can create cakes that resemble the aesthetics of the movie or represent characters.
You can also add more value to your cakes by letting customers personalize and customize their orders. You can add customization features like adding names, ages, and icing colors. As we saw earlier, you can do this with the WooCommerce Product Options plugin.
It's also a great idea to collaborate with restaurants, artists, celebrities, or other bakers to make limited-run cake flavors or designs. This not only helps you offer more value but is a great way to tap into other brand's audiences.
It's always important to listen to what your customers have to say and use customer feedback to solve issues or identify new opportunities for innovation for your small business.
Marketing your online cake business
Since the internet is a big place, standing out with your online bakery can be a challenge. Fortunately, with the right marketing approach, you can make your online cake business shine.
Build your brand
Building your brand is crucial for any online cake seller as it essentially gives your brand a unique look and feel. Branding usually includes determining color themes, logo design, tone of voice, and establishing a brand goal or promise that you will deliver to your customers.
A strong sense of branding helps improve your brand's reputation, attract customers, and justify high prices for your cakes.
Use high-quality photography
Cakes not only have to be good tasting but they should also look attractive to encourage more sales. This means every picture you use on your online cake site should be as visually appealing as possible.
Ideally, you want to use a good quality camera with nice lighting to photograph your cake products to get the most visually appealing images. For this reason, you might also want to consider hiring a professional food photographer for featured images, such as those used on your front page and for promotions on social media sites.
Include testimonials and reviews on your site
Adding social proof is also a great way to validate high prices for your cakes. Display the best and most positive customer reviews on your home page or product pages.
Since not all reviews you receive will be positive, it's best to respond to negative reviews in a professional, solution-seeking manner.
Offer deals strategically
Offering discounts and sales in your online cake shop is a great way to draw more customers.
Strategic discount strategies can help you encourage more sales and generate more revenue for your online bakery. For instance, you can build discount bundles that offer more value to customers if they purchase more cakes at once. Buy-one-get-one-free deals work perfectly for selling cupcakes or brownies online. Similarly, you can collect customer information in exchange for a small discount for future marketing purposes.
It's also important to avoid offering continual discounts or discounting too often. This can harm your brand image and encourages customers to only purchase your cakes when they're on sale. Instead, offer discounts on a more exclusive or time-limited basis, such as Black Friday.
Focus on multiple marketing channels
There are many different ways to market your online cake business. Don't stick to just one marketing channel. You can use multiple channels or only the ones that work the best for your brand.
Build an online presence by regularly posting on social media accounts to encourage more users to engage with your brand. Keep track of each marketing channel your cake shop is testing. This will make sure it's helping you reach your goals.
You can advertise your cakes in local publications or on local TV and radio stations. This will grab the attention of your local audience who are more likely to purchase your cakes. You can also use online ads such as Google Ads to target your ideal audience. Use highly targeted ads to encourage them to visit your online cake store.
If you offer discounts in exchange for customer's contact information, you can build an effective email marketing campaign for your online cake business.
SEO best practices for beginners
Using SEO practices and strategies on your online cake shop can help it show up higher in search engine results. This means more people will find your cake shop when they search online.
Let's go over some of the best practices that can get you started with SEO optimization:
You need to identify relevant keywords and use them in natural, relevant ways throughout your online cake shop. It's especially important to include them in your page titles and heading tags.
You can start a blog to create valuable, high-quality content your readers can use. The content you create on your blog can be specific to baking, like "5 Birthday Cake Trends You'll See This Summer". Alternatively, take a broader approach by including your product such as "How To Plan A Retirement Party For A Coworker".
Optimize images with descriptive file names and useful alt-text so search engine robots can index your online cake shop better.
You want to optimize site performance and keep page loading times as short as possible. This is a crucial factor in determining your site's search engine ranking.
Including internal links within your content to guide customers around your site can help drive them toward purchasing your cakes.
You also want to make sure your site is optimized for mobile devices.
Always make sure to test and monitor your site's rankings. That way, you can see what's working and make improvements to what's not working.
Promoting your cakes on social media
Social media websites like Facebook, Instagram, and TikTok give you another excellent opportunity to reach your target audience. All of these social media sites provide a lot of chances to connect with your audience. They let food business owners follow and interact with comments to build a community.
While social media can be fun and informal, be sure to stay professional and keep out of drama. Unfortunately, there is drama on most social media platforms, and it can be tempting to join in the fray. However, staying out keeps your brand reputation clean and free from future allegations or problems.
Let's take a closer look at the top three social media platforms that you can use to promote your cakes:
Facebook
Facebook has a large and diverse user base which is good for both image and text-based posts. It offers a great sense of community which makes it an ideal place for creating a buzz around your cakes.
The drawback of using Facebook is that since the user base is so huge, reaching the target audience without paid advertisements can be a challenge.
Instagram
Instagram is a social media platform that's focused on images and is perfect for showcasing your brand's most beautiful cakes. It's great for building an engaged follower base. Use hashtags to connect with others, inspire other creators, or get inspiration from other bakers.
Instagram also lets you upload stories and reels. This is a great way to reach a larger audience organically using short videos of your cakes or baking process.
The only disadvantage to using Instagram is that it's saturated with eye-catching content. That means you'll need to be unique and well-tagged to stand out.
TikTok
TikTok is a dedicated short video platform that lets users view videos tailored to their interests. It's ideal for sharing baking, decorating, and other behind-the-scenes footage. The best part is that the viral potential is high on TikTok thanks to the "For You Page" algorithm.
While TikTok is a great platform to promote your cake business, the main audience is young people. They may not be the best target audience if you're offering higher-quality products to an older, more affluent audience.
Launching your online cake business: next steps
Now you should have a solid idea of how to sell cakes online and build a successful online cake business. Start by building a website for selling your cakes. You can do this by creating a WordPress website.
Once you set up your WooCommerce cake shop, you will need the right plugins to start selling cakes:
WooCommerce Product Options gives customers plenty of customization options and recreating the cake-shop experience online.
The Product Table lists cakes in a quick order form with easily filterable data.
Once your online cake shop is up and running, you're ready to take the next steps. These might include conducting market research or finding a good commercial kitchen.
The best time to start and launch your online baking business is now. Using the best plugins, you can get started on your online cake-selling journey in no time.
Ready to launch your online cake business? Get started today!